Commentary
Does Geno ever wish he left UConn for a fresh start?
Updated:
March 25, 2008, 3:37 PM ET
By
Mechelle Voepel
| Special to ESPN.com
BRIDGEPORT, Conn. -- You have to be careful about your questions when you're covering Connecticut. With so many reporters diligently following the Huskies and die-hard fans plugged into every word uttered by Geno Auriemma, you don't want to accidentally start something.
[+] Enlarge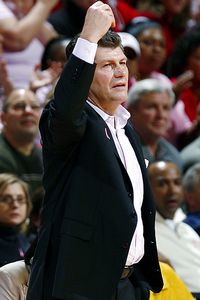 Jim O'Connor/US PresswireGeno Auriemma has won five titles at UConn, but none since 2004.
I didn't want to inadvertently inspire a "War of the Worlds"-type panic in Husky Nation by asking Auriemma if he ever seriously thought of leaving UConn … it was more a philosophical query because of whom he will be coaching against in the second round. Top-seeded UConn will meet 8-seed Texas on Tuesday night (ESPN2, 9 ET), which is most intriguing because of the coaching matchup. This is not a knock on the Longhorns, but just the reality of where the programs are now. Texas is not expected to be able to hang with a sleek machine like UConn. Not this year, anyway. Texas coach Gail Goestenkors built the Duke program from an also-ran in the ACC to a consistent national championship contender. She didn't win the NCAA title at Duke, but got to the point of having those expectations on a yearly basis. And that wears on a coach. Nobody knows that better than Auriemma, who has won five NCAA titles but quips all the time that he's miserable. It is a joke in some ways … but there's truth there in that when you are expected to be great, you stop feeling real joy when you do great things. Goestenkors leaving Duke for Texas wasn't exactly like moving from a Beverly Hills mansion to a one-room shack or anything. Texas has more resources than just about any Division I school in the country, and the attitude as an institution that it wants to be the best at absolutely everything. Goestenkors said it was the only job she would have left Duke to take. She knows it's a place to win national championships … but still, the Longhorns had missed the NCAA tournament the past two years and have a lot of rebuilding to do to get to that penthouse level again. So this season, Goestenkors could be reminded what it's like to make the climb and really smile about victories along the way. It has been more than a decade since Auriemma was able to feel that way -- if he ever really allowed himself to at all. Visionaries usually don't stop to celebrate or typically even realize that they
should
-- until it's too late and they're already at the top and only worried about staying there. Still, there was a first time for UConn to go to a Final Four, a first time to sell out its arena, a first time to be No. 1, a first time to be a national champion. And even Auriemma had to get a buzz from all of those things that just can't quite be replicated. So did it ever cross his mind -- even in a daydream-type way -- to do something like what Goestenkors did? "I think there's always a point in time in a coach's life where they start to look at their situation and question whether they've been there too long and it's not as rewarding as it used to be," he said. "I don't know any coach who doesn't go through that … or look at other situations and go, 'Wow, I would like to see myself do that and feel that exhilaration that comes from doing it for the first time.' "But there also comes a point in time when you get past that -- and you realize that the obligation that you have is to make whatever you think is out there happen where you are over and over and over and over and over and over and over and over again. And find a way to enjoy it." I went back and listened to this over and over and over, etc., again to make sure I counted all the "overs" correctly. Because I am sure some UConn fans will read into this: "Geno said 'over' eight times -- which means we are only supposed to win eight more national championships in his coaching career. Oh, crap! Is that all?" Seriously, the fact that UConn hasn't made the Final Four the past three seasons actually might have been kind of a blessing for Auriemma, even if it hasn't felt like it along the way. It means that if it happens this year, it won't feel the same as when it first happened in 1991 … but it also won't feel as "routine" as it probably did in 2004. "I got a card the other day for my birthday [which was Sunday] that said, 'You don't know how good you have it and how lucky you are,'" Auriemma said. "And reminders like that make you realize it would be virtually impossible for me to go someplace and have it better than I have it here. "Although the last three years -- when you don't win as many times as you think you should or don't go to the Final Four when you think you could -- you are kind of questioning, 'Will we ever get back there?' But you always know in the back of your head you will. That's what keeps you going -- when you know, 'We will. It's just a matter of time. We will.'"
Mechelle Voepel of The Kansas City Star is a regular contributor to ESPN.com. She can be reached at mvoepel123@yahoo.com.
espnW.com
Mechelle Voepel joined ESPN.com in 1996 and covers women's college hoops, the WNBA, the LPGA, and additional collegiate sports for espnW.
2008 NCAA Women's Basketball Tournament
Get caught up with all the news, notes, insights and analysis from the 2008 NCAA tournament.
Tournament Index
Elite Eight
•
Dish: Tampa, here we come!
•
Hays: Gutsy win gets UConn seniors to Final Four
•
Voepel: Tough Tennessee wills itself to Tampa
•
Dish: Losses by Maryland, UNC leave ACC empty
•
Voepel: LSU the toast of New Orleans
•
Miller: Second really is the best in Spokane
•
Voepel: Elite Eight loss toughest on the seniors
•
Hays: Second chances key to UConn-Rutgers
•
Voepel: Like CP3, Hornbuckle important to Vols
•
Voepel: LSU faces toughest Elite foe yet in UNC
•
Miller: Terps, Cardinal feel slighted in Spokane
Sweet 16
•
Dish: Welcome to the Party, Texas A&M
•
Hays: Knights not satisfied with win
•
Hays: Hobbled Hunter finds ways to help Huskies
•
Voepel: UNC overcomes slow start for comeback
•
Voepel: White-Riley better than LSU-OK State
•
Voepel: Black back, driving force for Blue Devils
•
Hays: GW's Beck's must break out of slump
•
ESPN.com experts' Sweet 16 picks
•
Voepel: Overlooked Dores could test Terps
•
Voepel: Talent-laden Louisville ready for UNC
•
Hays: Louisville's Walz a real statement maker
•
Voepel: Oklahoma City Regional
•
Hays: Greensboro Regional breakdown
•
Creme: Spokane Regional breakdown
•
Mowins: New Orleans Regional breakdown
•
Merrill: The meeting that saved Texas A&M
First two rounds
•
Tuesday's Tournament Dish: Big East flavor
•
Hays: Awe-inspiring Allen leads Irish to OT win
•
Voepel: Moore so good we're left wanting more
•
Hays: Defending champs get defensive
•
Monday's Tournament Dish: Cowgirls up!
•
Hays: Irish guards hope to offset OU posts
•
Voepel: Huskies vs. Horns? Try Geno vs. Gail
•
Sunday's Tournament Dish: First-round wrap
•
Voepel: Unusual suspects step up for UConn
•
Hays: Not always pretty, but OU finds way to win
•
Saturday's Tournament Dish: Typical Day One
•
Mowins: Florida State too quick for Ohio State
•
Voepel: Buckeyes make another early exit
•
Voepel: Coach G, Horns feeling litte pressure
•
Hays: Sibling act helps Utah prepare for Purdue
•
Voepel: New tournament, same favorites
•
Hays: Five underrated players to watch
•
Smith: The storied saga of Geno and Pat
•
Hays: UConn's Moore playing beyond her years
•
Previews:
G'boro
|
N.O.
|
Okla. City
|
Spokane
•
Voepel: Calling all Volunteers
•
Voepel: Big Easy? Not for Heels
•
Hays: Bracket's big questions
•
Creme: Good bracket … with a few exceptions
•
Hays: Magnificent seven on inside track
•
ESPN.com experts break down the bracket
•
Merrill: OU, Paris seeking shelter from storm
•
Blog: There's nothing like your first tourney
More
•
Tournament Challenge