Commentary
Irish to get another shot at Tennessee
Updated:
March 28, 2008, 11:44 AM ET
By
Mechelle Voepel
| Special to ESPN.com
A look at how Sunday's regional semifinals in Oklahoma City stack up:
No. 3 Duke vs. No. 2 Texas A&M (ESPN2, 7 p.m. ET)
The Blue Devils are used to being in this territory, figuratively speaking, of the Sweet 16. But from a geographical standpoint, this is more familiar to Texas A&M. The Aggies played in Oklahoma City last year in the Big 12 tournament. And the bitterly disappointed Oklahoma fans who will come to these regional games despite the Sooners not being involved will cheer for the Big 12 team that is present.
[+] Enlarge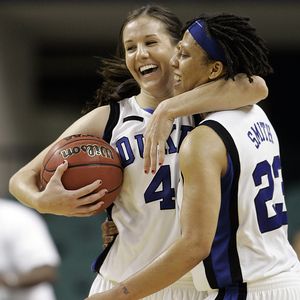 AP Photo/Chuck BurtonAbby Waner has struggled with her shot all season, but if she gets into a comfort zone and hits a few bombs, it will feed Duke's confidence.
Both Texas A&M and Duke have played their best in the past month or so. The Aggies won the program's first Big 12 tournament and are now playing the type of defense they need to. Duke made it to the ACC tournament final, upsetting Maryland in the semis, and are in an "underdog role" -- at least in terms of seeding -- for the first time in the NCAA tournament since the 2005 regional final, when the Blue Devils were a No. 2 to LSU's No. 1.
Strengths:
Texas A&M's defense is very pesky, quick and physical. The Aggies are strongest at guard and on the wing. Duke has an advantage inside, especially from a scoring standpoint, with Chante Black.
Key matchup:
How will the Blue Devils guard Danielle Gant? She can take a lot of attention, and if you try to stifle her, that still leaves a lot of quickness on the perimeter for the Aggies that Duke has to contain.
Backcourt/frontcourt edge:
Texas A&M gets the advantage in the backcourt. A'Quonesia Franklin has been a terrific point guard for the Aggies, Takia Starks can be a deadly shooter and, Gant and Morenike Atunrase are versatile wing players. The frontcourt edge belongs to Duke. The Blue Devils are deeper and more skilled offensively inside with Black, Carrem Gay and Joy Cheek.
X factors:
Atunrase was formerly a starter, but surgery just before the season moved her to the bench. She has found a comfort level there, but don't be fooled -- she will play a starter's minutes and have a starter's impact. As for Duke, Abby Waner has struggled with her shot all season, but if she suddenly gets into a comfort zone and hits a few bombs, that will really help the Blue Devils' overall confidence.
No. 5 Notre Dame vs. No. 1 Tennessee (ESPN2, 9 p.m. ET)
The Irish know they are big underdogs. Most observers likely would say that next to Old Dominion against UConn, this is the most "predictable" victory in the Sweet 16.
[+] Enlarge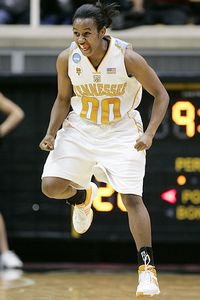 AP Photo/Michael Conroy Shannon Bobbitt will team with Alexis Hornbuckle to try and give Tennessee the backcourt edge vs. Notre Dame's Charel Allen and Ashley Barlow.
But is it? Well, the Irish are going to be tested in trying to stop Tennessee's inside game. They did go against an All-American center in Courtney Paris in their second-round triumph over Oklahoma, but that game came down to guard play. Tennessee is significantly better on the perimeter than the Sooners. And it goes without saying that the national champions have a huge experience edge in this matchup. What Notre Dame can draw on, though, is that it has already played Tennessee -- an 87-63 loss at home in January -- and the Irish are a team that in past NCAA tournament games has come up big, especially defensively. Strengths: It starts with Candace Parker for Tennessee, but she wasn't the leading scorer when the teams met in South Bend, Ind. That was Angie Bjorklund, who hit seven 3-pointers in that game. Offensively, Tennessee will be very hard for Notre Dame to slow down. Key matchup: How will Notre Dame keep Nicky Anosike off the boards? When she is playing well, she really makes it difficult for teams to limit Tennessee's second chances. Backcourt/frontcourt edge: As good as Charel Allen and Ashley Barlow were in the first two rounds for Notre Dame, Alexis Hornbuckle and Shannon Bobbitt are defending national champions. Parker gives Tennessee the advantage inside, but as mentioned, Anosike can be a very big factor, too. The Irish are young inside, led by sophomore Erica Williamson and freshman Becca Bruszewski. It's unfortunate for Notre Dame that standout freshman Devereaux Peters suffered an ACL injury in February because she would be a big help against Tennessee. X factors: Can the Irish have any success controlling the tempo in this game? Notre Dame can't run with Tennessee. But if the Irish can keep the game at a more deliberate pace, they have a better chance of staying in it and frustrating Tennessee. Mechelle Voepel of The Kansas City Star is a regular contributor to ESPN.com. She can be reached at mvoepel123@yahoo.com.
espnW.com
Mechelle Voepel joined ESPN.com in 1996 and covers women's college hoops, the WNBA, the LPGA, and additional collegiate sports for espnW.
2008 NCAA Women's Basketball Tournament
Get caught up with all the news, notes, insights and analysis from the 2008 NCAA tournament.
Tournament Index
Elite Eight
•
Dish: Tampa, here we come!
•
Hays: Gutsy win gets UConn seniors to Final Four
•
Voepel: Tough Tennessee wills itself to Tampa
•
Dish: Losses by Maryland, UNC leave ACC empty
•
Voepel: LSU the toast of New Orleans
•
Miller: Second really is the best in Spokane
•
Voepel: Elite Eight loss toughest on the seniors
•
Hays: Second chances key to UConn-Rutgers
•
Voepel: Like CP3, Hornbuckle important to Vols
•
Voepel: LSU faces toughest Elite foe yet in UNC
•
Miller: Terps, Cardinal feel slighted in Spokane
Sweet 16
•
Dish: Welcome to the Party, Texas A&M
•
Hays: Knights not satisfied with win
•
Hays: Hobbled Hunter finds ways to help Huskies
•
Voepel: UNC overcomes slow start for comeback
•
Voepel: White-Riley better than LSU-OK State
•
Voepel: Black back, driving force for Blue Devils
•
Hays: GW's Beck's must break out of slump
•
ESPN.com experts' Sweet 16 picks
•
Voepel: Overlooked Dores could test Terps
•
Voepel: Talent-laden Louisville ready for UNC
•
Hays: Louisville's Walz a real statement maker
•
Voepel: Oklahoma City Regional
•
Hays: Greensboro Regional breakdown
•
Creme: Spokane Regional breakdown
•
Mowins: New Orleans Regional breakdown
•
Merrill: The meeting that saved Texas A&M
First two rounds
•
Tuesday's Tournament Dish: Big East flavor
•
Hays: Awe-inspiring Allen leads Irish to OT win
•
Voepel: Moore so good we're left wanting more
•
Hays: Defending champs get defensive
•
Monday's Tournament Dish: Cowgirls up!
•
Hays: Irish guards hope to offset OU posts
•
Voepel: Huskies vs. Horns? Try Geno vs. Gail
•
Sunday's Tournament Dish: First-round wrap
•
Voepel: Unusual suspects step up for UConn
•
Hays: Not always pretty, but OU finds way to win
•
Saturday's Tournament Dish: Typical Day One
•
Mowins: Florida State too quick for Ohio State
•
Voepel: Buckeyes make another early exit
•
Voepel: Coach G, Horns feeling litte pressure
•
Hays: Sibling act helps Utah prepare for Purdue
•
Voepel: New tournament, same favorites
•
Hays: Five underrated players to watch
•
Smith: The storied saga of Geno and Pat
•
Hays: UConn's Moore playing beyond her years
•
Previews:
G'boro
|
N.O.
|
Okla. City
|
Spokane
•
Voepel: Calling all Volunteers
•
Voepel: Big Easy? Not for Heels
•
Hays: Bracket's big questions
•
Creme: Good bracket … with a few exceptions
•
Hays: Magnificent seven on inside track
•
ESPN.com experts break down the bracket
•
Merrill: OU, Paris seeking shelter from storm
•
Blog: There's nothing like your first tourney
More
•
Tournament Challenge
MORE WOMEN'S BASKETBALL HEADLINES
MOST SENT STORIES ON ESPN.COM
STORIES FROM HUFFINGTON POST