Commentary
Dores looking to close Maryland's 2008 season
Updated:
March 28, 2008, 1:25 PM ET
By
Mechelle Voepel
| Special to ESPN.com
You know that one actress who has been in a bunch of movies? No, she's not the star, but … oh, you know who I'm talking about, right? Gosh, I'm sure you'd know her if you saw her. It's just that I can't quite remember her name.
This is the analogy I think of when it comes to Vanderbilt, one of the top programs that really can say it is typically underappreciated and overlooked. The Commodores are always there in the NCAA tournament -- they've made the field 21 times. Since their first trip in 1986, the only seasons they've missed are 1988 and 1999. Vandy, which faces top-seeded Maryland in the Spokane Regional on Saturday (ESPN, 9 p.m. ET), is in the Sweet 16 for the 13th time. The Commodores have made the Elite Eight five times and advanced to the Final Four once. Really, Vandy has been one of the most consistently good programs in women's basketball. And yet … The Commodores have the cosmic misfortune of playing in the same state as the most successful Division I women's basketball program, seven-time NCAA champion Tennessee. It's like appearing in a photograph with Angelina Jolie, having a dependable four-door sedan parked alongside a Porsche, being Flag Day as opposed to the Fourth of July. As for the series with Tennessee, one is reminded of the quote tennis' Martina Hingis once had about her supposed "rival," Anna Kournikova: "What rivalry? I always win." Tennessee hasn't won
every
game against Vandy … just 51 of 57. But like impatiens, which are very nice flowers that thrive in the shade, the Commodores keep piling up victories (if not against Tennessee) despite being in the big orange shadow. This season, Vandy is 25-8, and its only SEC losses were to (who else?) Tennessee and LSU. The Commodores got to Spokane with wins over Montana and West Virginia so far in the NCAA tournament. Next up are the top-seeded Terps, whose players have all the name recognition that the Commodores don't. There is good reason for that, with the Terps having won a national championship two seasons ago with starters Crystal Langhorne, Kristi Toliver, Marissa Coleman and Laura Harper still around.
But coming into this game, these two programs have had very different NCAA tournament experiences in 2008. Vandy allowed just 47 and 46 points, respectively, in its two victories out in Albuquerque, N.M.
[+] Enlarge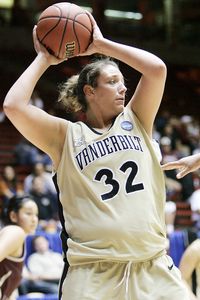 AP Photo/Jake SchoellkopfUConn transfer Liz Sherwood ranks second at Vanderbilt in scoring (11.0 ppg), despite starting just 13 games and averaging 18.4 minutes.
Meanwhile, Maryland was playing at home in College Park, but did not look dominant in its 80-66 win over Coppin State or its 76-64 victory against Nebraska. Vandy has two players averaging in double figures in scoring -- one of whom is probably best-known nationally for where she
isn't
playing anymore: UConn. Liz Sherwood transferred to Nashville, Tenn., after one season with the Huskies (2003-04). Her sophomore and junior seasons, she was named "Sixth Woman of the Year" in the SEC -- an award her teammate, Jessica Mooney, shared this season with LSU's Allison Hightower. Sherwood this season has started 13 games and averages 18.4 minutes -- but is still second on the team in scoring at 11.0 points per game. The Commodores' top scorer is junior guard/forward Christina Wirth, whose father, Alan, is a former major league baseball player. Wirth, who is from Mesa, Ariz., has five siblings, and sports have always been a big deal in her household. She was first-team All-SEC and is averaging 13.1 points. Wirth is one in a long line of Vandy players who just have that blue-collar mentality: "OK, I'm not going to blow you away with anything I do. I'm just going to be solid at everything." Vandy lost three very experienced starters from last season's team in Carla Thomas, Dee Davis and Caroline Williams. The Commodores went 28-6 in 2006-07 but were upset in the NCAA tournament's second round by Bowling Green. (Maryland lost in the second round last season, too -- to Mississippi.) It took a little while at the start of this season for the Commodores to get comfortable with what kind of team they are. But they seem a lot more polished now, and they could give Maryland some worries if the Terps aren't clicking any better. Or maybe even if they are. Although it has been a disadvantage from a recognition standpoint to play in the same league as Tennessee, it can't help but make Vandy a little better prepared for everything it might face every year in the NCAA tournament.
Mechelle Voepel of The Kansas City Star is a regular contributor to ESPN.com. She can be reached at mvoepel123@yahoo.com.
espnW.com
Mechelle Voepel joined ESPN.com in 1996 and covers women's college hoops, the WNBA, the LPGA, and additional collegiate sports for espnW.
2008 NCAA Women's Basketball Tournament
Get caught up with all the news, notes, insights and analysis from the 2008 NCAA tournament.
Tournament Index
Elite Eight
•
Dish: Tampa, here we come!
•
Hays: Gutsy win gets UConn seniors to Final Four
•
Voepel: Tough Tennessee wills itself to Tampa
•
Dish: Losses by Maryland, UNC leave ACC empty
•
Voepel: LSU the toast of New Orleans
•
Miller: Second really is the best in Spokane
•
Voepel: Elite Eight loss toughest on the seniors
•
Hays: Second chances key to UConn-Rutgers
•
Voepel: Like CP3, Hornbuckle important to Vols
•
Voepel: LSU faces toughest Elite foe yet in UNC
•
Miller: Terps, Cardinal feel slighted in Spokane
Sweet 16
•
Dish: Welcome to the Party, Texas A&M
•
Hays: Knights not satisfied with win
•
Hays: Hobbled Hunter finds ways to help Huskies
•
Voepel: UNC overcomes slow start for comeback
•
Voepel: White-Riley better than LSU-OK State
•
Voepel: Black back, driving force for Blue Devils
•
Hays: GW's Beck's must break out of slump
•
ESPN.com experts' Sweet 16 picks
•
Voepel: Overlooked Dores could test Terps
•
Voepel: Talent-laden Louisville ready for UNC
•
Hays: Louisville's Walz a real statement maker
•
Voepel: Oklahoma City Regional
•
Hays: Greensboro Regional breakdown
•
Creme: Spokane Regional breakdown
•
Mowins: New Orleans Regional breakdown
•
Merrill: The meeting that saved Texas A&M
First two rounds
•
Tuesday's Tournament Dish: Big East flavor
•
Hays: Awe-inspiring Allen leads Irish to OT win
•
Voepel: Moore so good we're left wanting more
•
Hays: Defending champs get defensive
•
Monday's Tournament Dish: Cowgirls up!
•
Hays: Irish guards hope to offset OU posts
•
Voepel: Huskies vs. Horns? Try Geno vs. Gail
•
Sunday's Tournament Dish: First-round wrap
•
Voepel: Unusual suspects step up for UConn
•
Hays: Not always pretty, but OU finds way to win
•
Saturday's Tournament Dish: Typical Day One
•
Mowins: Florida State too quick for Ohio State
•
Voepel: Buckeyes make another early exit
•
Voepel: Coach G, Horns feeling litte pressure
•
Hays: Sibling act helps Utah prepare for Purdue
•
Voepel: New tournament, same favorites
•
Hays: Five underrated players to watch
•
Smith: The storied saga of Geno and Pat
•
Hays: UConn's Moore playing beyond her years
•
Previews:
G'boro
|
N.O.
|
Okla. City
|
Spokane
•
Voepel: Calling all Volunteers
•
Voepel: Big Easy? Not for Heels
•
Hays: Bracket's big questions
•
Creme: Good bracket … with a few exceptions
•
Hays: Magnificent seven on inside track
•
ESPN.com experts break down the bracket
•
Merrill: OU, Paris seeking shelter from storm
•
Blog: There's nothing like your first tourney
More
•
Tournament Challenge
MORE WOMEN'S BASKETBALL HEADLINES
MOST SENT STORIES ON ESPN.COM