Commentary
Depth, talent makes playing Cards no easy task for UNC
Updated:
March 28, 2008, 1:19 PM ET
By
Mechelle Voepel
| Special to ESPN.com
BRIDGEPORT, Conn. -- Candyce Bingham's hometown is Louisville, Ky., and she was born in 1986, the year the Louisville men's team won the NCAA championship. She grew up close to the school's campus and played for DuPont Manual High School.
Naturally, she ended up going to college at Louisville, right? Not exactly.
"They actually were the first team to offer me a scholarship," Bingham said. "But I decided to go away. I went to Xavier for two years, but I wasn't very happy. So I decided to come back. And I'm so glad to be back. I just feel like this is where I am supposed to be.
"I don't regret going away. It helped me. I wanted to experience something different, but it didn't turn out the way I thought it would. I'm happy now, though." Bingham and the No. 4 seed Cardinals, who are in the program's first Sweet 16, will face top-seeded North Carolina in New Orleans on Saturday (ESPN, noon ET) as the regional semifinals tip off. Bingham, a 6-foot forward, averaged 2.0 points and 2.0 rebounds her freshman year at Xavier. Then, as a sophomore, her numbers went to 5.6 and 3.8. But it didn't feel right. She'd thought it was the right choice -- going to Cincinnati, which is still quite close to Louisville, getting away from "home." When she realized it wasn't, she knew what she needed to do. "I've always heard how people go away and then want to come back home," she said. "That's true for me. My family is here, my friends. I'm glad it worked out the way it did."
So is coach Jeff Walz, who is in his first season with Louisville. His primary goal was to keep developing star Angel McCoughtry on track while getting the rest of the Cardinals to take steps forward, too. Bingham, who is averaging 13.7 points and 7.4 rebounds, has been one of his most consistent players.
"Everybody concentrates on Angel, which they should," Walz said. "But Candyce … she's the X factor for us, and I've been really excited for her, the way she's played this entire season."
[+] Enlarge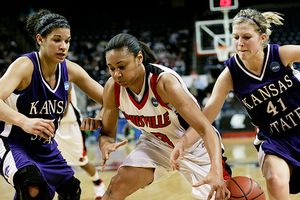 David Butler II/US PresswireCandyce Bingham played two seasons at Xavier before transferring back home to play at Louisville.
Bingham sat out her transfer season last year and watched as McCoughtry carried what really was too big of a load. "Coach Walz has come in and done a great job of coaching us to be more of a team, not just relying on Angel to do everything," Bingham said. "And Angel has embraced that really well this year. "It took some time in the beginning, but now she knows we do need her to win, but we also need her to get others involved. It's paying off, and it's made us a lot better." That was particularly evident against Kansas State in the second round, a game the Cardinals controlled throughout and won 80-63. McCoughtry had 24 points and seven rebounds, but what truly sank K-State was how well-balanced Louisville was. "That's what good teams have," K-State point guard Shalee Lehning said. "And obviously the pressure they bring gets other teams flustered. They're just very good." Center Chauntise Wright and point guard Patrika Barlow each had 13 points. Deseree' Byrd came off the bench for nine points on 4-of-5 shooting. And Bingham's line said it all: 12 points, 10 rebounds and seven assists in 40 minutes. "This roster at Louisville is indicative of what you see with great basketball teams -- they are deep in their talent," K-State coach Deb Patterson said. "And Bingham is a tremendous threat when she has the ball and a very active defender. "You also saw Barlow step up and hit big 3's with Angel and Bingham attracting so much defensive attention. That is a core group that is tested and tough-minded. I like the way they work to change the game -- they're versatile. They're not just that classic athletic team that relies on one way to beat you. I think it should be noted this is a very smart Louisville team and diverse in how they play. That's true individually as well as a unit." In terms of types of opponents, though, there isn't a greater difference than there is between K-State and North Carolina. But the Cardinals' games against UConn and Rutgers have prepared them for anything. "We had the advantage of playing those teams twice," Bingham said, referring to matchups in both the regular season and the Big East tournament. "We weren't at our peak the first time, but when we played them again, we played better." In fact, they played Rutgers well enough to upset the Scarlet Knights. Louisville fell to UConn in the Big East final, but that second meeting with the Huskies will come in handy in preparing for North Carolina. Of course, with the Cardinals' men's team in the Elite Eight, there is a
lot
of hoops buzz in Louisville. But Bingham thinks her squad is getting folks to take notice, too. "It's been men's hoops and football, and we're making some noise now," Bingham said of her university's sports history. "In women's basketball, it's been, 'Who's Louisville?' But now people know about us and that we can be one of the better programs."
Mechelle Voepel of The Kansas City Star is a regular contributor to ESPN.com. She can be reached at mvoepel123@yahoo.com.
espnW.com
Mechelle Voepel joined ESPN.com in 1996 and covers women's college hoops, the WNBA, the LPGA, and additional collegiate sports for espnW.
SPONSORED HEADLINES
MORE WOMEN'S BASKETBALL HEADLINES
MOST SENT STORIES ON ESPN.COM
2008 NCAA Women's Basketball Tournament
Get caught up with all the news, notes, insights and analysis from the 2008 NCAA tournament.
Tournament Index
Elite Eight
•
Dish: Tampa, here we come!
•
Hays: Gutsy win gets UConn seniors to Final Four
•
Voepel: Tough Tennessee wills itself to Tampa
•
Dish: Losses by Maryland, UNC leave ACC empty
•
Voepel: LSU the toast of New Orleans
•
Miller: Second really is the best in Spokane
•
Voepel: Elite Eight loss toughest on the seniors
•
Hays: Second chances key to UConn-Rutgers
•
Voepel: Like CP3, Hornbuckle important to Vols
•
Voepel: LSU faces toughest Elite foe yet in UNC
•
Miller: Terps, Cardinal feel slighted in Spokane
Sweet 16
•
Dish: Welcome to the Party, Texas A&M
•
Hays: Knights not satisfied with win
•
Hays: Hobbled Hunter finds ways to help Huskies
•
Voepel: UNC overcomes slow start for comeback
•
Voepel: White-Riley better than LSU-OK State
•
Voepel: Black back, driving force for Blue Devils
•
Hays: GW's Beck's must break out of slump
•
ESPN.com experts' Sweet 16 picks
•
Voepel: Overlooked Dores could test Terps
•
Voepel: Talent-laden Louisville ready for UNC
•
Hays: Louisville's Walz a real statement maker
•
Voepel: Oklahoma City Regional
•
Hays: Greensboro Regional breakdown
•
Creme: Spokane Regional breakdown
•
Mowins: New Orleans Regional breakdown
•
Merrill: The meeting that saved Texas A&M
First two rounds
•
Tuesday's Tournament Dish: Big East flavor
•
Hays: Awe-inspiring Allen leads Irish to OT win
•
Voepel: Moore so good we're left wanting more
•
Hays: Defending champs get defensive
•
Monday's Tournament Dish: Cowgirls up!
•
Hays: Irish guards hope to offset OU posts
•
Voepel: Huskies vs. Horns? Try Geno vs. Gail
•
Sunday's Tournament Dish: First-round wrap
•
Voepel: Unusual suspects step up for UConn
•
Hays: Not always pretty, but OU finds way to win
•
Saturday's Tournament Dish: Typical Day One
•
Mowins: Florida State too quick for Ohio State
•
Voepel: Buckeyes make another early exit
•
Voepel: Coach G, Horns feeling litte pressure
•
Hays: Sibling act helps Utah prepare for Purdue
•
Voepel: New tournament, same favorites
•
Hays: Five underrated players to watch
•
Smith: The storied saga of Geno and Pat
•
Hays: UConn's Moore playing beyond her years
•
Previews:
G'boro
|
N.O.
|
Okla. City
|
Spokane
•
Voepel: Calling all Volunteers
•
Voepel: Big Easy? Not for Heels
•
Hays: Bracket's big questions
•
Creme: Good bracket … with a few exceptions
•
Hays: Magnificent seven on inside track
•
ESPN.com experts break down the bracket
•
Merrill: OU, Paris seeking shelter from storm
•
Blog: There's nothing like your first tourney
More
•
Tournament Challenge