Commentary
Black back and driving force behind Blue Devils
Updated:
March 29, 2008, 5:49 PM ET
By
Mechelle Voepel
| Special to ESPN.com
DURHAM, N.C. -- When Duke meets Texas A&M in the Sweet 16 on Sunday (ESPN2, 7 p.m. ET), there won't be anybody just plain happier to be on the court in Oklahoma City than Blue Devils post player Chante Black.
[+] Enlarge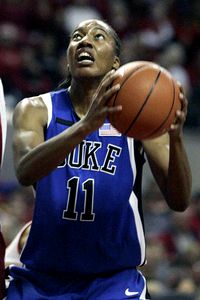 James Lang/US PresswireChante Black is averaging team highs of 14 points and seven rebounds for third-seeded Duke.
Why? Because last March, while Duke was going through its horror show in the Greensboro Regional against Rutgers, Black had the worst feeling an athlete can have during a game. She was powerless. She just had to watch. A slow-healing knee injury forced her to redshirt what was to be her junior season. She wanted to come back for ACC play, but she wasn't anywhere near 100 percent -- and the Blue Devils were in the process of going undefeated in the regular season without her. "They were doing really wonderful things on the court," said Black, recalling last season. "And there was really no need in me pushing myself to where it could have been a more devastating injury. "I couldn't move to defend. I was pretty much bad at everything. It was very frustrating. But what I tried to do was pay attention to things I needed to work on -- little things you don't focus on when you have the mobility. Like holding position and just knowing situations. Becoming more educated about the game." In mid-January 2007, Black and then-coach Gail Goestenkors decided to shut it down for the season. Then a couple months later … well, you remember. Lindsey Harding on the foul line needed one of two free throws for a tie. She didn't get them, Duke's season ended and it was Goestenkors' last game as Duke's coach. "It was very emotional, because we had two great leaders," Black said of Harding and Alison Bales. "And we wanted it really bad for them. And I also thought, 'Oh, man, I wish I could have been part of it,' because you don't really get to feel everything they put into that game. You just know you missed out on that." But she hasn't missed anything this season. Black is the only Duke player to have started all 34 games, and she is averaging team highs of 14.0 points and 7.0 rebounds. With the change to coach Joanne P. McCallie, there has been more pressure on Black because the Blue Devils' offense is more reliant on her. No worries for Black since, you'd have a hard time finding a player better equipped to handle it. She is the resilient type, in part because she is the daughter of a single mom who was in the Army. So Black witnessed toughness, dedication, goal-setting, self-sacrifice and high achievement from an early age. "When she was raising me, there were times I needed to grow up fast," Black said. "I saw the struggles she had and learned from them. It's paid off -- my mom is overseas now, and most kids probably couldn't deal with their parent being gone like that. "But I've become so strong as an individual. I can take care of myself, and this family here at Duke is also a great support." Her mother, Mazie Black, is working overseas teaching English to elementary school children in Taif, Saudi Arabia. "She traveled a lot in my childhood," Black said. "I was born in Texas, and then we moved to Atlanta. Then she went overseas for Desert Storm. And her mother stayed here in North Carolina, and I stayed with her while my mom was away. When she came back, I basically said, 'I need a mom around,' and she got out of the service. We've been [in North Carolina] since then." Black, from Winston-Salem, went to East Forsyth High and was very excited to have the chance at a Duke education. A senior academically, she will graduate in May with a double major in biological anthropology and anatomy, along with women's studies. After her Duke career ends next year, she hopes to play ball professionally. And then go into the field of radiology. "With the injuries I've had, I got to be around the radiology department a lot," she said. "So I'm pretty familiar with it. I enjoy it -- but not when I'm getting stuff done." Black's interest in women's studies makes her more attentive to issues involving female athletes than a lot of her peers are. "In a class here my freshman year, we talked about gender and equality in sports," she said. "I could relate to that, and it's really about becoming aware. To help you put things in perspective. "There are a lot of things we all observe, but do we really sit down and talk about them? Women's studies brings these things to our attention as young women, whether we're athletes or not. Because there have been a lot of changes made … we're so used to getting scholarships now. But it's not been too long ago when women didn't get that. But there are still things that we notice. And if we bring them up, a lot of times, we're outcasts." Maybe the most striking thing about talking to Black is that she has so much to say. She seemed very shy when she came to Duke, but she has been steadily moving away from that. "The shyness comes from not knowing people," she said. "Then as soon as I'm comfortable, they can't shut me up." Black's on-court game has been very loud indeed this season. In the Blue Devils' second-round victory over Arizona State, the 6-foot-5 center had 26 points, a career high, and added 13 rebounds. Black and her mom mostly communicate through e-mails, and she will be back for Chante's graduation in May. Of course, they'll have some hoops stories to catch up on in person then. "What she's done has made me go out and challenge myself," Black said. "You can take on any challenge if you really want to do it. That's what I've learned from her. If you have a passion, then go for it."
Mechelle Voepel of The Kansas City Star is a regular contributor to ESPN.com. She can be reached at mvoepel123@yahoo.com.
espnW.com
Mechelle Voepel joined ESPN.com in 1996 and covers women's college hoops, the WNBA, the LPGA, and additional collegiate sports for espnW.
2008 NCAA Women's Basketball Tournament
Get caught up with all the news, notes, insights and analysis from the 2008 NCAA tournament.
Tournament Index
Elite Eight
•
Dish: Tampa, here we come!
•
Hays: Gutsy win gets UConn seniors to Final Four
•
Voepel: Tough Tennessee wills itself to Tampa
•
Dish: Losses by Maryland, UNC leave ACC empty
•
Voepel: LSU the toast of New Orleans
•
Miller: Second really is the best in Spokane
•
Voepel: Elite Eight loss toughest on the seniors
•
Hays: Second chances key to UConn-Rutgers
•
Voepel: Like CP3, Hornbuckle important to Vols
•
Voepel: LSU faces toughest Elite foe yet in UNC
•
Miller: Terps, Cardinal feel slighted in Spokane
Sweet 16
•
Dish: Welcome to the Party, Texas A&M
•
Hays: Knights not satisfied with win
•
Hays: Hobbled Hunter finds ways to help Huskies
•
Voepel: UNC overcomes slow start for comeback
•
Voepel: White-Riley better than LSU-OK State
•
Voepel: Black back, driving force for Blue Devils
•
Hays: GW's Beck's must break out of slump
•
ESPN.com experts' Sweet 16 picks
•
Voepel: Overlooked Dores could test Terps
•
Voepel: Talent-laden Louisville ready for UNC
•
Hays: Louisville's Walz a real statement maker
•
Voepel: Oklahoma City Regional
•
Hays: Greensboro Regional breakdown
•
Creme: Spokane Regional breakdown
•
Mowins: New Orleans Regional breakdown
•
Merrill: The meeting that saved Texas A&M
First two rounds
•
Tuesday's Tournament Dish: Big East flavor
•
Hays: Awe-inspiring Allen leads Irish to OT win
•
Voepel: Moore so good we're left wanting more
•
Hays: Defending champs get defensive
•
Monday's Tournament Dish: Cowgirls up!
•
Hays: Irish guards hope to offset OU posts
•
Voepel: Huskies vs. Horns? Try Geno vs. Gail
•
Sunday's Tournament Dish: First-round wrap
•
Voepel: Unusual suspects step up for UConn
•
Hays: Not always pretty, but OU finds way to win
•
Saturday's Tournament Dish: Typical Day One
•
Mowins: Florida State too quick for Ohio State
•
Voepel: Buckeyes make another early exit
•
Voepel: Coach G, Horns feeling litte pressure
•
Hays: Sibling act helps Utah prepare for Purdue
•
Voepel: New tournament, same favorites
•
Hays: Five underrated players to watch
•
Smith: The storied saga of Geno and Pat
•
Hays: UConn's Moore playing beyond her years
•
Previews:
G'boro
|
N.O.
|
Okla. City
|
Spokane
•
Voepel: Calling all Volunteers
•
Voepel: Big Easy? Not for Heels
•
Hays: Bracket's big questions
•
Creme: Good bracket … with a few exceptions
•
Hays: Magnificent seven on inside track
•
ESPN.com experts break down the bracket
•
Merrill: OU, Paris seeking shelter from storm
•
Blog: There's nothing like your first tourney
More
•
Tournament Challenge