Commentary
With no suspense, point guard battle stole the show
Updated:
March 30, 2008, 1:34 AM ET
By
Mechelle Voepel
| Special to ESPN.com
NEW ORLEANS -- The "little people" in basketball are always called "feisty." The thought is that they have to be to thrive in this sport. If you're vertically challenged, it's best if you're not also verbally challenged.
Because you often have to tell your teammates where to go … and in another way, you tell your opponents where to go, too. As in, well … you know. What we saw Saturday in LSU's 67-52 victory over Oklahoma State was the game within the game. LSU's 5-foot-3 senior Erica White vs. OSU sophomore Andrea Riley, who is listed at 5-5. If they took turns standing on each other's shoulders, they could kind of know what it was like being LSU 6-6 center Sylvia Fowles. But if they did that, they'd also have to promise not to drop the other one … and you probably thought after watching this game that they would
not
quite be able to resist bouncing the other on her head. The game itself was not especially entertaining because the combination of LSU's defense and OSU's inability to hit the ocean from a rowboat. It didn't leave room for much suspense. The Cowgirls were able to cut the lead to nine twice in the second half … but then LSU just put it in another gear and left them behind. OSU's shooting struggles reached the point of being of the freakish variety -- in the first half, Riley was the only Cowgirl to make a shot from the field. It wasn't until the 14:10 mark of the second half when any other OSU player made a basket; Kristin Hernandez got a layup. We've seen lots of teams over the years get shut down by LSU, but this was nuts. It reminded me of a 1999 Sweet 16 game in which Texas Tech did not have a single starter score in the first half against Rutgers. I'd never seen that before and still haven't seen it repeated.
[+] Enlarge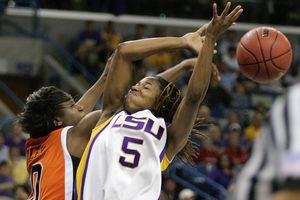 AP Photo/Donna McWilliamAndrea Riley, left, had 26 points, five rebounds and four assists, while Erica White had 18 points, seven rebounds and four assists.
I don't anticipate ever again seeing a team go 26 minutes with only one player making a shot from the field. "We kept thinking somebody would get going there," OSU coach Kurt Budke said. "But give LSU credit, that's what they do to you. They are athletic, they're long. "What happens is, you beat that front line [of defense] and then there's Sylvia waiting on you. And she alters and changes so many shots." Riley, though, was the one Cowgirl who kept finding ways to score. Plus, she was obviously getting on White's nerves. The day before, Riley had talked about how experience didn't necessarily have to matter that much … which is what you're supposed to say when you're a junior for a program that's in its first Sweet 16 in 17 years. But White took some exception to this … which is what you're supposed to do when you're a senior trying to make the fourth Final Four of your career. Things reached the boiling point between these two with about 15:45 left in the game. Riley swatted away one of White's shots -- with emphasis -- and White then chewed on Riley's ear, figuratively speaking, all the way back up the court. But Riley overreacted, knocking White in the head. Apparently, Riley did not learn from the fact that she was very fortunate not to get suspended from the Big 12 championship game after popping Texas' Earnesia Williams in the league tournament semifinals. Riley needs to use the offseason to gain better control of her temper because it could mar what looks to be an outstanding career. LSU's Van Chancellor, who has seen a few tops blow in his coaching career, pulled White out of the game for a spell and told her to chill. Afterward, White was asked about it and offered an apology to the university, the fans and her family. Not, however, to Riley. She wasn't really sorry that she told Riley to go take a dive into Lake Pontchartrain (or whatever it was she said) but she
was
sorry if she made LSU look bad. Nor did Riley say she was sorry about anything she did to White. Watching these two players scrap, you recognize both give as good as they get. Both are actually pretty nice kids off-court, but heck … they are "little people." They are supposed to be the toughest players on court. They're supposed to get under each other's skin. They sure did that. Riley led her team with 26 points, while White led hers with 18. They each had four assists; White had seven rebounds and Riley five. They bumped each other in the postgame handshake in a kind of grudgingly friendly way. As if to say, "I'd still like to kick your tail but … you really are good." Riley said of White, "She's cool. Everything was cool after the game, because we left everything on the floor." White moves on to play in the Elite Eight again, where she'll face another young guard in North Carolina freshman Cetera DeGraffenreid. While Riley is somewhat similar to Ivory Latta -- a big personality on court is one way to put it -- DeGraffenreid is not very much like her predecessor in that regard. It will still be an intriguing matchup with so much on the line Monday (ESPN, 7:30 p.m. ET). Meanwhile, Riley will look ahead to next year, when she hopes to lead the Cowgirls even further in the NCAA tournament. Then she might say, "Experience is a big factor" … and grin.
Mechelle Voepel of The Kansas City Star is a regular contributor to ESPN.com. She can be reached at mvoepel123@yahoo.com.
espnW.com
Mechelle Voepel joined ESPN.com in 1996 and covers women's college hoops, the WNBA, the LPGA, and additional collegiate sports for espnW.
SPONSORED HEADLINES
MORE WOMEN'S BASKETBALL HEADLINES
MOST SENT STORIES ON ESPN.COM
2008 NCAA Women's Basketball Tournament
Get caught up with all the news, notes, insights and analysis from the 2008 NCAA tournament.
Tournament Index
Elite Eight
•
Dish: Tampa, here we come!
•
Hays: Gutsy win gets UConn seniors to Final Four
•
Voepel: Tough Tennessee wills itself to Tampa
•
Dish: Losses by Maryland, UNC leave ACC empty
•
Voepel: LSU the toast of New Orleans
•
Miller: Second really is the best in Spokane
•
Voepel: Elite Eight loss toughest on the seniors
•
Hays: Second chances key to UConn-Rutgers
•
Voepel: Like CP3, Hornbuckle important to Vols
•
Voepel: LSU faces toughest Elite foe yet in UNC
•
Miller: Terps, Cardinal feel slighted in Spokane
Sweet 16
•
Dish: Welcome to the Party, Texas A&M
•
Hays: Knights not satisfied with win
•
Hays: Hobbled Hunter finds ways to help Huskies
•
Voepel: UNC overcomes slow start for comeback
•
Voepel: White-Riley better than LSU-OK State
•
Voepel: Black back, driving force for Blue Devils
•
Hays: GW's Beck's must break out of slump
•
ESPN.com experts' Sweet 16 picks
•
Voepel: Overlooked Dores could test Terps
•
Voepel: Talent-laden Louisville ready for UNC
•
Hays: Louisville's Walz a real statement maker
•
Voepel: Oklahoma City Regional
•
Hays: Greensboro Regional breakdown
•
Creme: Spokane Regional breakdown
•
Mowins: New Orleans Regional breakdown
•
Merrill: The meeting that saved Texas A&M
First two rounds
•
Tuesday's Tournament Dish: Big East flavor
•
Hays: Awe-inspiring Allen leads Irish to OT win
•
Voepel: Moore so good we're left wanting more
•
Hays: Defending champs get defensive
•
Monday's Tournament Dish: Cowgirls up!
•
Hays: Irish guards hope to offset OU posts
•
Voepel: Huskies vs. Horns? Try Geno vs. Gail
•
Sunday's Tournament Dish: First-round wrap
•
Voepel: Unusual suspects step up for UConn
•
Hays: Not always pretty, but OU finds way to win
•
Saturday's Tournament Dish: Typical Day One
•
Mowins: Florida State too quick for Ohio State
•
Voepel: Buckeyes make another early exit
•
Voepel: Coach G, Horns feeling litte pressure
•
Hays: Sibling act helps Utah prepare for Purdue
•
Voepel: New tournament, same favorites
•
Hays: Five underrated players to watch
•
Smith: The storied saga of Geno and Pat
•
Hays: UConn's Moore playing beyond her years
•
Previews:
G'boro
|
N.O.
|
Okla. City
|
Spokane
•
Voepel: Calling all Volunteers
•
Voepel: Big Easy? Not for Heels
•
Hays: Bracket's big questions
•
Creme: Good bracket … with a few exceptions
•
Hays: Magnificent seven on inside track
•
ESPN.com experts break down the bracket
•
Merrill: OU, Paris seeking shelter from storm
•
Blog: There's nothing like your first tourney
More
•
Tournament Challenge