Commentary
UNC seeks third straight Final Four; LSU wants fifth in a row
Updated:
March 31, 2008, 4:35 PM ET
By
Mechelle Voepel
| Special to ESPN.com
NEW ORLEANS -- Coach Van Chancellor would prefer that this not be about him. You know, none of that "Let's get the old guy to his first Final Four!" stuff. He dismissed such sentimentality, saying it's really all about the players.
UNC freshman point
guard could be X factor
NEW ORLEANS -- When North Carolina senior guard Alex Miller suffered a knee injury in November, freshman Cetera DeGraffenreid recalls thinking, "Oh, Lord, please let her be OK." DeGraffenreid didn't come to UNC expecting to be a starter. She figured she'd be Miller's understudy. "I came in thinking I was going to play behind her and learn from her," DeGraffenreid said Sunday. "And when she leaves, take what she has taught me. But coach [Sylvia] Hatchell came in to the locker room and said, 'Alex is out, and you have to step up.' " DeGraffenreid has certainly done that, and she could be the X factor for top-seeded North Carolina. The rookie has averaged more minutes per game, 30.7, than any of the Tar Heels. She is averaging 11.8 points and has 109 assists to 92 turnovers. "She is a young point guard, but she's done an excellent job of running her team," LSU senior Erica White said. "Just coming in and being what their program needs. "I think it's a big challenge. My freshman year I wasn't called on to run this program; I was more like a 13th man. I think she's been doing a great job in what she's been asked to do."
-- Mechelle Voepel
That said, Chancellor's long history in this sport is indeed a part of the story when second-seeded LSU meets No. 1 seed North Carolina in the New Orleans Regional final Monday (ESPN, 7:30 p.m. ET). And we're going to get to that -- whether he wants us to or not.
First, though, we'll give you a gauge of these two squads, both of whom have so much experience. All the players on both sides seemed pretty loose Sunday, and it's understandable why. They've been here before.
LSU is trying to make its fifth consecutive appearance in the Final Four, while Carolina is going for three in a row. The nerves might set in during the afternoon before Monday night's game, as they think about how much is as stake. LSU will get the advantage of playing 80 miles from its campus and having more purple people than sky-blue people in the stands. Plus all five LSU starters -- Sylvia Fowles, Quianna Chaney, RaShonta LeBlanc, Ashley Thomas and Erica White -- are seniors. So LSU does have that edge, too, in that UNC has one starter -- guard Cetera DeGraffenreid -- who is a freshman and hasn't been at this stage before. Then again, she has never looked rattled all season, so there's no reason to expect she will now. LSU, the SEC's regular-season champion, could well have been a No. 1 seed. Instead, it will have to try to get to the Final Four against what might be the best of the teams it has faced in the Elite Eight the past four years. That is not a knock on the 2004 Georgia, 2005 Duke, 2006 Stanford and 2007 UConn squads. Rather, it's an acknowledgement that North Carolina is a pretty powerful group, leading Division I in scoring at 87.3 points per game. After falling behind Louisville by 18 points in the semifinals on Saturday, Carolina also showed that it can play at a very high level on the other end, too. The Tar Heels' defense was a key in helping UNC rally against the Cardinals. Carolina was outrebounded by Louisville, but it's pretty rare for that to happen. The Tar Heels outrebound their opponents by an average of nine per game. Erlana Larkins, even when she struggles offensively like she did against Louisville (seven points), is always very strong on the boards.
And LaToya Pringle is one of the most frustrating players any opponent has to box out. You can be sure she's behind you, but then suddenly she's in front of you and has the rebound. You never knew what happened.
Rashanda McCants is dangerous not just for her inside-out scoring ability, but also the way she finds her teammates. She actually leads the Tar Heels in assists this season with 114.
[+] Enlarge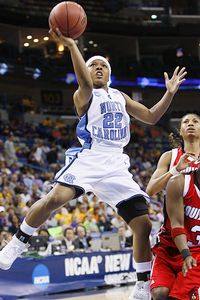 AP Photo/Ann HeisenfeltWhile all five of LSU's starters are seniors, UNC point guard Cetera DeGraffenreid is just a freshman.
For Chancellor, it just kind of figures that he would have to beat a team this good to get to a Final Four. He had a lot of success in 19 seasons at Mississippi from 1978-1997, going 439-154, but he never got to the Final Four. He made it to the Elite Eight four previous times: in 1984, '86, '89 and '92. The first two of those trips are the ones when Ole Miss came the closest to winning. In 1985, Western Kentucky upset No. 1 seed Texas on a last-second shot in the second round. That gave Western Kentucky the chance to play an Elite Eight game on its home court, because it was a regional host, and it beat Ole Miss 72-68. Then the next season, Ole Miss once again had to play an Elite Eight game on its opponent's home court. This time, it was Texas, which went on to be an undefeated national champion that year. "I'll never forget that score, 66-63," Chancellor said of the 1986 regional final loss, which was Texas' only close game that entire NCAA tournament. The Longhorns won their other four NCAA games that season by an average of 27 points. (This was before the field was 64, so the Horns had a first-round bye.) Ole Miss was a No. 2 seed in 1986, and had it been in any other region than with Texas, Chancellor very likely would have gone to the Final Four. "Those were the two losses," he said of 1985 and '86, "that will probably stay with me all my career." Chancellor left the college game to coach in the WNBA at Houston in 1997, and he was tremendously successful there, winning four league titles. He said coming back to college has been very smooth. "The players are better, and the technology of getting ready for those players," he said. "At my last Elite Eight … I arranged the dinners, the practice times. Now, I've got so much help at LSU, it makes it so much easier. "It used to be you were hunting for tapes, now you can get [them] just like that. So the preparation is easier than it used to be. And the players can do so many more things. But coaching is coaching." Chancellor said even a lot of the strategic moves he makes are similar. "I ran some of the same things at Ole Miss," he said. "I ran them in the pros, I ran them in the Olympics. Now I'm running them at LSU. What's usually been good to you stays good to you. But I've changed a lot, don't misunderstand that." How is he different? Having so much success at Houston, plus leading Team USA to the Olympic gold medal in 2004, helped Chancellor be more able to relax, if coaches can really do such a thing. Of course, he'd like to add a college championship to everything he has already done. But he has a sense of peace and contentment that won't go away if he doesn't actually win it all at this level. "It's a combination of age, winning the [WNBA] championship and winning the gold medal," Chancellor said. "When you're a younger coach, I don't care who you are, you think you have to prove certain things. As I've grown older in coaching … I just enjoy it. I'm really enjoying the moment. I'm savoring every good thing that's happened and having a great time."
Mechelle Voepel of The Kansas City Star is a regular contributor to ESPN.com. She can be reached at mvoepel123@yahoo.com.
espnW.com
Mechelle Voepel joined ESPN.com in 1996 and covers women's college hoops, the WNBA, the LPGA, and additional collegiate sports for espnW.
SPONSORED HEADLINES
MORE WOMEN'S BASKETBALL HEADLINES
MOST SENT STORIES ON ESPN.COM
2008 NCAA Women's Basketball Tournament
Get caught up with all the news, notes, insights and analysis from the 2008 NCAA tournament.
Tournament Index
Elite Eight
•
Dish: Tampa, here we come!
•
Hays: Gutsy win gets UConn seniors to Final Four
•
Voepel: Tough Tennessee wills itself to Tampa
•
Dish: Losses by Maryland, UNC leave ACC empty
•
Voepel: LSU the toast of New Orleans
•
Miller: Second really is the best in Spokane
•
Voepel: Elite Eight loss toughest on the seniors
•
Hays: Second chances key to UConn-Rutgers
•
Voepel: Like CP3, Hornbuckle important to Vols
•
Voepel: LSU faces toughest Elite foe yet in UNC
•
Miller: Terps, Cardinal feel slighted in Spokane
Sweet 16
•
Dish: Welcome to the Party, Texas A&M
•
Hays: Knights not satisfied with win
•
Hays: Hobbled Hunter finds ways to help Huskies
•
Voepel: UNC overcomes slow start for comeback
•
Voepel: White-Riley better than LSU-OK State
•
Voepel: Black back, driving force for Blue Devils
•
Hays: GW's Beck's must break out of slump
•
ESPN.com experts' Sweet 16 picks
•
Voepel: Overlooked Dores could test Terps
•
Voepel: Talent-laden Louisville ready for UNC
•
Hays: Louisville's Walz a real statement maker
•
Voepel: Oklahoma City Regional
•
Hays: Greensboro Regional breakdown
•
Creme: Spokane Regional breakdown
•
Mowins: New Orleans Regional breakdown
•
Merrill: The meeting that saved Texas A&M
First two rounds
•
Tuesday's Tournament Dish: Big East flavor
•
Hays: Awe-inspiring Allen leads Irish to OT win
•
Voepel: Moore so good we're left wanting more
•
Hays: Defending champs get defensive
•
Monday's Tournament Dish: Cowgirls up!
•
Hays: Irish guards hope to offset OU posts
•
Voepel: Huskies vs. Horns? Try Geno vs. Gail
•
Sunday's Tournament Dish: First-round wrap
•
Voepel: Unusual suspects step up for UConn
•
Hays: Not always pretty, but OU finds way to win
•
Saturday's Tournament Dish: Typical Day One
•
Mowins: Florida State too quick for Ohio State
•
Voepel: Buckeyes make another early exit
•
Voepel: Coach G, Horns feeling litte pressure
•
Hays: Sibling act helps Utah prepare for Purdue
•
Voepel: New tournament, same favorites
•
Hays: Five underrated players to watch
•
Smith: The storied saga of Geno and Pat
•
Hays: UConn's Moore playing beyond her years
•
Previews:
G'boro
|
N.O.
|
Okla. City
|
Spokane
•
Voepel: Calling all Volunteers
•
Voepel: Big Easy? Not for Heels
•
Hays: Bracket's big questions
•
Creme: Good bracket … with a few exceptions
•
Hays: Magnificent seven on inside track
•
ESPN.com experts break down the bracket
•
Merrill: OU, Paris seeking shelter from storm
•
Blog: There's nothing like your first tourney
More
•
Tournament Challenge