Commentary
Hornbuckle's intangibles carry Tennessee as much as Parker
Updated:
April 1, 2008, 3:34 PM ET
By
Mechelle Voepel
| Special to ESPN.com
When you have a player as great as Candace Parker -- someone who doesn't just do everything, but does it all incredibly well -- it's easy to fall into the trap of thinking it doesn't matter who surrounds her.
Parker could have won a national championship and be trying for another Final Four no matter who she had as a supporting cast, right?
[+] Enlarge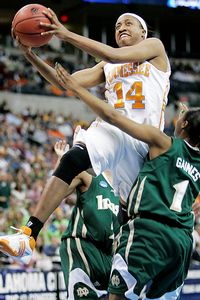 AP Photo/Danny JohnstonSaid Pat Summitt of Alexis Hornbuckle: "She's going to do the dirty work … it's hard to get sometimes great athletes, high-profile players that say, 'Hey, Coach, let me guard the best player,' or 'I'll get to the glass.'"
Nope … and she would be the first one to say that. Or maybe, before she even could say it, Pat Summitt would emphatically state, "You've gotta be kidding." Because there's one player without whom Tennessee simply would not be Tennessee. The Orange Crush always has seemed to have at least one inextinguishable energy source on all its championship teams. This group has Alexis Hornbuckle. Here's how Summitt, whose program goes for its 18th Final Four on Tuesday (ESPN, 7 p.m. ET) against Texas A&M, described Hornbuckle during Monday's news conference in Oklahoma City: "I think her game starts with defense, and just her commitment to get in the passing lanes. She's great on the ball. She is even more dangerous off the ball because she does have great awareness, great anticipation, and she is a risk taker. "She'll gamble, but for the most part, she's so heady in making those reads, and [is] one of the best all-around guards I've coached at Tennessee." That's the thing -- Hornbuckle is so smart about when she gambles that she's almost always right. And so, a lot of the time it doesn't even seem as if she's gambling. She typically makes it look like she made the exact right play. You can't gamble and wreak havoc in the passing lanes the way Hornbuckle does without considerable quickness. But there are quick players who run all over the court and expend considerable energy … and yet never get done what Hornbuckle does. It goes back to basketball IQ. Really successful gamblers are never just "lucky"; they become experts on playing the percentages. Of course, the NCAA will get very nervous with all these gambling references … so let's go to other things that Hornbuckle always has brought to Tennessee: fantastic rebounding from the guard spot, a knack for keeping possessions alive with her active hands, the ability to penetrate and get the ball to teammates in the best position for them to score, and a fun-loving personality. That last trait might sound unimportant, but it isn't. Playing the kind of high-pressure games Tennessee does every year, it matters to have that player who can keep everyone loose while not playing loosely. Hornbuckle has a good time with her teammates, with opponents, with fans … even with taunting fans the way Duke's student section did to her in Tennessee's two visits to Cameron Indoor Stadium in her career. Hornbuckle was rattled the first time she went there in 2006, and I can't imagine any player who wouldn't have been shaken up in that setting. When she went back this season, instead of getting angry, she smiled at the Duke fans and just said, "Hey, it's all cool." "The thing about Alexis is, she's going to do the dirty work," Summitt said. "And it's hard to get sometimes great athletes, high-profile players that say, 'Hey, Coach, let me guard the best player,' or 'I'll get to the glass.'" But it has never been hard for Hornbuckle not just to say those things, but also do them for four years.
Mechelle Voepel of The Kansas City Star is a regular contributor to ESPN.com. She can be reached at mvoepel123@yahoo.com.
espnW.com
Mechelle Voepel joined ESPN.com in 1996 and covers women's college hoops, the WNBA, the LPGA, and additional collegiate sports for espnW.
2008 NCAA Women's Basketball Tournament
Get caught up with all the news, notes, insights and analysis from the 2008 NCAA tournament.
Tournament Index
Elite Eight
•
Dish: Tampa, here we come!
•
Hays: Gutsy win gets UConn seniors to Final Four
•
Voepel: Tough Tennessee wills itself to Tampa
•
Dish: Losses by Maryland, UNC leave ACC empty
•
Voepel: LSU the toast of New Orleans
•
Miller: Second really is the best in Spokane
•
Voepel: Elite Eight loss toughest on the seniors
•
Hays: Second chances key to UConn-Rutgers
•
Voepel: Like CP3, Hornbuckle important to Vols
•
Voepel: LSU faces toughest Elite foe yet in UNC
•
Miller: Terps, Cardinal feel slighted in Spokane
Sweet 16
•
Dish: Welcome to the Party, Texas A&M
•
Hays: Knights not satisfied with win
•
Hays: Hobbled Hunter finds ways to help Huskies
•
Voepel: UNC overcomes slow start for comeback
•
Voepel: White-Riley better than LSU-OK State
•
Voepel: Black back, driving force for Blue Devils
•
Hays: GW's Beck's must break out of slump
•
ESPN.com experts' Sweet 16 picks
•
Voepel: Overlooked Dores could test Terps
•
Voepel: Talent-laden Louisville ready for UNC
•
Hays: Louisville's Walz a real statement maker
•
Voepel: Oklahoma City Regional
•
Hays: Greensboro Regional breakdown
•
Creme: Spokane Regional breakdown
•
Mowins: New Orleans Regional breakdown
•
Merrill: The meeting that saved Texas A&M
First two rounds
•
Tuesday's Tournament Dish: Big East flavor
•
Hays: Awe-inspiring Allen leads Irish to OT win
•
Voepel: Moore so good we're left wanting more
•
Hays: Defending champs get defensive
•
Monday's Tournament Dish: Cowgirls up!
•
Hays: Irish guards hope to offset OU posts
•
Voepel: Huskies vs. Horns? Try Geno vs. Gail
•
Sunday's Tournament Dish: First-round wrap
•
Voepel: Unusual suspects step up for UConn
•
Hays: Not always pretty, but OU finds way to win
•
Saturday's Tournament Dish: Typical Day One
•
Mowins: Florida State too quick for Ohio State
•
Voepel: Buckeyes make another early exit
•
Voepel: Coach G, Horns feeling litte pressure
•
Hays: Sibling act helps Utah prepare for Purdue
•
Voepel: New tournament, same favorites
•
Hays: Five underrated players to watch
•
Smith: The storied saga of Geno and Pat
•
Hays: UConn's Moore playing beyond her years
•
Previews:
G'boro
|
N.O.
|
Okla. City
|
Spokane
•
Voepel: Calling all Volunteers
•
Voepel: Big Easy? Not for Heels
•
Hays: Bracket's big questions
•
Creme: Good bracket … with a few exceptions
•
Hays: Magnificent seven on inside track
•
ESPN.com experts break down the bracket
•
Merrill: OU, Paris seeking shelter from storm
•
Blog: There's nothing like your first tourney
More
•
Tournament Challenge
MOST SENT STORIES ON ESPN.COM