Commentary
North Carolina's loss means end of the (college) road for Larkins, Pringle
Updated:
April 1, 2008, 4:28 PM ET
By
Mechelle Voepel
| Special to ESPN.com
NEW ORLEANS -- Two years ago in Boston, North Carolina's Erlana Larkins played one of the best games of her career on her birthday, April 2. But it wasn't enough, as Maryland won that NCAA semifinal.
Last year, Larkins' birthday was the day after the Tar Heels let a lead get away against Tennessee in the Final Four, losing 56-50.
[+] Enlarge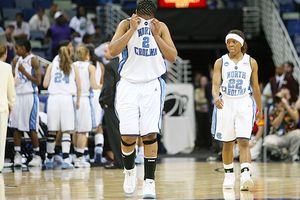 Crystal LoGiudice/US PresswireErlana Larkins left it all on the court Monday, ending her career two games too early.
Wednesday, Larkins will turn 22, and she again will not be in much of a mood to celebrate. Tears welled in her eyes from the end of Monday's game here -- another 56-50 loss, this time to LSU -- through the news conference … and they were still there as she stood in North Carolina's locker room. "It's going to be hard going back to [Chapel Hill] and knowing today was the last day in this uniform. But I can't dwell on it," she said, her voice wavering, because she knows there's no way
not
to dwell at least a little when you reach the end of something so important to you. "The turnaround time is not that much, and I have to get ready for a professional career." Larkins is from Riviera Beach, Fla., and has known LSU's Sylvia Fowles, who is from Miami, since their days in Florida AAU basketball. Larkins stood trying to compose herself after the final horn blew on Monday at New Orleans Arena, then made her way down the line for the postgame handshake. But Fowles was doing a television interview, so she wasn't in the handshake line. Larkins went over to the LSU bench area and waited for Fowles' interview to finish so she could congratulate her. They hugged each other -- one senior going to the Final Four again, one not getting the opportunity. "I just went over there and told her, 'Represent not only your university, but make back home mighty proud,'" Larkins said. "Go win it for us." The Tar Heels have had to live vicariously the past three years -- because each time, their season has ended at the hands of the team that went on to win the national championship: Baylor (2005), Maryland (2006) and Tennessee (2007). "If LSU does go on to a national championship, I guess we're like the good-luck charm for the NCAA [tournament]," LaToya Pringle said, providing a moment of levity in a sad news conference. "That's the way it kind of feels." Both Larkins and Pringle, who are disappointed as seniors, do have something to look forward to in Tampa, as Larkins alluded to earlier: the WNBA draft. Larkins has been a top prospect for a while now, and Pringle has definitely proved herself to be one this season, too. Pringle was the top Tar Heel at this regional, with a combined 48 points and 22 rebounds in UNC's two games in New Orleans. But Larkins, who played through January and February with a broken left hand, struggled offensively in this regional. She was 2-of-12 from the field for seven points against Louisville, and then 2-of-11 for five points -- all in the first half -- against LSU. Both games, though, she rebounded well with 12 and 11 boards, respectively. Larkins and Pringle did what they could against Fowles, but her size and strength -- and her ability to go get the ball -- ended up being too much for the Tar Heels. Because in this matchup, 56 points was enough to beat them, which UNC coach Sylvia Hatchell said was like "a nightmare." Carolina's perimeter attack didn't really exist; the Tar Heels made just one of eight 3-point attempts, that by Rashanda McCants in the last minute of the game. They came into Monday's contest averaging four 3-pointers per game. So all the more pressure was on the interior players to score. "It's very deflating when you're trying to give it all you have [defensively] and you have to come down on offense and work [that hard] also," Larkins said. Of LSU's ability to lob into Fowles, she added, "They'd throw the ball, and it looks like it's going out of bounds. And she's still grabbing it. "There was nothing I could do. She did what she could do, and her teammates did a great job of getting her the ball." Like all seniors who depart college ball without winning it all -- and what a list of great players that is -- Larkins was aching about having to cross this particular finish line Monday. "Overall, our career was very successful," she said, speaking of herself and Pringle. "But we still leave this program without a championship. So that's the hardest part."
Mechelle Voepel of The Kansas City Star is a regular contributor to ESPN.com. She can be reached at mvoepel123@yahoo.com.
espnW.com
Mechelle Voepel joined ESPN.com in 1996 and covers women's college hoops, the WNBA, the LPGA, and additional collegiate sports for espnW.
SPONSORED HEADLINES
MORE WOMEN'S BASKETBALL HEADLINES
MOST SENT STORIES ON ESPN.COM
2008 NCAA Women's Basketball Tournament
Get caught up with all the news, notes, insights and analysis from the 2008 NCAA tournament.
Tournament Index
Elite Eight
•
Dish: Tampa, here we come!
•
Hays: Gutsy win gets UConn seniors to Final Four
•
Voepel: Tough Tennessee wills itself to Tampa
•
Dish: Losses by Maryland, UNC leave ACC empty
•
Voepel: LSU the toast of New Orleans
•
Miller: Second really is the best in Spokane
•
Voepel: Elite Eight loss toughest on the seniors
•
Hays: Second chances key to UConn-Rutgers
•
Voepel: Like CP3, Hornbuckle important to Vols
•
Voepel: LSU faces toughest Elite foe yet in UNC
•
Miller: Terps, Cardinal feel slighted in Spokane
Sweet 16
•
Dish: Welcome to the Party, Texas A&M
•
Hays: Knights not satisfied with win
•
Hays: Hobbled Hunter finds ways to help Huskies
•
Voepel: UNC overcomes slow start for comeback
•
Voepel: White-Riley better than LSU-OK State
•
Voepel: Black back, driving force for Blue Devils
•
Hays: GW's Beck's must break out of slump
•
ESPN.com experts' Sweet 16 picks
•
Voepel: Overlooked Dores could test Terps
•
Voepel: Talent-laden Louisville ready for UNC
•
Hays: Louisville's Walz a real statement maker
•
Voepel: Oklahoma City Regional
•
Hays: Greensboro Regional breakdown
•
Creme: Spokane Regional breakdown
•
Mowins: New Orleans Regional breakdown
•
Merrill: The meeting that saved Texas A&M
First two rounds
•
Tuesday's Tournament Dish: Big East flavor
•
Hays: Awe-inspiring Allen leads Irish to OT win
•
Voepel: Moore so good we're left wanting more
•
Hays: Defending champs get defensive
•
Monday's Tournament Dish: Cowgirls up!
•
Hays: Irish guards hope to offset OU posts
•
Voepel: Huskies vs. Horns? Try Geno vs. Gail
•
Sunday's Tournament Dish: First-round wrap
•
Voepel: Unusual suspects step up for UConn
•
Hays: Not always pretty, but OU finds way to win
•
Saturday's Tournament Dish: Typical Day One
•
Mowins: Florida State too quick for Ohio State
•
Voepel: Buckeyes make another early exit
•
Voepel: Coach G, Horns feeling litte pressure
•
Hays: Sibling act helps Utah prepare for Purdue
•
Voepel: New tournament, same favorites
•
Hays: Five underrated players to watch
•
Smith: The storied saga of Geno and Pat
•
Hays: UConn's Moore playing beyond her years
•
Previews:
G'boro
|
N.O.
|
Okla. City
|
Spokane
•
Voepel: Calling all Volunteers
•
Voepel: Big Easy? Not for Heels
•
Hays: Bracket's big questions
•
Creme: Good bracket … with a few exceptions
•
Hays: Magnificent seven on inside track
•
ESPN.com experts break down the bracket
•
Merrill: OU, Paris seeking shelter from storm
•
Blog: There's nothing like your first tourney
More
•
Tournament Challenge