Commentary
Auguste will help defend against Wiggins in title game
Updated:
April 8, 2008, 12:19 PM ET
By
Mechelle Voepel
| Special to ESPN.com
TAMPA, Fla. -- Alberta Auguste's college basketball career started in the Sunshine State, and that's where it will end, too. Where she is now is quite a jump from where she began.
She played two seasons of juco ball at Central Florida Community College. She couldn't quite believe it when Tennessee called with interest.
[+] Enlarge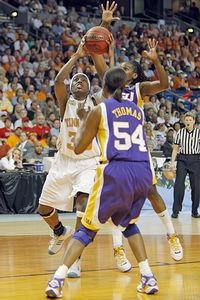 David Butler II/US PresswireAlberta Auguste is known as a defensive stopper, but her 10 points Sunday against LSU were huge.
"When I found out they were recruiting me, I was kind of shocked," Auguste said. "I was like, 'Tennessee wants me?' But I'm happy that I'm here. I've gotten to play with the best and against the best." Auguste, a Louisiana native who is the youngest of six children, is a 5-foot-11 forward who specializes on defense but has come up with some key offensive performances in her two seasons at Tennessee. "Let's not forget last year -- she was very instrumental in us winning a championship," coach Pat Summitt said. "And for whatever reason, this is her time. I think [Sunday], if I could say one player in that starting five that I challenged really and truly answered it, that definitely would be Alberta." Auguste had 10 points, and that was
a lot
of scoring in Tennessee's 47-46 semifinal victory over LSU on Sunday. Her last basket came with 51 seconds left. Tennessee really needed the offense from Auguste and fellow juco transfer Shannon Bobbitt (11 points), especially on a night when a sore-shouldered Candace Parker went 6-of-27 from the field. Plus, Alexis Hornbuckle, Angie Bjorklund and Alex Fuller were a combined 3-for-18. Auguste said Summitt has reinforced in her the confidence that even if she is the fifth option on the court in terms of scoring, when there's an opening for her, she needs to go for it. "Her just believing in me has helped me out a whole lot," Auguste said. "Playing for Pat Summitt means a whole lot. We don't take it for granted. She's like having another mother." Auguste also scored 10 points in last year's NCAA title game victory over Rutgers. That was one of seven games all last season in which she finished with double figures, and it came at the perfect time. "My defense always sets the tone for me," she said. "When I have the opportunity, I take what I can on offense, as well. Last year, I did a good job in the postseason, and I'm trying to do the same thing this year." Auguste expects to spend a lot of time defending against Stanford's Candice Wiggins in Tuesday's game. "I'm going to try everything against her," she said, adding with a smile of how close she intends to guard Wiggins. "If I have to follow her to the restroom, I'll follow her. I'll do whatever it takes for us to win this championship."
Mechelle Voepel of The Kansas City Star is a regular contributor to ESPN.com. She can be reached at mvoepel123@yahoo.com.
espnW.com
Mechelle Voepel joined ESPN.com in 1996 and covers women's college hoops, the WNBA, the LPGA, and additional collegiate sports for espnW.
SPONSORED HEADLINES
MORE WOMEN'S BASKETBALL HEADLINES
MOST SENT STORIES ON ESPN.COM
2008 NCAA Women's Basketball Tournament
Get caught up with all the news, notes, insights and analysis from the 2008 NCAA tournament.
Tournament Index
Championship game
•
Hays: Two-year plan pays dividends for Vols
•
Hays: Lady Vols' defense wins championship
•
Voepel: Fitting end to Parker's college career
•
Voepel: Never satisfied, Summitt wins title No. 8
•
Voepel: Another great title game from Anosike
•
Hays: Wiggins gone, but Stanford future bright
•
Experts: X factors behind Tennessee's win
•
Creme: Parker leads UT to second straight title
•
Voepel: Wiggins, Parker share more than name
•
Lawson: Candice Wiggins vs. Candace Parker
•
Appel, Pedersen give Stanford potent post
•
Expert X factors and picks: Stanford the favorite
•
Hays: Assistant coaches vital in trip to title game
•
Voepel: Vols' Auguste up for one last big game
•
Creme: Championship game preview
Final Four
•
Voepel: Hornbuckle's heroics save Lady Vols
•
Hays: Stanford's mental toughness the difference
•
Voepel: LSU's end to season all too familiar
•
Hays: UConn will get Moore chances
•
Expert X factors: How Tennessee beat LSU
•
Expert X factors: How Stanford beat Connecticut
•
Voepel: Loyal alumni cheer on Stanford in Tampa
•
Instant Analysis:
Stanford
|
Tennessee
•
Hays: Saturday in Tampa? Wiggins' world
•
Voepel: Injury won't slow down Vols' Parker
•
Voepel: Moore remembers first Final Four
•
Hays: UConn vs. Stanford? Try East vs. West
•
Voepel: LSU trio in shadows, but just as vital
•
Voepel: Anosike sees little room for error
•
Experts: X factors for Stanford-Connecticut
•
Experts: X factors for LSU-Tennessee
•
Lawson: Five burning questions for the Final Four
•
Voepel: PGs could determine SEC rubber match
•
Creme: Final Four breakdown
•
Hays: Injured UConn pair still contributing
•
Experts' Final Four picks
•
Voepel: Stanford's Final Four a long time coming
Elite Eight
•
Dish: Tampa, here we come!
•
Hays: Gutsy win gets UConn seniors to Final Four
•
Voepel: Tough Tennessee wills itself to Tampa
•
Dish: Losses by Maryland, UNC leave ACC empty
•
Voepel: LSU the toast of New Orleans
•
Miller: Second really is the best in Spokane
•
Voepel: Elite Eight loss toughest on the seniors
•
Hays: Second chances key to UConn-Rutgers
•
Voepel: Like CP3, Hornbuckle important to Vols
•
Voepel: LSU faces toughest Elite foe yet in UNC
•
Miller: Terps, Cardinal feel slighted in Spokane
Sweet 16
•
Dish: Welcome to the Party, Texas A&M
•
Hays: Knights not satisfied with win
•
Hays: Hobbled Hunter finds ways to help Huskies
•
Voepel: UNC overcomes slow start for comeback
•
Voepel: White-Riley better than LSU-OK State
•
Voepel: Black back, driving force for Blue Devils
•
Hays: GW's Beck's must break out of slump
•
ESPN.com experts' Sweet 16 picks
•
Voepel: Overlooked Dores could test Terps
•
Voepel: Talent-laden Louisville ready for UNC
•
Hays: Louisville's Walz a real statement maker
•
Voepel: Oklahoma City Regional
•
Hays: Greensboro Regional breakdown
•
Creme: Spokane Regional breakdown
•
Mowins: New Orleans Regional breakdown
•
Merrill: The meeting that saved Texas A&M
More
•
Tournament Challenge