Commentary
Terps make statement, begin to resemble 2006 title team
Updated:
March 30, 2008, 12:38 PM ET
By
Ted Miller
| ESPN.com
SPOKANE, Wash. -- Maryland coach Brenda Frese called the four teams in the Spokane Regional "underdogs" this week in large part because few pundits believe any of its participants will raise the big trophy in Tampa 10 days hence. The conventional thinking says, the trophy presentation is reserved for Tennessee or Connecticut.
Ah, but a snowy weekend on the Palouse sent a whisper through the chill: Fear the turtle. The Terrapins might have what it takes to catch those touted hares.
Looking every bit like the frisky, multi-dimensional team that clawed its way to a national title in 2006 -- as opposed to the second-round washout of a year ago -- Maryland overwhelmed Vanderbilt in an 80-66 victory.
Frese isn't eager to suddenly start bleeping on the radar, though she clearly thinks her Terps are being sold short.
"I love it right where it's at. It reminds me of two years ago," she said. "It's amazing you can continue to dismiss this team, being [33-3] and not see the positives of how this team plays."
Terps seize control early

On the way to an easy 95-54 win against Sacred Heart in the first round of the NCAA tournament two years ago, Maryland raced to a 47-33 halftime lead. Who the heck cares two years later, you might ask? Until Saturday night in Spokane, that was one of only two double-digit halftime leads the current class of Maryland seniors that includes Crystal Langhorne and Laura Harper had ever held in compiling a 10-2 record in the NCAA tournament. And 13-point leads against Sacred Heart and Harvard in first-round games don't carry quite the luster of what the Terrapins did in an 80-66 win against Vanderbilt. A high-performance roadster once it gets going, Maryland has often started NCAA tournament games like a '73 Chevelle on a winter morning in Saskatchewan. Before the game against Vanderbilt, it had actually trailed by double digits at the half -- against Duke in 2006 and Mississippi in 2007 -- as many times as it had led by such a margin. So while it's easy to say the Terrapins were back to their old selves after so-so results against Coppin State and Nebraska in the first two rounds this March, they actually showed a heretofore rarely seen ability to seize control from the start and never let up. Even if Maryland didn't feel a statement was needed after another slow start to the postseason, it didn't waste any time making one in the Sweet 16.
-- Graham Hays
It's hard to beat a team that owns the paint and the perimeter. It's hard to win when a team is superior running and in the half-court.
Heck, the typically turnover-prone Terrapins only committed 15 miscues -- only five of which came before the break, when there was a still whiff of mystery as to who might prevail. That was one of many reasons their halftime advantage was 44-29. Vanderbilt had been forcing 20.4 per game.
Another big reason: lots of scoring options.
Against a defense sixth-year Vanderbilt coach Melanie Balcomb called the best she has coached, four Terps hit double figures, topped by another tour-de-force performance from senior forward Crystal Langhorne, who scored 28 points and pulled down nine rebounds.
Maryland hit 50.9 percent of its shots from the field. That's just slightly better than its season percentage of 49.3 percent, which ranked second in the nation.
Vanderbilt pulled within 12 early in the second half. But any thoughts of a rally were quickly doused when guard Kristi Toliver drove for a hoop, grabbed a steal on the ensuing possession and scampered for a layup on the other end.
The margin topped out at 21. The overwhelmed and youthful Commodores -- they start two freshmen and a sophomore -- never mustered a serious threat.
"Next year, we won't be a young team," said junior Christina Wirth, who led Vandy with 13 points and eight rebounds.
When asked whether Maryland could compete with Tennessee, which thrice whipped the Commodores this season, guard Jennifer Risper said, "Yes, definitely. I definitely think they can."
A grumpy Balcomb wasn't so generous. Asked if Maryland compared to Tennessee, she huffed, "Yeah, I don't know."
Perhaps she was irritated that Maryland, an offensive juggernaut that sometimes displays a fairly casual attitude about defense, was the stingy team this night, grabbing seven steals and holding the Commodores to 38.7 percent from the field.
What was the motivation for the defensive inspiration?
"I think just listening to different people in the media, watching ESPN and us not really being the talk of things -- and mainly because of our defense," said forward Marissa Coleman, who added 19 points.
It didn't take long to sense Vanderbilt was in deep trouble. Langhorne scored eight points in an 11-2 run to start the game, and the Commodores didn't record their second field goal until seven minutes had expired.
[+] Enlarge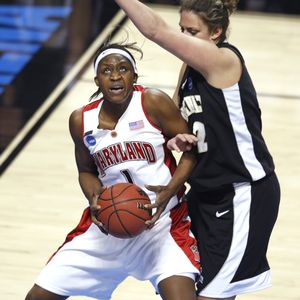 AP Photo/John FroschauerCrystal Langhorne put together another dominant performance for the Terps.
Balcomb substituted 6-foot-4 Liz Sherwood to grind on Langhorne. That briefly muted the All-American, but it didn't stop Maryland.
That's because Toliver kept finding soft spots in the Vandy defense. The Terps' second-leading scorer with nearly 17 points per game, she finished with only eight points, but distributed eight assists, masterfully running the offense.
"I felt like Tom Brady," said Toliver, who had no turnovers. "Everybody was just connecting and we had great chemistry -- everybody was executing the game plan."
That chemistry received a boost from freshman Marah Strickland. She broke out of a cold spell by hitting three of her five 3-point attempts, making it darn near impossible for Vandy to pick a poison.
"I think a few of her 3s were definitely demoralizing for them and daggers in their hearts," Coleman said.
Frese gave birth to twins in February. Her Terrapins, four of whom played for the 2006 National Champions, might be angling for twins of their own.
Just don't tell anybody.
Ted Miller covers college sports for ESPN.com. Send your questions and comments to Ted at tedmillerespn@gmail.com.
College Football
ESPN.com Pac-12 reporter
Covered college football since 1997
Graduate of the University of Richmond
SPONSORED HEADLINES
MORE WOMEN'S BASKETBALL HEADLINES
MOST SENT STORIES ON ESPN.COM