Commentary
After 11 years, Stanford returns to the Final Four
Updated:
April 1, 2008, 4:06 PM ET
By
Ted Miller
| ESPN.com
SPOKANE, Wash. -- Two weeks ago, the NCAA selection committee told Stanford it was second-rate, creating a captivating piece of theater when the Cardinal women were captured on national television with expressions that ranged from hangdog to livid while, on the other side of the split television screen, Maryland wildly celebrated its No. 1 seed.
Suffice it to say, the scene was different Monday at the Spokane Arena.
What once was No. 2 is now No. 1 in the Spokane Regional.
Senior All-American Candice Wiggins bounced back from a poor Sweet 16 performance against Pittsburgh, spinning, stroking and bombing her way to 41 points to lead the Cardinal to an impressive 98-87 victory over a Maryland team that scrapped hard against a seemingly irresistible offensive display. "Sometimes it's just not your day," teary-eyed and gracious Maryland coach Brenda Frese said. "They continued to hit big shot after big shot and they really stayed poised the complete, 40-minute game."
The victory -- Stanford's nation-best 22nd straight -- surely will inspire cheers up and down the West Coast, which hasn't sent a team to the women's Final Four since Stanford last went in 1997. Pac-10 teams had lost six straight regional finals before the Cardinal broke through.
This was a breakthrough with a sonic boom.
Wiggins, who rolled up 44 points in the second round against UTEP, became the first player to score more than 40 points twice in the NCAA tournament. She stroked five of the Cardinal's 14 3-pointers -- third most for a team in tourney history and most ever beyond the second round -- and turned the ball over just once.
Stanford coach Tara VanDerveer didn't hem and haw about what she thought of her star's performance.
[+] Enlarge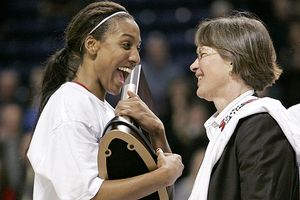 AP Photo/Elaine ThompsonCandice Wiggins, who scored 41 points in the regional final, and coach Tara VanDerveer led Stanford back to its first Final Four since 1997.
"In many ways, it might be her very best, because the most was on the line," VanDerveer said.
Wiggins said she wasn't nervous before the game because she felt confident her team would win. A quick start merely confirmed that.
"You could tell from the beginning -- our team knew," she said.
If Stanford twice duplicates this performance through the Final Four, it's hard to imagine the Cardinal ending up on the frowning side of the court, no matter who suits up opposite them. Up next in Tampa: a date with the winner of the Connecticut-Rutgers game Tuesday (ESPN, 9 p.m. ET) in Greensboro, N.C. VanDerveer said Sunday that she didn't care what pace the game was played at, as long as her team got back on defense and hit the boards. Both coaches agreed that defense and rebounding would be the game keys. One should have added an addendum: unless one team hits 14 of 28 3-pointers. Maryland won the rebounding battle 36-29 and it also hit 54.1 percent of its shots versus 50.8 from the Cardinal. The Terrapins had been 30-1 when outshooting their opponent. And, since 2004-05, they were 113-9 when outrebounding an opponent. Frese also admitted that she thought the frenetic pace of the first half favored her team, saying she didn't think the Cardinal could keep up their scoring pace. Stanford led 51-41 at the break, even though Maryland was shooting at an astonishing 64.3 percent clip. While Stanford lagged behind with a pedestrian 61.3 field goal percentage (ha!), it compensated by hitting 8 of 12 from behind the 3-point arc (66.7 percent). In the second half, when a Wiggins jumper pushed the lead to 17 points with 11:16 left, it felt like many on the Cardinal side started checking into restaurant reservations in Tampa.
[+] Enlarge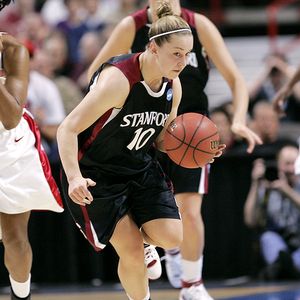 AP Photo/Elaine ThompsonCandice Wiggins was undeniably the star, but Stanford got unexpected help from JJ Hones, who scored a career-high 23 points.
But Maryland, which last led 31-30 with eight minutes before the half, sneaked back into it. Kristi Toliver scored 11 in a row for her team, and her fallaway jumper slashed the Cardinal advantage to 82-74 with five minutes to play. But the Terps suddenly got nervous at the free-throw line, missing 5 of 6 as the Stanford lead climbed back into double digits. Maryland never closed within nine points over the final four minutes. Afterward, tears flowed from the Maryland starters, four of whom won a national title in 2006. The arena played a highlight sequence of that championship run during a timeout with 15:44 left and Stanford's lead at 56-48. It didn't appear anyone on the Maryland bench even cast a glance at the screen. The Terps' stated mission, after flaming out in the second round a year ago, was to define themselves as more than a flash in the pan. "It's never going to be like this anymore [in the WNBA]," said a distraught Crystal Langhorne, who scored a quiet 13 points. "This team atmosphere, it's never going to be like this anymore. We just didn't want it to end." Toliver led the Terps' effort with a career-high 35 points, also a school tournament record. Stanford got numbers from some unexpected places. Kayla Pedersen, a 6-foot-4 freshman post, led the Cardinal with seven assists. Also, she was perfect on all three of her 3-point attempts, finishing with 15 points. Guard JJ Hones, meanwhile, added a career-high 23 points. "I felt like people might have been sleeping on me," Hones said. "So I felt it was kind of my duty to make shots." Mulling her team's lack of production inside, Frese admitted that Stanford played more physically. "I thought at times, on our end, we really shied away from the contact," she said. The Cardinal made no secret where that superior aggressiveness came from. "We kept that 2-seed in mind," Stanford's Jayne Appel said. "There was no way we were going to lose this game."
Ted Miller covers college sports for ESPN.com. Send your questions and comments to Ted at tedmillerespn@gmail.com.
College Football
ESPN.com Pac-12 reporter
Covered college football since 1997
Graduate of the University of Richmond
2008 NCAA Women's Basketball Tournament
Get caught up with all the news, notes, insights and analysis from the 2008 NCAA tournament.
Tournament Index
Elite Eight
•
Dish: Tampa, here we come!
•
Hays: Gutsy win gets UConn seniors to Final Four
•
Voepel: Tough Tennessee wills itself to Tampa
•
Dish: Losses by Maryland, UNC leave ACC empty
•
Voepel: LSU the toast of New Orleans
•
Miller: Second really is the best in Spokane
•
Voepel: Elite Eight loss toughest on the seniors
•
Hays: Second chances key to UConn-Rutgers
•
Voepel: Like CP3, Hornbuckle important to Vols
•
Voepel: LSU faces toughest Elite foe yet in UNC
•
Miller: Terps, Cardinal feel slighted in Spokane
Sweet 16
•
Dish: Welcome to the Party, Texas A&M
•
Hays: Knights not satisfied with win
•
Hays: Hobbled Hunter finds ways to help Huskies
•
Voepel: UNC overcomes slow start for comeback
•
Voepel: White-Riley better than LSU-OK State
•
Voepel: Black back, driving force for Blue Devils
•
Hays: GW's Beck's must break out of slump
•
ESPN.com experts' Sweet 16 picks
•
Voepel: Overlooked Dores could test Terps
•
Voepel: Talent-laden Louisville ready for UNC
•
Hays: Louisville's Walz a real statement maker
•
Voepel: Oklahoma City Regional
•
Hays: Greensboro Regional breakdown
•
Creme: Spokane Regional breakdown
•
Mowins: New Orleans Regional breakdown
•
Merrill: The meeting that saved Texas A&M
First two rounds
•
Tuesday's Tournament Dish: Big East flavor
•
Hays: Awe-inspiring Allen leads Irish to OT win
•
Voepel: Moore so good we're left wanting more
•
Hays: Defending champs get defensive
•
Monday's Tournament Dish: Cowgirls up!
•
Hays: Irish guards hope to offset OU posts
•
Voepel: Huskies vs. Horns? Try Geno vs. Gail
•
Sunday's Tournament Dish: First-round wrap
•
Voepel: Unusual suspects step up for UConn
•
Hays: Not always pretty, but OU finds way to win
•
Saturday's Tournament Dish: Typical Day One
•
Mowins: Florida State too quick for Ohio State
•
Voepel: Buckeyes make another early exit
•
Voepel: Coach G, Horns feeling litte pressure
•
Hays: Sibling act helps Utah prepare for Purdue
•
Voepel: New tournament, same favorites
•
Hays: Five underrated players to watch
•
Smith: The storied saga of Geno and Pat
•
Hays: UConn's Moore playing beyond her years
•
Previews:
G'boro
|
N.O.
|
Okla. City
|
Spokane
•
Voepel: Calling all Volunteers
•
Voepel: Big Easy? Not for Heels
•
Hays: Bracket's big questions
•
Creme: Good bracket … with a few exceptions
•
Hays: Magnificent seven on inside track
•
ESPN.com experts break down the bracket
•
Merrill: OU, Paris seeking shelter from storm
•
Blog: There's nothing like your first tourney
More
•
Tournament Challenge
STORIES FROM HUFFINGTON POST