Two mild upsets ... and a typical first round
AP Photo/Jake Schoellkopf
Sizing up Day 1
By Graham Hays
ESPN.com
The big winner on the opening day of the showdown between the Big East and the Big 12 was the … the Metro Atlantic Athletic Conference? Or maybe it was the America East. Looking at the big picture after one day of play in the NCAA tournament is a little like trying to look at the night sky through a microscope. But from Baton Rouge, La., to Stanford, Calif., a few themes still emerged out of the first half of the first round.
Chalk:
Thanks to 11th-seeded Florida State, the field remains on pace for a typical first round. Only once since 2000 have fewer than three double-digit seeds produced first-round upsets. Matching that might have been difficult if 10th-seeded Hartford owned the only noteworthy upset of the opening day -- since half of Sunday's schedule involves either No. 1 seeds on cruise control or No. 8 seeds playing No. 9 seeds -- but the Seminoles obliged.
Mountain West:
The league still has regular-season champion Utah in action on Sunday against Purdue, but a chance to make a big statement went by the wayside when Wyoming and New Mexico couldn't hold late leads against Big East opponents. Neither team was supposed to win based strictly on seeding, but considering both squads were playing in friendly confines in Albuquerque, N.M., it's hard to look at the close calls as moral victories.
Big East:
On the flip side, credit Chakhia Cole for saving face for an entire conference's reputation with the Big East on the brink of a 2-3 opening day. Cole certainly saved West Virginia against New Mexico in Albuquerque hitting a big 3-pointer and an even bigger jumper in the closing minutes en route to 22 points and 11 rebounds. The good news for the Mountaineers is they survived one of college basketball's toughest road games in The Pit without getting great games from Meg Bulger or Olayinka Sanni.
Big 12:
Leading the chalk parade that marked most of the day, the Big 12 picked up four wins in as many chances. That wasn't especially surprising for second-seeded Texas A&M or No. 3 seeds Baylor and Oklahoma State against overmatched opponents -- although both the Cowgirls and to a lesser extent the Lady Bears made things interesting by coasting to the finish.
Mowins in Des Moines
By Beth Mowins
ESPN.com
DES MOINES, Iowa -- What was commonly thought of as the last team included in the field of 64 provided the biggest upset Saturday on the opening day of the women's NCAA tournament. Florida State received an 11th seed on Selection Monday, an NCAA berth most didn't see coming. But now, after shocking sixth-seeded Ohio State 60-49 here, the Seminoles advance to play Oklahoma State on Monday in the second round. Saturday night's game was practically over in the opening minutes. Florida State jumped right at Ohio State, taking a 7-0 lead. It was clear from the start that contrasting styles -- Florida State played with the typical quickness of an ACC team, while OSU of the Big Ten plays a more methodical, half-court game -- would work in the Seminoles' favor. They had speed at every position and came out the aggressor. Florida State's speed and man-to-man defense really disrupted OSU offensively, and Tanae Davis-Cain was the key. The 5-foot-11 junior guard hit 5-of-9 3-point attempts to finish with 27 points, but her defensive efforts were just as important. Davis-Cain did a wonderful job shutting down OSU senior sharpshooter Marscilla Packer on the perimeter. Packer just wasn't able to get the ball anywhere near a position to shoot it.
More …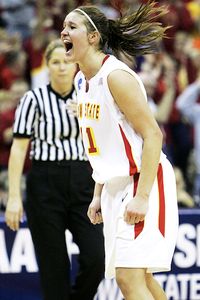 AP Photo/Charlie Neibergall
Kelsey Bolte led Iowa State with 19 points on 5-for-8 shooting on 3-pointers.
Also at Wells Fargo Arena on Saturday:
Rutgers
held Robert Morris to the fourth-worst shooting performance in women's NCAA tournament history. But the best part of Rutgers' 85-42 victory was that it was completely unchallenged. Yes, coach C. Vivian Stringer's Scarlet Knights still logged a lot of minutes -- Essence Carson played 38, Epiphanny Prince 36, Matee Ajavon 32 and Kia Vaughn 28 -- but they weren't taxed. Rutgers looked really smooth, very balanced -- four in double figures and a fifth with nine points -- and seemed to be on postseason cruise control. The Scarlet Knights were able to move the ball well and looked much better in their half-court sets. They got the ball inside to Vaughn early and then worked it inside-out. That was a big difference. Seven of eight players scored and Brittany Ray hit all four of her 3-point attempts.
Iowa State
's Kelsey Bolte was really impressive. But not just because the 6-foot-1 freshman guard hit a career-high five 3-pointers. Her size really created some problems for Georgia Tech senior Chioma Nnamaka, who hit the second-most 3-pointers in Division I hoops this season. But on Saturday, Nnamaka hit just one field goal, missing both of her 3-point attempts and falling far short of her 15.3 scoring average. Georgia Tech just was not able to free her up.
Coach G relishing first tourney with Texas
By Mechelle Voepel
ESPN.com
BRIDGEPORT, Conn. -- Gail Goestenkors will never look this relatively relaxed before an NCAA tournament again. Her Texas team is a No. 8 seed here and will play in the late game Sunday night against ninth-seeded Minnesota. The Longhorns got hot at the right time -- the last three games of the regular season and the Big 12 tournament -- and earned themselves an at-large bid to the Big Dance in Goestenkors' first season in Austin, Texas. She said Saturday that it has been, "One of my most rewarding seasons." Texas had missed the NCAA tournament the past two years, and the program's discipline and focus eroded. After three decades, Jody Conradt was ready to hand over the reins, and did so at the right time. Because the Horns were young and the Big 12 was deep, the external expectations for this season for Goestenkors were not enormous. The expectations she had for herself, though, were still pretty big.
More …
Sibling act helps Utah prepare for Purdue
By Graham Hays
ESPN.com
WEST LAFAYETTE, Ind. -- Almost every college basketball program talks about promoting a sense of family within its ranks. Not many go to quite the extremes of the University of Utah, which arrived in Indiana for a first-round game against Purdue (Sunday,
ESPN2
, 7 p.m. ET) with what surely ranks as one of the only brother-sister combinations in college hoops.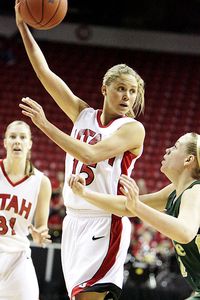 AP Photo/Jae C. Hong
Morgan Warburton leads Utah with 17.2 ppg and also averages 5.4 rebounds while shooting 43 percent on 3-pointers.
Sure, Candace Parker's older brother was once a star at Bradley. And Stanford's Candice Wiggins shared the Bay Area stage with her older brother for a couple of years when Alan Wiggins Jr. played at San Francisco. But siblings as part of the same team? "I play a lot harder, because I don't want her to score on me or anything," Cole Warburton explained of going against sister Morgan. A freshman team manager and occasional practice player for the Utes, Cole is also the younger brother of the team's junior leading scorer. The youngest of four sisters to play college basketball, Morgan leads Utah at 17.2 points per game, shoots nearly 43 percent on 3-pointers and pulls down better than five rebounds per game. And anyone who questions the toughness of a team from the Mountain West, especially one that lost to a 3-28 Colorado State team in the quarterfinals of the conference tournament, might want to consider the family feud sometimes played out at practice.
More …
OU back where it all began
By Graham Hays
ESPN.com
WEST LAFAYETTE, Ind. -- Far from being doomed to repeat it, Sherri Coale hopes a historical refresher might help her Oklahoma Sooners duplicate a stay in West Lafayette eight years ago that sent the program to its first Sweet 16 on her watch and launched a legacy of success. In Coale's fourth season, the Sooners beat BYU in the first round and rallied to stun host Purdue in the second round at Mackey Arena. It was the team's first Sweet 16 appearance in 14 seasons and just two years later, Oklahoma played for the national championship. For the current team, which seemed to lose its identity in three consecutive losses leading up to the NCAA tournament, the trip to northern Indiana for Sunday's game against No. 13 Illinois State offers a reminder of the foundation upon which Coale built. "When we play hard, we're just so competitive and we play within each other and we play together," Jenna Plumley explained. "And that's our focus right now is just to play hard on every possession." Beginning with a late January game against Georgia in which the Sooners actually prevailed, playing within each other didn't always seem to happen. Superb freshman point guard Danielle Robinson averaged 4.4 turnovers in the team's final 13 games, compared to 2.8 in the first 16 games. Plumley hit 26.7 percent of her 3-point attempts in those 13 games, after shooting 34.3 percent in the first 16 games. And it wasn't just the backcourt partners struggling to play up to their abilities. After a first-round loss against Missouri in the Big 12 tournament, Coale used the unexpected time off to address those concerns. "What we tried to do was start over," Coale said. "Just start over with the pieces and the parts -- and 'This is what we have, this is who we are and this is what can be. And we've got about eight to 10 days to figure that out and to get really, really good together.'" Now they're back in West Lafayette looking to turn the page at the place where the story began.
Hello Again
By Graham Hays
ESPN.com
WEST LAFAYETTE, Ind. -- Tiffany Hudson and Candace Parker are a little too young to go searching for an appropriate porch on which to reminisce about the good old days, but the bracket has provided an impromptu reunion for two friends who find themselves one loss away from the next chapter in each of their lives. Now a 5-foot-7 senior shooting guard and co-captain at Illinois State -- she's second on the team in assists, third in 3-pointers and of immeasurable value on the defensive end -- Hudson was once the point guard charged with getting Parker the ball as part of back-to-back state championship teams at Naperville Central High School in Illinois. The two might not have much time to connect in West Lafayette, and the odds are against 13th-seeded Illinois State winning twice to set up a Sweet 16 showdown of Naperville alums in Oklahoma City -- assuming Tennessee reaches the regional semifinals, as well. But distance hasn't dimmed the friendship. Nor has Parker's fame dimmed Hudson's opinion of her. "It's really cool, just because she's a wonderful person and a wonderful basketball player, obviously," Hudson said. "And just to see all the accolades she's been getting and how she's been handling everything. I mean, I've known her for awhile, and she's always been a humble person, but I think just the way she's handling everything is awesome. "She's not letting go of her past. Her friends are still around, she's still a down-to-earth girl. You know, some people go through that stuff and their head gets blown up, but I haven't experienced that from her and I think that's an awesome thing."
Player of the day

Playing as the favorite against a Mountain West Conference underdog in an MWC town, sixth-seeded Pittsburgh needed something extra to get past No. 11 Wyoming. And the Panthers got just that when their fifth woman trumped the sixth man in Albuquerque. Shavonte Zellous got her 21 points, but redshirt sophomore
Sophronia Sallard
offered arguably the most important 15 points of the game in Pitt's 63-58 win. It's inarguable that Sallard offered the day's most compelling line. Days before the start of the season, and just five days after being diagnosed, Sallard's mother died from breast cancer. As
Paul Zeise recounted
in the Pittsburgh Post Gazette, that left Sallard to carry a heavy burden with a heavy heart as the oldest of Deborah Sallard's seven children. Her limited production on the basketball court -- she averaged just 2.3 points in 10.2 minutes in Pitt's first 32 games -- is insignificant in that context. But her production Saturday afternoon was hardly insignificant to her teammates.
-- Graham Hays
11-seed FSU upsets sixth-seeded Buckeyes
NCAA tournament first-round scores
•
GREENSBORO
Iowa State 58, Georgia Tech 55
GW 66, Auburn 56
Rutgers 85, Robert Morris 42
Cal 77, San Diego 60
•
NEW ORLEANS
Oklahoma State 85, ETSU 73
Marist 76, DePaul 57
LSU 66, Jackson State 32
Florida St. 60, Ohio St. 49
•
OKLAHOMA CITY
Texas A&M 91, UTSA 52
Hartford 59, Syracuse 55
•
SPOKANE
Baylor 88, Fresno State 67
Pittsburgh 63, Wyoming 58
West Virginia 61, New Mexico 60
Stanford 85, Cleveland State 47
UTEP 92, Western Kentucky 60
Vanderbilt 75, Montana 47
For all scores, click here.
Hartford scores upset over Syracuse
On Tap For Sunday
(all times Eastern)
•
GREENSBORO
No. 1 Connecticut vs. No. 16 Cornell (ESPN2, 7)
No. 5 Old Dominion vs. No. 12 Liberty (ESPN2, 7)
No. 8 Texas vs. No. 9 Minnesota (ESPN2, 9)
No. 4 Virginia vs. No. 13 UCSB (ESPN2, 9) •
OKLAHOMA CITY
No. 4 OU vs. No. 13 Illinois St. (ESPN2, noon)
No. 5 Notre Dame vs. No. 12 SMU (ESPN, 2:30)
No. 3 Duke vs. No. 14 Murray St. (ESPN2, 7)
No. 8 Utah vs. No. 9 Purdue (ESPN2, 7)
No. 6 Arizona St. vs. No. 11 Temple (ESPN2, 9)
No. 1 Tennessee vs. No. 16 ORU (ESPN2, 9:30) •
NEW ORLEANS
No. 5 Kansas St. vs. No. 12 Chatt. (ESPN2, noon)
No. 1 UNC vs. No. 16 Bucknell (ESPN2, noon)
No. 4 L'ville vs. No. 13 Miami (Ohio) (ESPN, 2:30)
No. 8 Georgia vs. No. 9 Iowa (ESPN, 2:30) •
SPOKANE
No. 8 Nebraska vs. No. 9 Xavier (ESPN2, noon)
No. 1 Maryland vs. No. 16 Coppin St. (ESPN, 2:30)
Click here for Sunday's coverage map. For the full schedule, click here.
West Virginia escapes The Pit with win
(Can't) Miss March
A year ago, Marist guard Julianne Viani entered the NCAA tournament shooting 28.4 percent from the 3-point line. Then Viani hit six 3-pointers en route to 24 points in a first-round upset of Ohio State and three more 3-pointers en route to a second-round upset of Middle Tennessee. One out of every five 3-pointers she hit last season came under those brightest of lights. And it's starting to seem like she enjoys that spotlight after Saturday's 76-57 win. With the Red Foxes trailing 50-37 and in danger of fading completely out of the picture in Saturday's first-round game against 10-seed DePaul, Viani dropped in a 3-pointer to cut the lead to 10. After the team's traded baskets and DePaul pulled out to a 55-44 lead, Marist launched a 32-2 run that left the Blue Demons down and out. Not surprisingly, Viani hit the shots that brought her team even and out in front of its Big East foe. She finished with 18 points and four 3-pointers. To be fair, the so-so shooting Viani displayed in 2006-07 season (before the tourney) was something of an aberration for a player who set the school's single-season record for long-distance accuracy as a freshman. And Viani maintained last year's postseason productivity leading up to this year's NCAA tournament, shooting 37 percent from behind the line and averaging more than 1.5 3-pointers per game (despite a late-season bout with mono). But like the miniature MAAC version of Robert Horry or Mariano Rivera, she might be best when the stage is biggest. -- Graham Hays
Robert Morris no match for Rutgers
Bridgeport bits
• Blow out the candles, Coach: Geno Auriemma will turn 54 on Sunday. And while we're sure we won't be the first to wish him "Happy Birthday!" -- surely the cake arrived early from Knoxville, Tenn. -- we will say it, just the same. The Arena at Harbor Yard crowd can sing to its favorite coach before the top-seeded Huskies take on Cornell. By the way, the last time UConn lost a first-round game was in 1993, when the Huskies fell to Louisville. • Yep, she's an Ivy Leaguer: Understandably, Cornell has been trying to get some publicity for its superwoman, junior forward Jeomi Maduka. Not much better way to do that than to be the first-round foe for UConn. Maduka was the Ivy League player of the year in hoops, just finished eighth in the long jump in the NCAA indoor championships, is a violin virtuoso and has hopes of becoming a doctor. No word on whether she keeps her room absolutely spotless, too, but we're guessing she probably does. • The worst luck: What are the odds that this would happen to Kansas State again? The last time the Wildcats were in the NCAA tournament, 2005, they lost a senior starter to injury in the Big 12 tournament. That was Megan Mahoney, who had never missed a game for the Wildcats before suffering a ruptured Achilles' tendon in the Big 12 championship game against Baylor. Without her, K-State lost in the second round to Vanderbilt. This year, the Wildcats were fortunate all season in regard to injuries … until the Big 12 tournament. Then senior guard Kimberly Dietz suffered a knee injury in the Wildcats' quarterfinal game against Iowa State. The injury ended her college career. Dietz had the ability to draw out defenses with her 3-point shooting and could also drive to the basket. She had a splendid senior season, helping the Wildcats win their first outright Big 12 regular-season title. K-State doesn't have a lot of depth to replace Dietz, especially in terms of her ability to consistently produce points. -- Mechelle Voepel
Cal wins first tourney game in 15 years