Terps make statement, begin to resemble 2006 title team
AP Photo/Elaine Thompson
Fear the Turtle
By Ted Miller
ESPN.com
SPOKANE, Wash. -- Maryland coach Brenda Frese called the four teams in the Spokane Regional "underdogs" this week in large part because few pundits believe any of its participants will raise the big trophy in Tampa 10 days hence. That, the conventional thinking goes, is reserved for Tennessee or Connecticut.
Ah, but a snowy weekend on the Palouse sent a whisper through the chill: Fear the turtle. The Terrapins might have what it takes to catch those touted hares.
Looking every bit like the frisky, multidimensional team that clawed its way to a national title in 2006 -- as opposed to the second-round washout of a year ago -- Maryland overwhelmed Vanderbilt from bell-to-bell in an 80-66 victory.
Frese isn't eager to suddenly start bleeping on the radar, though she clearly thinks her Terps are being sold short.
"I love it right where it's at. It reminds me of two years ago," she said. "It's amazing you can continue to dismiss this team, being [33-3] and not see the positives of how this team plays."
It's hard to beat a team that owns the paint. And the perimeter. It's hard to win when a team is superior running. And in the half court.
Heck, the typically turnover-prone Terrapins only committed 15 miscues -- only five of which came before the break, when there was a still whiff of mystery as to who might prevail. That was one of many reasons their halftime advantage was 44-29. Vanderbilt had been forcing 20.4 per game.
Another big reason: lots of scoring options.
Against a defense sixth-year Vanderbilt coach Melanie Balcomb called the best she has coached, four Terps hit double figures, topped by another tour-de-force performance from senior forward Crystal Langhorne, who scored 28 points and pulled down nine rebounds.
Maryland hit 50.9 percent of its shots from the field. That's just slightly better than its season percentage of 49.3 percent, which ranked second in the nation.
Vanderbilt pulled within 12 early in the second half. But any thoughts of a rally were quickly doused when guard Kristi Toliver drove for a hoop, grabbed a steal on the ensuing possession and scampered for a layup on the other end.
The margin topped out at 21. The overwhelmed and youthful Commodores -- they start two freshmen and a sophomore -- never mustered a serious threat. More …
McCants offers cool compliment to McCoughtry
By Mechelle Voepel
ESPN.com
NEW ORLEANS -- Candyce Bingham had that weary "I just faced the Tar Heels" look after Louisville's 78-74 loss Saturday in the New Orleans Regional. But very few players ever walk away from a meeting with North Carolina having pulled down 20 rebounds. That's called playing your tail off. Bingham did that, and added 17 points. So did Angel McCoughtry, who had 35 points and 13 rebounds. UNC's Rashanda McCants said McCoughtry was the best player she'd faced this year. Don't get mad, UConn and Tennessee fans. She wasn't trying to dis Maya Moore or Candace Parker, whom the Tar Heels went against this season. UConn and Tennessee handed UNC its only losses, in fact. It's just that, fresh from having to try to stop McCoughtry, McCants was very impressed. "She can do it all -- rebound, shoot off the jump, 3-point shot, anything," McCants said. "It's kind of hard to contain her because she's so athletic." Ultimately, though, that was even more true of the Tar Heels, who got to the line 44 times -- compared with Louisville's 10 trips -- because they force the action so much. "Their whole team will come in and step up for them, and that's why they are the powerhouse that they are," Bingham said. "But we didn't back down from them, which is a key for us." It has been a really big season for Louisville. The program made the Sweet 16 for the first time. And fans who probably thought only of McCoughtry when they heard the name "Louisville" now know it's a well-rounded team. McCoughtry will be back next season, as will fellow starters Bingham, Chauntise Wright and Brandie Radde. The only starter the Cardinals will lose is point guard Patrika Barlow. "We're going to get the freshmen coming in and tell them to work hard from day one next season," Bingham said. "We'll tell them, 'This is what we have to do to get back to where we want to be.' And hopefully we'll be in the same position -- and actually win this kind of game."
Despite slow start, subpar effort, Carolina pulls off comeback
By Mechelle Voepel
ESPN.com
NEW ORLEANS -- Erlana Larkins doesn't mess around. She tells it like it is, and here's the way it was for North Carolina on Saturday: The Heels were in big, big trouble. Larkins struggled so much at the beginning of the game that her confidence started to fade.

"This was a crazy game," she said. "It was unbelievable. This was god-awful. I'm out there shooting air balls and going, 'Oh, my goodness. What's going on?'" She was referring to her own performance, not that of her teammates. The Tar Heels star, who went 2-for-12 from the field, didn't play anything like the All-American she is. And yet, the No. 1 seed in the New Orleans Regional survived. Despite showing klutzy end-of-game management, missing 19 free throws, being outrebounded by 12, having just 11 assists to 25 turnovers, shooting only 40 percent from the field, seeing Louisville's Angel McCoughtry score 35 points … North Carolina is in the Elite Eight. The Tar Heels defeated No. 4 seed Louisville 78-74 at New Orleans Arena, a game in which the Cardinals led by as much as 18 points in the first half. Yeah, that's right -- 18 points! It was the Tar Heels' biggest deficit this season. The top-seeded team was getting buried, and the experience the Cardinals had gained playing UConn and Rutgers twice this season was paying off.
More …
Even with Wiggins off the mark, Stanford advances
By Ted Miller
ESPN.com
SPOKANE, Wash. -- Stanford guard Candice Wiggins, the three-time Pac-10 player of the year, crashed to the floor and into the base of the backboard. For a moment, she stayed down while Cardinal fans went ballistic on Pittsburgh's Taneisha Harrison, who did the decking.
Then, Wiggins got up. Slowly at first and then with more resolve. Which is sort of what second-seeded Stanford did against a scrappy challenge from the No. 6 Panthers. Stanford, notorious of late for going belly-up come tournament time, proved it can win messy. It proved it can win with the greatest player in program history badly out of sorts. And it proved it can win a brawl.
More …
Colonials' Beck must break out of shooting slump
By Graham Hays
ESPN.com
GREENSBORO, N.C. -- As Red from "The Shawshank Redemption" might say, Kimberly Beck is the kind of person who knows how to find things on the basketball court.
The senior point guard knows how to find her open teammates; she'll leave George Washington as the school's all-time leader in assists. She knows how to find the ball on defense; she enters Sunday's game against No. 2 seed Rutgers (ESPN2, 2:30 p.m. ET) 24 steals shy of the program record. And she knows how to find a path for her team to reach the Sweet 16, a place the program had never been in back-to-back seasons until a 55-53 win over No. 3 seed Cal on Monday in the second round sent it through for the second year in a row.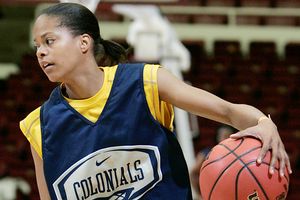 AP Photo/Marcio Jose Sanchez

Kimberly Beck runs her team as well as any point guard in the country. But she is 3-for-21 from the field so far in the tourney.

Beck has led the Atlantic 10 in assists in each of her four seasons, just the 11th player in NCAA Division I history to do so. And she'll go out with a flourish. She already has set a career high with 200 assists this season and ranks 12th in the nation in assists per game and fifth in assist-to-turnover ratio. She is one of just two players ranked among the top 20 in both categories to advance to the Sweet 16, along with Louisville's Patrika Barlow. Some point guards succeed by staying a step ahead of the competition mentally. Others thrive by using quickness and physical gifts to literally stay a step ahead. As one of the quickest point guards in the country, Beck could have been successful as one of the latter. But it's the combination of the two that makes her so special. More …
Black back and driving force behind Blue Devils
By Mechelle Voepel
ESPN.com

DURHAM, N.C. -- When Duke meets Texas A&M in the Sweet 16 on Sunday (ESPN2, 7 p.m. ET), there won't be anybody just plain happier to be on the court in Oklahoma City than Blue Devils post player Chante Black. Why? Because last March, while Duke was going through its horror show in the Greensboro Regional against Rutgers, Black had the worst feeling an athlete can have during a game. She felt powerless. She just had to watch. A slow-healing knee injury forced her to redshirt what was to be her junior season. She wanted to come back for ACC play, but she wasn't anywhere near 100 percent -- and the Blue Devils were in the process of going undefeated in the regular season without her. "They were doing really wonderful things on the court," said Black, recalling last season. "And there was really no need in me pushing myself to where it could have been a more devastating injury. "I couldn't move to defend. I was pretty much bad at everything. It was very frustrating. But what I tried to do was pay attention to things I needed to work on -- little things you don't focus on when you have the mobility. Like holding position and just knowing situations. Becoming more educated about the game." In mid-January 2007, Black and then-coach Gail Goestenkors decided to shut it down for the season. Then a couple months later … well, you remember. Lindsey Harding on the foul line needed one of two free throws for a tie. More …

Little guards come up big

NEW ORLEANS -- The "little people" in basketball are always called "feisty." The thought is that they have to be to thrive in this sport. If you're vertically challenged, it's best if you're not also verbally challenged. Because you often have to tell your teammates where to go … and in another way, you tell your opponents where to go, too. As in, well … you know. What we saw Saturday in LSU's 67-52 victory over Oklahoma State was the game within the game. LSU's 5-foot-3 senior Erica White vs. OSU sophomore Andrea Riley, who is listed at 5-5. If they were to take turns standing on each other's shoulders, they could kind of know what it was like being LSU 6-6 center Sylvia Fowles. But if they did that, they'd also have to promise not to drop the other one … and you probably thought after watching this game that they would not quite be able to resist bouncing the other on her head. The game itself was not especially entertaining because of the combination of LSU's defense and OSU's inability to hit the ocean from a rowboat. It didn't leave room for much suspense.
More from Mechelle Voepel …
Maryland moves on in Spokane
Saturday's Sweet 16 scores
• NEW ORLEANS
North Carolina 78, Louisville 74
LSU 67, Oklahoma State 52 • SPOKANE
Maryland 80, Vanderbilt 66
Stanford 72, Pittsburgh 53
Fowles revved for regional final
NEW ORLEANS -- In LSU's 67-52 victory over Oklahoma State in the Sweet 16, Sylvia Fowles wasn't an offensive force the way she can be. She still ended up with 12 points, but knows she will need to produce more against North Carolina in the regional final Monday. "It's going to be extremely tough," Fowles said of going against the UNC starting front line of Erlana Larkins and LaToya Pringle, with Jessica Breland coming off the bench. "You have to be smart and work as hard as them." Last year in the Elite Eight, Fowles had the finest game of her career, considering the circumstances. She had 23 points, 15 rebounds and six blocks as LSU surprisingly dominated UConn 73-50 in the Fresno Regional final. "I think that was the most fired up I was all last season," Fowles said of that game. "You just have that feeling in you, that fire in your heart, that look in your eyes sometimes. You feel that energy rushing through you when you're warming up on court." LSU would have a very good chance to go to its fifth Final Four in a row if Fowles has a similar kind of game Monday. But she knows Larkins, especially, will be inspired to have a big game after she struggled in the Tar Heels' victory Saturday over Louisville. Larkins shot 2-for-12 from the field and finished with just seven points. Pringle made up for that, though, with 27 points, and Breland added 11. They will try to make it difficult for Fowles to catch the ball in good position when she's posting up and then attempt to get her in foul trouble on the defensive end. Fowles is used to all that, though. "She has a tendency to get too pumped up," LSU coach Van Chancellor said. "Her and her coach are a little bit alike. I work hard with her trying to keep her 'down' a little bit. She's everything you'd want in a player."
-- Mechelle Voepel

Appel lifts Wiggins, Stanford past Pitt
On Tap For Sunday
(all times Eastern)
• GREENSBORO
No. 5 Old Dominion vs. No. 1 UConn (ESPN, noon)
No. 6 GW vs. No. 2 Rutgers (ESPN2, 2:30 p.m.) • OKLAHOMA CITY
No. 3 Duke vs. No. 2 Texas A&M (ESPN2, 7 p.m.)
No. 5 Notre Dame vs. No. 1 Tenn. (ESPN2, 9 p.m.)
Carolina comes back to beat Cardinals
ODU's turning point
GREENSBORO, N.C. -- Old Dominion coach Wendy Larry is confident in her team. She is not crazy. "I don't know if anybody looks forward to playing the University of Connecticut as well as they're playing right now," Larry allowed on Saturday. But whether Old Dominion can compete on a somewhat more equal footing against Connecticut on Sunday than it did four months ago at a tournament in the Virgin Islands remains yet to be determined. Larry suggested her team might not have made it back in the Sweet 16 for the first time since 2002 if not for that 44-point loss and how her team reacted. "We learned in that particular game that we have to compete for 40-plus [minutes], and we only competed for 14," Larry said. "But ironically, in 24 hours, we played Stanford [in a 69-61 loss] and it was a huge lesson for us because we competed against Stanford significantly differently in that second game. And that was a turning point for our basketball team. We understood that we weren't that good, and we were going to have to work a heck of a lot harder to be somewhat successful." And in the only three games Old Dominion lost after the Connecticut game (against Stanford, Tennessee and James Madison), its opponents outscored the Lady Monarchs by a total of 43 points.
-- Graham Hays

On Tap For Monday
(all times Eastern)
• NEW ORLEANS
No. 2 LSU vs. No. 1 North Carolina
(ESPN, 7:30 p.m.) • SPOKANE
No. 2 Stanford vs. No. 1 Maryland
(ESPN, 9:30 p.m.)
LSU cruises past Oklahoma State
Tar Heels embracing path of most resistance
NEW ORLEANS -- For a No. 1 seed, North Carolina wasn't handed any favors by the selection committee. First, thanks to inflexible enforcement of "procedures and principles," the Tar Heels weren't placed in the Greensboro Regional where they would have at least drawn a few thousand fans. Then they faced Georgia in the second round. And no matter how flaky Andy Landers' crew has been this season, Georgia is still a pretty darn difficult team to face just to get to the Sweet 16. Then in the regional semifinal, the Tar Heels went against a really hot Louisville team that pushed the No. 1 seed to the limit. The good part of this is that North Carolina is pretty battle-tested going into its regional final against LSU on Monday night. "Once we saw our bracket and who was in it, we thought, 'It's only going to make us stronger,'" Rashanda McCants said. "We've had to come back from being down and find ourselves. I think it shows how tough we are."
-- Mechelle Voepel