Tough 1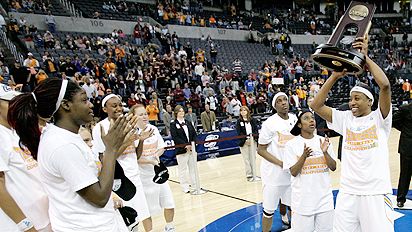 AP Photo/Sue Ogrocki
The Lady Vols reached their sixth Final Four in seven seasons.
From Candace Parker playing through a dislocated shoulder to the Lady Vols digging down on defense with her out of the game, sheer gritty toughness led No. 1 Tennessee to its 18th Final Four.
Voepel
Must Read

Texas A&M is back in the Sweet 16 for the first time in 14 years. But for as high as times are now, a team meeting in late January just might be what salvaged the season. Elizabeth Merrill


Notre Dame had already overcome injuries and tragedies. So a five-point deficit in OT wasn't such a hurdle, especially with Charel Allen pouring in the best performance of the tourney so far. Graham Hays


Not long from now, Candace Parker will be in the WNBA. For Tennessee to win two straight and send her out a champ, every other Lady Volunteer must fill her role -- just like in Cleveland a year ago. Mechelle Voepel
• Hays: Defense carries Vols to Sweet 16

More from ESPN.com
Team Breakdown


Another mid-major team that might have had reason to complain if snubbed for an at-large bid, Hartford excused itself from the debate by rolling to a conference tournament title and the America East's automatic bid for the third time in the last four years. ...
Team coverage
Oklahoma City
West Lafayette, IN
West Lafayette, IN
College Park, MD
Baton Rouge, LA
Oklahoma City, OK