Stand And Deliver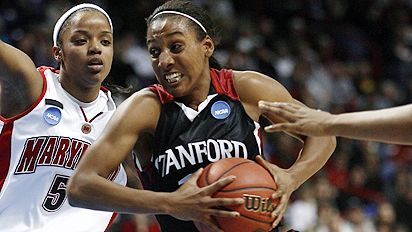 Joe Nicholson/US Presswire
The Terps couldn't solve do-it-all guard Candice Wiggins.
In her last chance at a Final Four, Stanford senior Candice Wiggins willed her team past top-seeded Maryland in the regional final. Wiggins turned in her second 40-plus-point performance -- a tourney record -- to end the Terps' season.
Ted Miller
|
Watch

Must Read

Crystal Langhorne didn't get her first choice of jersey number when she arrived at Maryland. It turns out her second choice, No. 1, was a much better fit for the Terps' top player. Story

More from ESPN.com
Team Breakdown


No team enters the NCAA tournament more battle-tested than Stanford. The Cardinal beat Tennessee, Rutgers, Baylor, Utah, Old Dominion and Temple before even entering conference play, and then swept two games from Arizona State and three games from Bay Area rival Cal during the conference regular ...
Team coverage
Spokane
College Park, MD
Albuquerque, NM
Albuquerque, NM
Stanford, CA
Spokane, WA