Commentary
Whipple's intensity paces Utes
Originally Published:
March 21, 2009
By
Graham Hays
| ESPN.com
COLLEGE PARK, Md. -- A few miles up the road from the White House and the rest of a Washington culture contemplating the issue, the University of Utah put on its own impressive display of alternative energy in a first-round win against Villanova.
Granted, it was only an alternative to the limited natural resource that is Mountain West Player of the Year Morgan Warburton, rather than, say, fossil fuels. But if Kalee Whipple has some spare time this summer, she might be able to power at least the Salt Lake City suburbs.
Assuming you could figure out how to keep her in one place long enough.
Whipple scored 15 points, including 13 in the first half, in a 60-30 runaway win for the ninth-seeded Utes against the Wildcats. Warburton added an economical 14 points and senior post Katie King made it three players in double figures -- no small feat against Villanova's tempo -- with a big second half en route to a game-high 18 points.
[+] Enlarge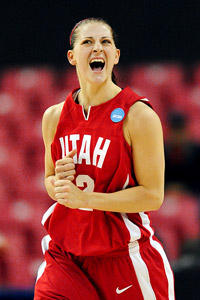 James Lang/US PresswireKalee Whipple missed just two shots Sunday. But her ability to keep Villanova star Laura Kurz in check made Whipple's performance even more remarkable.
But Villanova's hopes rose and then quickly fell courtesy of Whipple, Utah's "other" star and a teammate of Warburton on the Mountain West all-conference first team.
Whipple made things look easy on the offensive end, missing just one field goal and hitting all three of her attempts from behind the arc in the first half. What made that clear sailing all the more remarkable was the tempest she endured on the defensive end.
Giving up several inches to all-Big East forward Laura Kurz, a versatile player who draws attention everywhere from the block to beyond the arc, Whipple had to chase her mark through Villanova's dizzying maze of cuts and screens. That mission accomplished, the inevitable reward was a solid four or five seconds of Kurz backing her down before making a move.
"She's a tough player," Whipple admitted after the game. "She wasn't easy to guard at all. She's a great post-up player; she has a 3-pointer -- she can shoot. So it's tough playing [her], but I have faith in my team that if I need help, they're going to be there."
The double teams didn't always show up in time for Utah, which was more intent on contesting Villanova's 3-point attempts. In one sequence of possessions, Kurz scored back-to-back field goals from the left block and then assisted on a 3-pointer from the same spot when a Utes defender strayed too far down to help.
Whipple tried playing behind, fronting, bumping and everything between, all to no avail, and with that run, a 14-3 Utah lead was eventually trimmed to two points. But as suddenly as Kurz stuck a foot in the door, Whipple slammed it shut. She hit a 3-pointer that pushed the lead to seven and forced Kurz into a miss at the other end.
Kurz would score just one more field goal in the game and finished with 11 points, nearly seven below her season scoring average. As a team, Villanova's point total was both the lowest ever for a women's basketball game at the Comcast Center and the lowest ever against Utah in the NCAA tournament. It also marked the third-lowest single-game output in women's NCAA tournament history.
"We have confidence in everyone on the team and especially in Kalee being a very, very good defensive player and just knowing she will get the job done when called on," King said.
When Kurz went to the bench with her second foul late in the first half, Whipple went to work, knocking down another 3-pointer, blocking a shot and delivering a drive-and-dish assist to King that pushed the lead to 10 points at the break.
Some talented offensive players need to score a lot of points because they give away an almost equal number on the other end. Others use their quickness or instincts to play opportunistic defense, padding stat lines with blocks and steals. But it's less common to find a scorer who embraces checking the opposing team's best player.
"The hard part is she is asked to be a stopper and we need her to score," Utah coach Elaine Elliott said. "That's a tough job. I wish I had another kid that could be used as a stopper, because you usually want to protect your scorers a little more than we're able to. She's handled it really well."
[+] Enlarge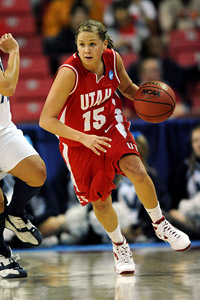 James Lang/US PresswireMountain West player of the year Morgan Warburton added 14 points in Utah's winning effort Sunday.
Whipple usually lingers on the floor long after the rest of the team has gone to the locker room following its first warm-up session before games. She fires up shots and jogs after the ball as if to burn off excess energy that it's difficult to believe she won't need later. But those moments of solitude aside, her intensity is more infectious than isolating.
"She is the cut-up," Elliott said. "She is the one that, you're laughing at her or you're telling her to, you know, get out of here. … She's the one who doesn't get too serious, other than at herself. I mean, she often times, to her detriment, gets into her own head. So that's something we're working on. As far as her personality, she has the emotion; it's no doubt she carries that, as far as our team goes."
Perhaps it really shouldn't be surprising that despite her workout on both ends of the court against Villanova, Whipple was still the one offering a few dance moves in the halftime layup line or lingering yet again for a few extra shots before play resumed. Or that as the clock wound down on a game long since decided, it was Whipple who bit on a shot fake at the top of the key and sailed past her opponent -- only to spring back into the play and corral the rebound when the subsequent shot clanged off the rim.
After all, playing both ends of the court in one sport is nothing compared to playing on every court or field you come across, as she did growing up in Nevada.
"I came from a really small school, and so I played a lot of sports," Whipple said. "I played pretty well all year round in a sport, so coming to college and focusing on one, it's hard. But at the same time, it makes you so much better if you can focus on one thing and just get better at that. So I got a ton better, but it's hard."
One of those sports she gave up, albeit reluctantly, was volleyball, but only after winning four state championships for one of the most successful prep volleyball coaches in the region -- her mom, Ginger Whipple, who has 10 state titles in all. And as Elliott tries to harness the seemingly limitless energy and equally unbounded potential in Whipple, who will carry an even greater burden next season without Warburton, she at least knows she has an ally who started the process long before the player arrived in Salt Lake City.
"Her mom knows her daughter and knows what's good and not good about her daughter's head sometimes," Elliott said. "So I feel like I have a kindred spirit in support. Sometimes you need to knock Kalee upside the head, and her mother would have done the same thing, so that's a good feeling."
So forget guarding Kurz. As tough assignments go, is it tougher playing for a coach with that tender touch or playing for Mom?
"It's a tough one, because Coach Elaine is really tough but playing for your mom is hard," Whipple laughed. "You have to deal with her on the court, but then you have to go home with her as well. So when you're mad at her at volleyball practice, you kind of have to drop it. My mom is a tough woman, so it's kind of scary. But I would say Mom."
With that kind of background, don't expect her to shrink from the challenge of checking All-American Marissa Coleman and top-seeded Maryland Tuesday night.
Graham Hays is a regular contributor to ESPN.com's women's basketball coverage. E-mail him at Graham.Hays@espn3.com.
espnW.com
Graham Hays covers college sports for espnW, including softball and soccer. Hays began with ESPN in 1999.
WOMEN'S NCAA TOURNAMENT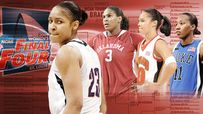 STORIES
SELECTION MONDAY
VIDEOS
TOURNEY TOOLS
MOST SENT STORIES ON ESPN.COM
STORIES FROM HUFFINGTON POST