Commentary
January helps ASU move on in March
No. 6 seed Sun Devils topple 2-seed Texas A&M behind point guard's 22 points
Originally Published:
March 29, 2009
By
Graham Hays
| ESPN.com
TRENTON, N.J. -- One of Arizona State coach Charli Turner Thorne's armada of players getting regular minutes, Briann January, is part of the best collection of short stories orchestrated by someone with three names since Edgar Allen Poe. She's also a basketball heroine worthy of her own novel.
In fact, considering she's a karate black belt, maybe Hollywood will throw in a film deal.
Behind 22 points from January and the collective contributions of a rotation that, even shorthanded, goes nine-deep, No. 6 seed Arizona State upset second-seeded Texas A&M 84-69 Sunday afternoon in Trenton.
The reward for the program's second Elite Eight appearance in three seasons is daunting: ASU earns a date with top-seeded Connecticut on Tuesday night (ESPN, 7 ET). But as everyone likes repeating this time of year, anything can happen in March. And when anything includes a 153-point shootout between two of the sport's best defenses, it starts to make sense.
[+] Enlarge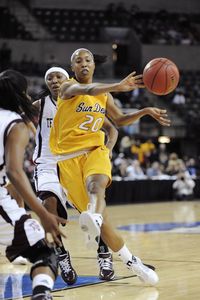 Howard Smith/US PresswireBriann January scored a game-high 22 points on 8-for-10 shooting in 25 minutes to lead Arizona State on Sunday.
That's doubly true considering Texas A&M coach Gary Blair's assessment of what allowed Arizona State, which lost leading scorer and starting point guard Dymond Simon to a season-ending knee injury during the last game of the regular season, to get the drop on his battle-tested team with three senior starters and plenty of postseason experience.
"The game was won at the point guard position," Blair offered. "January is every bit as good as we thought and even better offensively. When we were having trouble stopping her, I had to go with [senior shooting guard Takia Starks] at the point, just because my two young kids could not guard her. And that really hurt our chemistry in there, because we were not running very good on offense without a true point guard in there."
So just to be clear; the underdog that lost its starting point guard two weeks before the NCAA tournament became just the fourth team in the past seven years seeded sixth or lower to reach a regional final primarily because it had the better point guard. Anything can happen in March. Or maybe anything can happen with January.
"It's so much fun when she's on like that," senior Kate Engelbrecht said. "I came in with her, I lived with her and it's just really exciting for me to see her shine like that, because she's just an outstanding player. And when she's in her groove and she's hitting her shots, it's just basically a thing of beauty to watch her go out there and play. And she plays with so much passion and so much heart; it's hard not to enjoy watching her play."
To be fair, January is hardly a novice at running the show for the Sun Devils. She ceded point guard duties to Symon this season and took on more of a scoring role as the 2-guard, but she still led the team and the conference in both assists per game and assist-to-turnover ratio. And she'll finish her career as the school's assists leader, nearly 100 clear of second place.
She hasn't received the same kind of national attention as fellow senior combo guards Kristi Toliver of Maryland and Renee Montgomery of Connecticut, but January has played an equally significant role for a team with a 104-31 record since she arrived.
"Briann came in as an excellent high school player -- I think a little underrated," associate coach Meg Sanders said. "She was a phenomenal defender out of high school. Had the same explosiveness and the same skills, however, her mentality was more to set up others. And what she's done for us in four years is [she] just led by example, emptying out and going hard every day in practice, No. 1. And then this year, just being able to take that offensive mentality, really crank it up and be a leader on the floor for us on offense. And today she showed what kind of player she is. And she's complete; she can do it all."
[+] Enlarge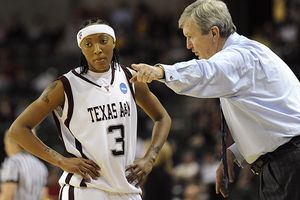 Howard Smith/US PresswireTo try and shut down ASU's Briann January, shooting guard Takia Starks shifted to point guard. But that disrupted Texas A&M's offensive chemistry, coach Gary Blair admitted.
The Pac-10 defensive player of the year, January came up with two steals and a block on a day that Starks would finish with five turnovers and 6-of-16 shooting, while Aggies point guards Sydney Colson and Sydney Carter could offer little relief. But the all-around game Sanders talked about extended beyond a simple offense-defense split. January showed off her offensive versatility by scoring almost all of her points off the dribble: driving to the basket, lofting runners over the defense or knocking down midrange shots.
Not bad for a player who entered the game having taken more than half her shots this season from behind the arc (and again leading the team and conference with a 44.8 percent mark from the 3-point line). She finished 8-for-10 from the field and 6-for-6 from the free throw line on this day, never even attempting a 3-point shot.
The Sun Devils needed all of her points. While the final score indicates a wide-open affair, the view from the floor was of a frantic, physical game where open spaces vanished in the blink of an eye. This was every bit the struggle most expected; it just happened that the easiest way to escape pressure was to put the ball in the basket. Arizona State shot 62 percent for the game and it still felt like every turnover and every missed opportunity might light the fuse for the run that would put Texas A&M over the top.
"Definitely it was a defensive battle, even though there were so many points," said Engelbrecht, who had six points, five assists and two steals. "It didn't even feel like we scored that many points, because they really got after it on defense. And I feel like we did, too. I feel like both teams must have shot pretty well, because I know at halftime they [had] shot 55 percent, which is not what we like to see. But without looking at the scoreboard, it felt like a 30-30 game to me."
Arizona State wasn't supposed to be here. The Sun Devils weren't supposed to be here with Symon, when they raced to a 15-2 record in the Pac-10 and still couldn't find a way into the national polls. And they definitely weren't supposed to be here without Symon in the lineup. And while Turner Thorne thought she had the real deal on her hands when the team was complete, she said even she learned Sunday that her team could be great as it is.
"I don't know that I knew that," Turner Thorne said. "I think when she went down, I was sort of like, 'OK, well, you know, let's see what we can do.' I definitely believe in my players, I do. I know what they can do. … I'm just really proud of how they pulled together as a team, because in team sports, on any given day, a team can step up and it does make a difference. The most talented team doesn't always win, and we know that."
That wasn't necessarily the case Sunday, but it's a nice thought to keep in mind for Tuesday.
Graham Hays is a regular contributor to ESPN.com's women's basketball coverage. E-mail him at Graham.Hays@espn3.com.
espnW.com
Graham Hays covers college sports for espnW, including softball and soccer. Hays began with ESPN in 1999.
SPONSORED HEADLINES
MORE WOMEN'S BASKETBALL HEADLINES
MOST SENT STORIES ON ESPN.COM
WOMEN'S NCAA TOURNAMENT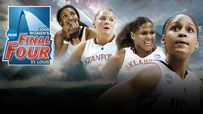 STORIES
VIDEOS
TOURNEY TOOLS