Commentary
Burke leap of faith pays off
Freshman's maturation process is painful but helps pave way into Tuesday's title game
Originally Published:
April 6, 2009
By
Graham Hays
| ESPN.com
ST. LOUIS -- How do Louisville fans love Becky Burke? Let them count the ways.
With Louisville preparing for the first championship game in program history, Burke is basking in the glow of the national spotlight. One round after the freshman guard shut down Maryland All-American Kristi Toliver, she did the same to Oklahoma's Whitney Hand in the second half of Sunday's semifinal. And while Hand couldn't free herself to duplicate any of the 3-pointers that had helped carry the Sooners to a 12-point halftime lead and control of momentum, Burke seized the opportunity to drain two clutch 3-pointers of her own down the stretch.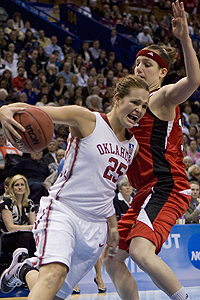 Dilip Vishwanat/Getty ImagesBecky Burke's defense on OU's Whitney Hand helped Louisville advance to its first NCAA title game.
So as rave reviews roll in from across the land, it's a little puzzling to discover that just six weeks ago, Burke couldn't think of a single good thing to write down about herself.
Stuck in a rut of frustration toward the end of a freshman season spent coming and going from coach Jeff Walz's doghouse like commuter trains from Grand Central, Burke sat down with assistant coach Stephanie Norman for what both parties described as a heart-to-heart chat about the state of all things Burkeian.
"I made her write down five things that she liked about herself, because she had been missing shots and just getting in a funk, which kids tend to do," Norman recalled. "So a lot of times, extracting from them the things they do well is really difficult for them, because they just think they're awful or this situation is not good or 'I'm just bad.' So I tried to really talk to her about what is really good about her as a person. So she comes back, 'Well, I don't have anything.'"
Norman came up with five positives of her own for Burke, a list the player said included traits like her dedication to schoolwork and her work ethic. Norman talked to the young player about not making excuses but also offered a sounding board for her frustrations.
It was a slightly softer, if no less inflexible, version of the same message Burke got when she sat down with Walz for a one-on-one talk on the eve of the Big East tournament. The Pennsylvania Class 4A Player of the Year as a senior in high school, Burke averaged better than 25 points per game in her final prep season.
In her first season at the college level, she scored 27 points in the entire month of February, a span of seven games.
"It was a conversation where I kind of told the kid she had to grow up," Walz said. "Stop feeling sorry for yourself, stop listening to everybody else. You know, your true friends will tell you how you're really playing. Everybody else will tell you you're playing great, no matter what. … That's what I told her, I said, 'Honey, when you actually invest in this, you're going to be a good player.' And she took that to heart. She went in the gym and started really working on her shot."
As much as his players adore him, Walz is not an easy coach to play for, a reputation he makes no attempt to refute. From assistant coaches to players, everyone on the Cardinals falls back on the words "honesty" and "truth" in describing how the guy in charge communicates at all times -- often tacking on the adjective "brutal" beforehand and a shake of the head afterward to underscore his disdain for ego stroking and pointless pleasantries.
"

We get better as a team once we get better as individuals. [Becky Burke] got in the gym and she worked her butt off, and now she hitting big shot after big shot after big shot, after game after game after game. And that's what big players do, and she's a big player.

"

-- Louisville's Deseree' Byrd
Far from stumbling on the big stage in St. Louis, the Louisville players might find the noise and spectacle of the Final Four to be a relief: They will be spared from hearing at least a few of the pointed suggestions continuously lobbed their way from the bench.
For the other five members of Walz's first recruiting class, the choice to sign on was the end result of a long courtship between coaching staff and prospect. They knew what they were getting, even if it still ended up being more than most expected. But for Burke, Louisville was more of an impulse buy. She originally committed to South Carolina, but when a coaching change there altered things, she decided to look elsewhere.
She heard good things about the staff entering its second year at Louisville. And the Cardinals, knowing they needed a shooter, liked the positive reviews they heard from coaches who knew the guard's game. But her official visit to Louisville was symbolic of the entire truncated process; she arrived one morning and headed home the same night.
So it was that in one of her earliest practices in the fall, she found herself filling water cup after water cup, banished to the sideline by Walz for repeated mistakes and told she might as well get used to the only contribution she'd be able to make to the program.
From that moment to Sunday's heroics was a learning curve of hairpin dimensions.
"Oh my gosh, as much of a curve as you can have is what I went through," Burke said. "At the beginning of the year, I thought Coach hated me. He was always getting on me, just everything you could think of -- I was so upset every day; I just thought I wasn't doing anything right. But now it's just like I see every single thing that he did was for a reason. He yelled at me for a reason. He yelled at me in practice so that I could come out and persevere and hit those two 3s [against Oklahoma].
"Everything he does is for a reason, and we're seeing it now. You think at the time he hates you, but now it just comes together and you see it."
In Burke's case, the moment of inspiration came after the conversation with Norman and was reinforced in her chat with Walz. When teammate Angel McCoughtry called, Burke spent mornings in the gym with the All-American, sometimes shooting alongside her and sometimes just rebounding for her. And since the start of the Big East tournament, Burke has averaged nearly eight points per game -- double what she was averaging before -- while shooting 41.2 percent from behind the arc for a team in dire need of consistent marksmanship.
And even if she's still not a part of the starting lineup -- at the Big East tournament, Walz wisecracked that Burke still wasn't good enough to start when a reporter mistakenly asked her about being out there at the start of the game -- she has been a huge plus during the team's NCAA tournament run.
"I'm gonna tell her after I leave you, 'About time; about damn time you bought into the system.'" Deseree' Byrd joked, sort of, after the Oklahoma game. "We get better as a team once we get better as individuals. She got in the gym and she worked her butt off, and now she hitting big shot after big shot after big shot, after game after game after game. And that's what big players do, and she's a big player."
All for a kid and a program that took dual leaps of faith and didn't blink when they looked down midway through the season and saw the ground approaching at a good clip.
"Sometimes it's better to get lucky than good," Norman said of recruiting.
Lucky and good, two more things Burke can write down the next time anyone asks her to come up with character attributes. Or she could just check Norman's cheat sheet.
"I kept it, and I read it pretty often," Burke said. "And that really helped me; Coach Norman really helped me. I think ever since her and I sat down and had a little heart-to-heart, I've been playing a lot better."
Graham Hays is a regular contributor to ESPN.com's women's basketball coverage. E-mail him at Graham.Hays@espn3.com.
espnW.com
Graham Hays covers college sports for espnW, including softball and soccer. Hays began with ESPN in 1999.
WOMEN'S NCAA TOURNAMENT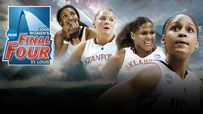 STORIES
VIDEOS
TOURNEY TOOLS