Commentary
Reunited ... and it feels so good
Camp counselors Appel, McCoughtry, Montgomery and Paris are reunited at Final Four
Originally Published:
April 1, 2009
By
Mechelle Voepel
| Special to ESPN.com
Court, Ang, Nay and Little Jaynie will meet up in St. Louis this weekend. Just like another day in camp.
[+] Enlarge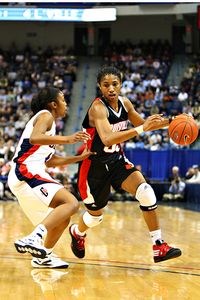 Gary Hamilton/Icon SMIUConn's Renee Montgomery and Louisville's Angel McCoughtry are both All-Big East first-team honorees.
They won't be making s'mores, short-sheeting one another or playing "light as a feather, stiff as a board." (If this worked for you, remember that it didn't count if you had, like, 16 people lifting the person.)
No, they all will be at the NCAA tournament women's Final Four trying to win a national championship. It's the first time for Court and Ang. Nay and Little Jaynie have been down this road before.
Oklahoma's Courtney Paris, Louisville's Angel McCoughtry, UConn's Renee Montgomery (all seniors) and Stanford's Jayne Appel (a junior) have marched their teams to the Arch. But during the summer …
"Renee, Angel, Jayne and I all worked a camp together," Paris said. "The Nike [National Skills] Academy camp in Oregon. And now we're all in the Final Four together. So that should be fun.
"We were all counselors there. I got to hear Angel's story, and she told us about her freshman year, where she struggled and didn't understand about being a team player, and what it took to reach your potential. And within a year, she changed everything. And it made me understand that person that you're now seeing get all these awards."
When Paris had the chance to view the rest of this tournament, she was inspired by McCoughtry, fired up by Montgomery and couldn't stop cheering for Appel, her fellow Californian.
"I was like, 'Come on, Jayne!'" Paris said. "She used to play on the younger AAU team. We played for East Bay Explosion growing up, and Jayne played for the younger team with one of my high school teammates. Little Jaynie. Then she just sprouted up and became taller than me."
Technically, they both are listed at 6-foot-4, but side by side, Appel might have a slight edge. Appel was born in Berkeley, Calif., and lives in Pleasant Hill, while Paris and twin teammate, Ashley, were born in San Jose and live in Piedmont.
Montgomery and McCoughtry come from the opposite end of the country. Montgomery is a West Virginia native who played at South Charleston High with former Tennessee standout Alexis Hornbuckle. McCoughtry is from Baltimore and took a sort of roundabout way to end up at Louisville.
FANTASTIC FOUR
Stanford's Jayne Appel, Louisville's Angel McCoughtry, Connecticut's Renee Montgomery and Oklahoma's Courtney Paris aren't just reunited camp counselors. They will be some of the best players on the floor when hte Final Four tips off. A look at their stats this season:
| Player | PPG | RPG | Misc. |
| --- | --- | --- | --- |
| Appel | 15.9 | 9.2 | 61% FG |
| McCoughtry | 23.2 | 9.3 | 4.2 spg |
| Montgomery | 16.2 | 2.1 | 5.1 apg |
| Paris | 15.9 | 13.5 | 2.9 bpg |
McCoughtry originally signed with St. John's. She then attended college prep school for a year and considered Maryland but decided to carve her niche at Louisville.
In the big-picture view, the four players represent programs in different stages of establishment in women's basketball. Stanford and UConn are the old guards of this young sport, with the Cardinal making their first Final Four appearance in 1990 and the Huskies their first in 1991.
UConn has five national championships and 10 trips to the Final Four; Stanford two and eight. They met previously in the 1995 national semifinals, the 2005 regional semifinals and the 2008 national semis -- with UConn winning the first and Stanford the past two.
Relations were prickly between the programs in the mid-1990s, but it all has seemed to mellow out in recent years. Stanford's Tara VanDerveer and UConn's Geno Auriemma both like the way the other coaches basketball, stressing the kind of crisp execution that produces games people like to watch.
If Stanford and UConn have progressed to become old money, Oklahoma is established nouveau riche and Louisville is a wildcatter that struck oil when the right combination came together.
Louisville was one of those programs that in the early 1990s started to become good enough to have consistent hopes of at least making the NCAA tournament, which the program did nine times between 1993 and 2007.
Bud Childers, Martin Clapp (who was co-coach a few years with his wife, Sara White) and Tom Collen all had some success at Louisville, but not Final Four-contender success.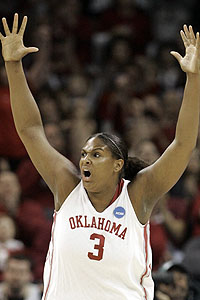 AP Photo/Donna McWilliamCourtney Paris has helped lead Oklahoma to its second Final Four.
That changed when Jeff Walz took over for the 2007-08 season and Xavier transfer Candyce Bingham became eligible to play. They joined McCoughtry, who had just finished a sophomore season in which she was Big East Player of the Year but at times was still a big pain in the rear on the court.
Walz earned McCoughtry's respect by challenging her negative attitude and body language. And Bingham became someone who McCoughtry realized had her back on and off the court.
"I think we both have the same goals, and maybe other people who played with Angel might not have had those goals," Bingham said. "We feed off each other very well and have the same mindset."
Oklahoma's return to the Final Four -- it made the program's first trip in 2002 -- will bring about some retelling of its amazing history that includes a comeback from a weeklong death sentence.
Anyone who has just started following women's basketball in the past few years has a hard time believing it, especially after seeing 11,529 fans cheering for the Sooners in their regional final Tuesday night in Oklahoma City, but 19 years ago, the program disbanded because university officials decided it essentially was a waste of money.
With attendance at less than 100 per game and a program that seemed to be going nowhere, officials thought spending the funds used on basketball for other women's sports would be a better idea. The outcry across the country -- including from coaches at the Women's Final Four in Knoxville, where VanDerveer's Cardinal won the 1990 title -- persuaded OU to reverse its decision after just more than a week.
That was a much bigger story line in 2002, of course, and it's still worth mentioning because of what a great history lesson it is. But it's fairly distant history at this point for a program that has a national recruiting base and is consistently one of the consistent giants of the Big 12 in terms of attendance and results.
But trust that even though the "OU death sentence" and reversal happened when she was just 2 years old, Courtney Paris knows very well how far Oklahoma women's basketball and the sport in general have come in her lifetime.
Now Court, Ang, Nay and Little Jaynie will see where they can take it in St. Louis.
Mechelle Voepel, a regular contributor to ESPN.com, can be reached at mvoepel123@yahoo.com. Read her blog at http://voepel.wordpress.com/.
espnW.com
Mechelle Voepel joined ESPN.com in 1996 and covers women's college hoops, the WNBA, the LPGA, and additional collegiate sports for espnW.
SPONSORED HEADLINES
MORE WOMEN'S BASKETBALL HEADLINES
MOST SENT STORIES ON ESPN.COM
WOMEN'S NCAA TOURNAMENT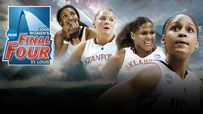 STORIES
VIDEOS
TOURNEY TOOLS