Commentary
Can Cardinals pull off one last upset?
38-0 Huskies have beaten Louisville twice this season by an average of 33.5 points
Originally Published:
April 5, 2009
By
Mechelle Voepel
| Special to ESPN.com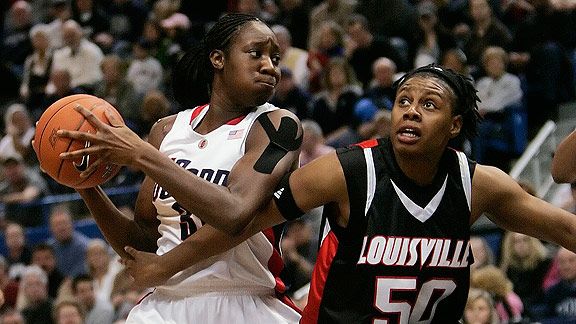 AP Photo/Bob ChildUConn beat Louisville 93-65 on Jan. 26 and 75-36 on March 10.
ST. LOUIS -- Beating three No. 1 seeds on the way to winning the national championship is not uncharted territory in the women's NCAA tournament. It has been done before: by Tennessee in 1987, Louisiana Tech in 1988 and Baylor in 2005.
But all those teams were No. 2 seeds, and none of them faced an undefeated Godzilla of a team in the national championship game.
That's what No. 3 seed Louisville is facing. Oh, and add in that Godzilla won their first two meetings this season by an average of 33.5 points. So it might seem that Thelma and Louise had a better chance of landing safely at the bottom of that canyon than Louisville has of beating Connecticut on Tuesday (ESPN, 8:30 p.m. ET).
But it's OK with the Cardinals if you think that way. What else is new? In this tournament, plenty of filled-in brackets probably had Louisville exiting in the second round on LSU's home court.
Instead, the Cardinals will try to become the third No. 3 seed in tournament history to win it all, following North Carolina in 1994 and Tennessee in 1997. Admittedly, Louisville might need about 10 shots like Charlotte Smith's '94 buzzer-beater, and the Cardinals could use a couple of Chamique Holdsclaw-like performances, too.
Short of that, Louisville will have to somehow find another way to do to mighty UConn what the Angel McCoughtry-led Cardinals have done to No. 2 Baylor, No. 1 Maryland and No. 1 Oklahoma so far.
"They're just gutty," coach Sherri Coale said after her Sooners fell to the Cardinals 61-59 in Sunday's first semifinal. "They win games that, you look at it, and they shouldn't win. But they do because they make plays. McCoughtry just played inspired in the second half, and their bigs, I thought, were really tough and physical."
Louisville's win prevented a rematch of the 2002 title game between UConn and Oklahoma, which was the last time a team completed a perfect season. The Huskies did it then behind a for-the-ages starting lineup of Sue Bird, Swin Cash, Asjha Jones, Tamika Williams and Diana Taurasi.
It started a stretch of three championships in a row for the Huskies, ending with Taurasi's senior season title in 2004. UConn hasn't won the NCAA title in the past four seasons, which qualifies as a long time only in Storrs, Conn., and Knoxville, Tenn.
The Blue Wave of UConn swamped the Cardinal of Stanford 83-64 on Sunday. And if it drowns the Cardinals of Louisville next, the Huskies will become the fifth women's hoops team to win the NCAA championship undefeated. And the third UConn team to do it.
So why even tune in Tuesday unless you're a Huskies fan? Well, it is history, no matter what happens. Either UConn will close the door on a remarkable season or Louisville will pull off a stunner on the level of the Villanova men topping Georgetown for the NCAA title in 1985. The Wildcats had lost twice that season to the Hoyas before beating them.
The Cardinals understand that when a 28-point loss to a team is your close loss (the other was by 39), there really is nothing to worry about on the third try. Because how could it get worse?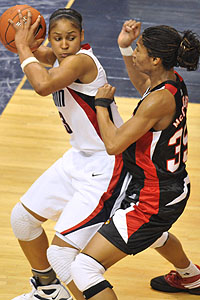 AP Photo/Jessica HillMaya Moore's Huskies have twice beaten Angel McCoughtry's Cardinals by an average of 33.5 points.
"When we got the 3-seed, we talked about being disappointed, but we weren't going to let that stop us," Louisville senior Candyce Bingham said. "We knew we were as good as those teams with the 1- and 2-seeds, and we have proven that."
But as good as the overall No. 1 seed?
"We can't go into this game thinking about the other two games," Bingham said. "This is a bigger stage, and everybody is going to show up to play. And our coaches are going to have a great game plan, I'm sure."
Can any game plan, however, stop a UConn team led by driven senior Renee Montgomery (26 points Sunday), Wade Trophy winner Maya Moore (24 points) and All-American center Tina Charles (eight points, 12 rebounds)?
"I wish we were playing anybody but Louisville Tuesday night. Anybody. I don't care who," UConn coach Geno Auriemma said, trying to counterbalance the idea from the rest of the universe that this is a perfect setup for the Huskies.
"At least we're going to have a Big East national champion. So that's a good thing. The bad thing is the last team you want to play is a team that you beat the way we beat them the two times we played them."
That's the pessimist's way to look at it, and Auriemma is quite the celebrated pessimist. But it takes a world-class optimist to see rays of light for the Cardinals. Coach Jeff Walz will fill that bill now. Never mind the 93-65 loss Jan. 26 in Storrs or the 75-36 Big East final defeat March 10 in Hartford, Conn. Incidentally, the Big East tournament loss was Louisville's third game in as many days, including a double-overtime contest with Rutgers two nights earlier.
"It doesn't matter what the scores have been in the past," Walz said. "We have to come out and play. Our game at UConn, you know, we played competitively for 12 minutes, which is encouraging."
Rays of light, see? That's what the Cardinals will need. A whole lot of them.
Mechelle Voepel, a regular contributor to ESPN.com, can be reached at mvoepel123@yahoo.com. Read her blog at http://voepel.wordpress.com.
espnW.com
Mechelle Voepel joined ESPN.com in 1996 and covers women's college hoops, the WNBA, the LPGA, and additional collegiate sports for espnW.
WOMEN'S NCAA TOURNAMENT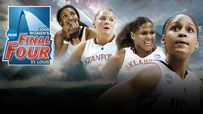 STORIES
VIDEOS
TOURNEY TOOLS
MORE WOMEN'S BASKETBALL HEADLINES
MOST SENT STORIES ON ESPN.COM