Commentary
Moore shines even in the shadows
Sophomore shines when needed but is comfortable with others leading the way
Originally Published:
April 7, 2009
By
Mechelle Voepel
| Special to ESPN.com
ST. LOUIS -- Maya Moore will own almost all the individual hardware for 2008-09, recognizing her as being the college game's top player. Yet among her greatest achievements in a perfect season for UConn was neither her offense nor her defense. It was her deference.
Despite her superstar status, Moore didn't need this to be "her" Huskies team. She was fine with it being senior point guard Renee Montgomery's team.
Moore was the one who led the Huskies in scoring and rebounding this year, but she treated Montgomery as the team leader.
"It started with Renee, because she was our captain," Moore said. "She comes in with an unselfish attitude, and she accepted the fact that Tina's role, my role, Kalana's role -- they all improved some of the things she did. She was willing to trust us to make big plays. She brought out the best in us."
Gracious words, and true … but Moore is also someone who brings out the best in all of her teammates. She demands such attention as a multipurpose threat that the other Huskies can take advantage of it.
[+] Enlarge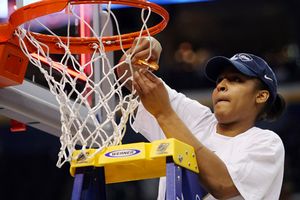 Elsa/Getty ImagesMaya Moore tallied 18 points, nine rebounds, five assists and three steals Tuesday.
In Tuesday's national championship game, a 76-54 victory over Louisville, there were almost twin spotlights on Montgomery, the senior who coach Geno Auriemma so desperately wanted to get a title, and Tina Charles, the center who had a fantastic game with 25 points and 19 rebounds, earning her Most Outstanding Player honors for the Final Four.
Yet right there, doing her thing as always, was Moore. She had 18 points, nine rebounds, five assists and three steals.
"This pretty much sums up Maya: amazing at life," teammate Kaili McLaren said. "You see her walking down the street, and you'd never know she was a great basketball player. She's just a special person. She's low-key, doesn't like to stick out.
"She has the biggest competitive drive. It sets her apart from everybody else. Just her will to win, no matter what we're doing -- if we're playing cards, playing Wii, just with anything."
Moore won the Wade Trophy here on Saturday, the same day she was named to the State Farm All-America team for the second season in a row and won the Associated Press Player of the Year award. Part of the criteria for the Wade Trophy is not just how good a player you are, but how you represent your university.
To describe Moore's game, the two words that might first come to mind are: electric versatility. To describe her personality, the words might be "poised dignity." Asked if she came to UConn to "be great," Moore says yes … to be great for the sake of her teammates and their common cause.
She was great all season, and that continued at the Final Four.
"For the majority of the season, my shot selection was better," Moore said of what she concentrated on in her second year with UConn. "And I focused more on rebounding. There's always another level, but the level we're on right now is pretty exciting."
Parallels have been drawn between Moore and former UConn star Diana Taurasi. Like Taurasi, Moore lost in the national semifinals in her freshman season. Both won titles as sophomores, playing along with driven senior point guards.
Taurasi had more than just Sue Bird; she also had Swin Cash, Asjha Jones and Tamika Williams as fellow starters. But Moore points out that this UConn team is more than just its Big Three of herself, Montgomery and Charles.
"The perfect season [is] all of us rising and playing great," Moore said. "We won the way we knew we could. With Renee dominating and Tina dominating and Kalana [Greene] coming in and Kaili coming in -- and even the people who don't get into the games, they do their jobs behind the scenes.
"I can't say enough about our whole team. That's why everybody is so excited. Everybody has contributed and put a piece into what you've seen."
Montgomery is graduating, so next season there will be more weight for Moore. She'll have a fellow standout in Charles, plus other experienced players back. Moore might not have to do quite as much heavy lifting as Taurasi did to will UConn to its 2003 and 2004 titles … but she'll have to do a heck of a lot.
"I can continue to make smarter decisions on court, certainly," Moore said. "Like a lot of the decisions I see Renee making. That comes with experience. And just continue to be a good leader. I'm probably going to step up vocally more, and I'm sure coach will fill me in on what he wants me to do."
Associate head coach Chris Dailey pointed out that while Moore is sure to improve next year, her teammates must do the same.
"Maya is a perfectionist who will want to get better," Dailey said. "But we're going to need other people to step up, because Maya's not going to be the point guard."
That's something to worry about more in the months ahead. For Tuesday night -- and, you hope, at least for a little while longer -- the Huskies can bask in being not just perfect but pretty much untouchable, as well.
"I think when people look back on this team," Moore said, "'domination' has to be the word to describe it. No one came within 10 points of us. The way we won every game this season was remarkable.
"Women's college basketball has come a long way. For the talent that is out there, for us to be able to come out every game and stay together and beat teams the way we have, putting our egos aside -- it's the best way to win."
Mechelle Voepel, a regular contributor to ESPN.com, can be reached at mvoepel123@yahoo.com. Read her blog at http://voepel.wordpress.com.
espnW.com
Mechelle Voepel joined ESPN.com in 1996 and covers women's college hoops, the WNBA, the LPGA, and additional collegiate sports for espnW.
WOMEN'S NCAA TOURNAMENT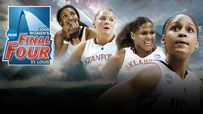 STORIES
VIDEOS
TOURNEY TOOLS
MORE WOMEN'S BASKETBALL HEADLINES
MOST SENT STORIES ON ESPN.COM