Commentary
UConn leads field into Sweet 16
Big East, Big 12 send four teams apiece; Pac-10, Big Ten each add three
Originally Published:
March 24, 2009
By
Mechelle Voepel
| Special to ESPN.com
Connecticut cruised into the Sweet 16 on Tuesday just as anticipated, but it has Big East company that perhaps wasn't so expected. At least not according to the seedings.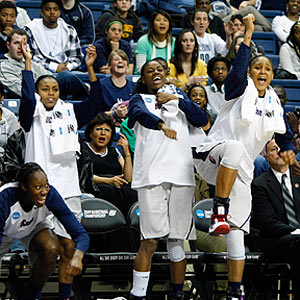 David Butler II/US PresswireAfter two wins by a combined 67 points, UConn and Maya Moore, far right, are 35-0. The Huskies play fourth-seeded California on Sunday (ESPN, noon ET ).
The Big East got seven teams into the tournament, and four of them are moving on to the regional semifinals, which open Saturday (ESPN, noon ET). Three were among the top four seeds: the No. 1 Huskies in the Trenton Regional, No. 3 Louisville in the Raleigh Regional and No. 4 Pittsburgh in the Oklahoma City Regional.
The upset team to reach the Sweet 16 is No. 7 seed Rutgers, which joins the Panthers in Oklahoma City and would face Pitt if both win their Sweet 16 games.
The home-court advantage worked for the Big East in some situations but not others. Rutgers played very well in its second-round win over No. 2 Auburn, but also benefited from being at home.
However, No. 7 seed Notre Dame did not take advantage of its home-court edge and was beaten by 10th-seeded Minnesota in the first round. DePaul, a No. 7 seed, fell on No. 10 San Diego State's home court in the first round. But Louisville overcame 6-seed LSU's home-court edge in the second round.
Thanks mostly to Connecticut -- with help from Rutgers -- the Big East has had at least one team in the Final Four seven of the last nine seasons. And it certainly looks good to make it eight of the last 10.
The Big 12 also has four teams in the Sweet 16, led by top-seeded Oklahoma, 2-seeds Baylor and Texas A&M and fourth-seeded Iowa State. All played on Tuesday: The Aggies crushed Minnesota, the Sooners turned a tight game at halftime into a comfortable win over Georgia Tech, and the Cyclones pulled away in the closing minutes against Ball State (the team that had knocked out Tennessee).
SWEET 16 SCHEDULE
(All tip-offs ET)
RALEIGH: Saturday
• No. 3 Louisville vs. No. 2 Baylor (ESPN, noon)
• No. 4 Vanderbilt vs. No. 1 Maryland (ESPN, 2 p.m.)
BERKELEY: Saturday
• No. 9 Michigan St. vs. No. 4 Iowa St. (ESPN, 9 p.m.)
• No. 3 Ohio St. vs. No. 2 Stanford (ESPN2, 11:30 p.m.)
TRENTON: Sunday
• No. 4 California vs. No. 1 UConn (ESPN, noon)
• No. 6 ASU vs. No. 2 Texas A&M (ESPN2, 2:30 p.m.)
OKLAHOMA CITY: Sunday
• No. 7 Rutgers vs. No. 6 Purdue (ESPN2, 7:30 p.m.)
• No. 4 Pitt vs. No. 1 Oklahoma (ESPN2, 9:30 p.m.)
All games also available on ESPN360.com.
But as for Baylor … holy moly. With coach Kim Mulkey back on the bench after spending the first round in the hospital, Baylor had to deal with a seventh-seeded South Dakota State team that stayed with the Big 12 tournament champion to the very end. Kelli Griffin -- the player of the game for Baylor -- hit a baseline runner with five-tenths of a second left for the winning basket. It was another come-from-behind victory for Baylor, which is making a habit of that (the Lady Bears needed overtime to advance out of the first round), and it was a very tough loss for what had to be the most under-seeded team in the tournament. The Jackrabbits had to have won some new fans, if not the game.
As for the breakdown of the rest of the Sweet 16, kudos to the Big Ten and Pac-10, both of which have three teams in the Sweet 16. Two Pac-10 teams held seed -- No. 2 Stanford and No. 4 Cal -- and another, sixth-seeded Arizona State, upset No. 3 Florida State.
That Seminoles' loss was part of the ACC's relative disappearing act in the first two rounds, as only No. 1 seed Maryland is still alive of the six ACC teams that made the field.
Big Ten teams eliminated two ACC teams: No. 9 Michigan State beat No. 1 Duke, and No. 6 Purdue downed No. 3 North Carolina. The other Big Ten team still alive and kicking is 3-seed Ohio State, which is in the Sweet 16 for the first time since 2005 after disappointing early-round losses the last three seasons.
The other league represented in the Sweet 16 is the SEC, so long the powerhouse of women's basketball. The lone SEC team still standing is No. 4 seed Vanderbilt, which won the league tournament.
The big surprises for the SEC, which had seven teams in the field, were losses by No. 2 Auburn in the second round and No. 5 Tennessee in the first round. The SEC team that played the best but didn't advance was 11th-seeded Mississippi State, which upset No. 6 Texas and then nearly did the same to the Buckeyes on Ohio State's home court.
LSU, which had been to the Final Four the last five seasons but lost all of its starters from a year ago, acquitted itself well by making the second round with such a young squad.
Here's a quick look at all 16 teams that are still alive in the March to the Arch:
Trenton Regional

No. 1 Connecticut: The Huskies' Big Three -- Maya Moore, Tina Charles and Renee Montgomery -- have made UConn like trying to stop three freight trains. And even if they are carrying such a load -- they're combining for 51.4 ppg, which is 61 percent of UConn's 84.4 ppg -- it's because they can. You don't get the sense that the rest of UConn's players can't step forward and be more statistically productive if they need to.
The rest of the Huskies are doing their jobs in supporting the Big Three. Nothing we've seen from UConn so far suggests any issues with feeling the burden of perfection (35-0) or nerves. This is team that steps on the gas pedal and knows not to let up.
No. 4 California: The Golden Bears are in the program's first Sweet 16, which is not exactly the position you want to be in when you have to face UConn. Yet Cal has to feel very good about getting here the way it did. This was a team that seemed shaky coming into the NCAA tournament but has been very good in the first two rounds.
Post players Ashley Walker and Devanei Hampton were outstanding, especially, against Virginia in the second round. They picked apart the Cavaliers' defense and both finished with double-doubles. Meanwhile, Alexis Gray-Lawson and Lauren Greif were terrific, too. Against anyone but UConn next, you'd feel actually pretty darn good about Cal's chances of reaching the Elite Eight.

No. 2 Texas A&M: The Aggies made the Elite Eight last season, and they look very much capable of repeating that. A&M simply blew the doors off Minnesota, 73-42, in the second round, dominating the game on both ends.
Like last year, Danielle Gant and Takia Starks are offensive spark plugs, and Gant remains the Aggie who can guard anyone on court. Sydney Colson overcame a summertime ACL injury to replace A'Quonesia Franklin at point guard. Tanisha Smith, a junior-college transfer, has become an offensive force. And the Aggies appear to have the deepest bench of any of the 16 teams still playing.

No. 6 Arizona State: The Sun Devils are the adversity queens in this regional, coming back from the devastating loss of guard Dymond Simon to an ACL injury earlier this month. Arizona State is attempting to make the program's second appearance in the Elite Eight; it previously got that far in 2007.
Briann January sparked ASU in its second-round upset of Florida State despite twisting an ankle in that game. And Danielle Orsillo didn't let 2-for-12 shooting keep her from taking the shot that gave the Sun Devils the lead in the final minute Monday. ASU plays a lot like Texas A&M (think withering defense), so the Sun Devils will have to be better at the Aggies at what both teams do best.
Berkeley Regional

No. 9 Michigan State: The Green Machine is responsible for taking out the only No. 1 seed not still alive, with an emotionally satisfying victory over Duke. Funny thing was, the Spartans almost didn't get the chance to beat former coach Joanne P. McCallie, because No. 8 seed Middle Tennessee almost beat them in the first round.
The Spartans survived that game, 60-59, beat Duke with a strong defensive effort, and now have to beware of a Cyclones group that's different than both the Blue Raiders and the Blue Devils. Iowa State does not focus its attack on one player, such as MTSU did with the nation's leading scorer, Alysha Clark. The Cyclones also execute and shoot better than does Duke.

No. 4 Iowa State: Maybe it's an anniversary thing? Ten years ago, the Cyclones were also a 4-seed and had their best NCAA tournament result. They made it to the Elite Eight after a regional semifinal upset of No. 1 UConn.
This year, Iowa State won't have to face the No. 1 seed in the Sweet 16, because Duke was knocked out by Michigan State. The Cyclones are known, of course, for their 3-pointers; they've had 26 in their two NCAA tournament games. But in Tuesday's second-round victory, they also got big games from forwards Nicky Wieben and Amanda Nisleit, who combined for 32 points and 18 rebounds.

No. 3 Ohio State: Long ago, Stanford's Tara VanDerveer was coach of this program. Since 2002, the Buckeyes' leader has been Jim Foster, who took his Vanderbilt program to the Final Four in 1993 but hadn't been back since.
With flashy rookie point guard Samantha Prahalis confidently directing a team of older players, the Buckeyes won the Big Ten regular-season and tournament titles. Ohio State had something to prove in the early rounds, after being upset the previous three seasons. The Buckeyes advanced, and Big Ten Player of the Year Jantel Lavender now will see how she fares against the likes of Jayne Appel inside.

No. 2 Stanford: The Cardinal's big adversity was at the start of the season, as they had to move on without the irreplaceable Candice Wiggins but then soon lost point guard JJ Hones. However, Jeanette Pohlen has settled well into that role, and the rest of the Cardinal are excelling, too.
Returning players who were so important to Stanford's run to the NCAA title game last season -- Jayne Appel, Kayla Pedersen and Jillian Harmon -- all have been very steady performers. Appel was the Pac-10 Player of the Year, and her game continues to improve. Plus, the Cardinal have exciting rookie Nnemkadi Ogwumike, who had 27 points and 13 rebounds in the second round. Stanford could be headed to another showdown in the national semifinals with UConn.
Raleigh Regional

No. 1 Maryland: The Terrapins lead off the only one of the regions that had all four of its top seeds advance to the Sweet 16. Maryland isn't a deep team, but so far that has been of no consequence, as redshirt freshmen Kim Rodgers and Anjale Barrett have contributed from the bench.
And the starting five has been splendid, led by Kristi Toliver and Marissa Coleman, the latter getting 18 points and 18 rebounds in the Terps' second-round victory. Some double-doubles just have more panache than others, and that one did. Lynetta Kizer and Demauria Liles have filled in acceptably well for Crystal Langhorne and Laura Harper, a transition inside that was the big question mark coming into this season.

No. 4 Vanderbilt: An injury to Hannah Tuomi has put the Commodores in the position of being a team of guards, some of whom have to pass for forwards. Which Jennifer Risper, despite being just 5-9, has done very well. Risper slashed her way mercilessly to 27 points against second-round foe Kansas State, which was equally unable to stop Christina Wirth (24 points.) You look at Vandy's size-challenged roster now and wonder how the Dores are pulling this off. Then you watch them play and realize they're just getting it done. Perimeter defense from Jessica Mooney and Merideth Marsh has helped -- and that definitely will be needed against Maryland.

No. 3 Louisville: The Cardinals still might be stewing about not getting a better seed, but it all worked out because they're in the Sweet 16 for a second year in a row. Only UConn has humbled this team, and that's nothing to be ashamed of.
Louisville proved its mettle by beating host LSU on its home court in the second round and not falling to that pressure the way Duke and Auburn did. Angel McCoughtry and Candyce Bingham (combined 45 points Tuesday) continue to carry the load for Louisville, but they are quite comfortable with that. And those two have inspired their teammates -- including Becky Burke, who was nearly knocked into next week after a collision with Latear Eason, but still returned to the game and later hit a 3-pointer.

No. 2 Baylor: This team really could be a Lifetime movie at this point, and they wouldn't even have to contrive any fiction for the script. Despite tragedy and injury and kidney stones, Baylor keeps surviving and advancing -- and the green-and-yellow fans keep counting new gray hairs.
The latest cliff-hanger -- a second-round victory over gutsy No. 7 seed South Dakota State -- was decided in the final second and followed a recent Baylor pattern. In all three Big 12 tournament games, Baylor trailed and had to rally. Same for the NCAA first-round overtime win over UT-San Antonio. But there has been a different pivotal player each time, and that has been this team's big asset with Danielle Wilson sidelined.
Oklahoma City Regional

No. 1 Oklahoma: The Sooners make their third trip to the Sweet 16 in the Paris twins' career, and this time they get to play almost in their backyard -- 20 minutes from the Norman campus.
That said, it wasn't a big advantage for them in the recent Big 12 tournament, where they lost in the semifinals to Texas A&M at Cox Convention Center. This event will be across the street at the Ford Center, where the Sooners didn't get to play last year because they were upset in the second round.
Tuesday's second-round victory over Georgia Tech showed the Sooners at their most versatile. They were led by the scoring of guards Danielle Robinson and Whitney Hand (combined 32 points), and the board work of Courtney and Ashley Paris (combined 26 rebounds).

No. 4 Pittsburgh: The Panthers have shown they are much more than a one-woman show, but that one -- Shavonte Zellous -- can sure put on a show. She had 24 points and seven rebounds as Pitt survived a close encounter with Gonzaga, 65-60, in the second round in Seattle to make the Sweet 16 for the second year in a row.
Zellous didn't play well the entire game against Gonzaga, but she made the big plays at the end. Xenia Stewart and Shayla Scott are also dependable parts of a Pitt team that can play very good defense but will have to contend with the Sooners' resurgent inside-out attack.

No. 6 Purdue: The Boilermakers program has a lot of experience in the postseason, and it carries over to each successive team. Purdue controlled the tempo of its second-round upset of third-seeded North Carolina, and the Boilers actually have a style and makeup that is somewhat similar to their next foe: Rutgers.
Lindsay Wisdom-Hylton, a fifth-year senior, is the anchor inside, with a boost from 6-foot-4 Danielle Campbell. They make Purdue's front line pretty formidable. FahKara Malone directs things from the point-guard spot, and rookie Brittany Rayburn and senior Kiki Freeman are both capable of producing offense.

No. 7 Rutgers: Oh, those crazy Scarlet Knights. Practically left for dead (even by their own coach) at various points in this season, they are once again in the Sweet 16 and on a postseason surge.
Rutgers lost 12 games this season, and at times it seemed like Epiphanny Prince was the only Knight capable of actually shooting the basketball. Senior Kia Vaughn was in some kind of funk, and the freshmen were almost always in the doghouse. But things were starting to come together by Big East tournament time. And they really clicked as Rutgers upset second-seeded Auburn in the NCAA's second round, scoring 80 points to grab everyone's attention.
Mechelle Voepel, a regular contributor to ESPN.com, can be reached at mvoepel123@yahoo.com. Read her blog at http://voepel.wordpress.com/.
espnW.com
Mechelle Voepel joined ESPN.com in 1996 and covers women's college hoops, the WNBA, the LPGA, and additional collegiate sports for espnW.
SPONSORED HEADLINES
MORE WOMEN'S BASKETBALL HEADLINES
MOST SENT STORIES ON ESPN.COM
WOMEN'S NCAA TOURNAMENT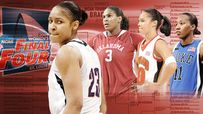 STORIES
SELECTION MONDAY
VIDEOS
TOURNEY TOOLS