Louisville controls tempo to reach final
Updated:
April 5, 2009, 11:31 PM ET
ESPN.com
ST. LOUIS -- Louisville defeated Oklahoma 61-59 in Sunday night's first semifinal at the 2009 Final Four at Scottrade Center. The Cardinals will appear in their first national championship game Tuesday. A look at how they got there:
How did Louisville beat Oklahoma?
| Expert | The difference was ... |
| --- | --- |
| Doris Burke | Freshman guard Becky Burke's defense on Oklahoma guard Whitney Hand was the big difference. She did the same thing to Hand that she did in shutting down Maryland's Kristi Toliver in the regional finals. Burke does not have the greatest lateral quickness or greatest vertical quickness. It's heart and effort that allow her to guard two of the better players in women's basketball. And what's interesting is that all day in practice [Saturday], Louisville coach Jeff Walz didn't say a word about Courtney Paris. He just talked about Hand. |
| Graham Hays | The Sooners looked ready to sprint to Norman and back when they jumped to a quick 6-0 lead to open the game, getting the ball from defensive rebound to layup in a couple of passes and half as many dribbles. Louisville couldn't get out of its own way on offense and Oklahoma's transition prevented the Big East team from getting a foothold on the defensive end. As the Cardinals gradually got something out of their own offense -- quality looks, at a minimum -- it set them up to lock in their defense and slow Danielle Robinson, Ashley Paris and others. The actual mechanics of winning came down to a few bounces one way or the other -- Angel McCoughtry catching just enough of Courtney Paris to draw a foul in the lane or Nyeshia Stevenson's 3-pointer rimming out at the buzzer -- but Louisville gave itself a chance to benefit from those bounces by putting the clamps on Oklahoma's running game. |
| Mechelle Voepel | Oklahoma point guard Danielle Robinson had an awfully quiet second half against Louisville, and it was costly for the Sooners. She finished the game with 10 assists, but eight of them came in the first half, when the Sooners' transition game was so effective. When Louisville was able to slow that in the second half, Robinson wasn't able to spark the Sooners by penetrating and scoring. She had just six points in the game, making one shot from the field. It was the only game in this NCAA tournament when she did not score in double figures; she had averaged 16.3 points in the previous four games. |
| Charlie Creme | It took 20 minutes and some tense, frustrating minutes in the first half, but Angel McCoughtry finally figured out her advantages in the matchup with Whitney Hand: her size and ability to run the floor. McCoughtry got in the lane off the dribble more in the second half and didn't rush her shot. Without her scoring, Louisville had no chance, as evidence by the 12-point halftime deficit after McCoughtry went 0-for-7 from the field and failed to score in the first 20 minutes. With her scoring again, Louisville was a different team. She scored 18 of Louisville's 39 second-half points. It was McCoughtry's baseline jumper, followed by a steal and layup, that keyed the 17-2 run to begin the second half and change the game completely. |
WOMEN'S NCAA TOURNAMENT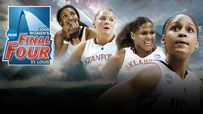 STORIES
VIDEOS
TOURNEY TOOLS
MORE WOMEN'S BASKETBALL HEADLINES
MOST SENT STORIES ON ESPN.COM