Montgomery leads UConn to title game
Updated:
April 6, 2009, 2:31 AM ET
ESPN.com
ST. LOUIS -- Connecticut defeated Stanford 83-64 in Sunday night's second semifinal at the 2009 Final Four at Scottrade Center. The unbeaten Huskies (38-0) advance to play Louisville in Tuesday's national championship game.
How did Connecticut beat Stanford?
| Expert | The X factor was ... |
| --- | --- |
| Doris Burke | Renee Montgomery's leadership. Beyond her points and assists, she set the tone with her pressure defense against Stanford. She played with a confidence that said she didn't think the Cardinal could handle her defense, and that aggressive mindset and refusal to allow Stanford to get off to any kind of a good start made the difference. Any time the Cardinal made a shot, Montgomery made a bucket or found somebody else. She's an extraordinary leader. Watching her with her teammates on the floor and off is unbelievable. |
| Rebecca Lobo | It started with that first shot Connecticut freshman Tiffany Hayes took, a 3-pointer just 13 seconds into the game. It was like, "I'm going to punch you right now and keep punching you from different angles." Hayes came out with no fear. Renee Montgomery had no fear. And it was important for Connecticut that Stanford's Jayne Appel was the one dominating in the post, but the Huskies still had a big lead. |
| Graham Hays | Renee Montgomery. X factor, Y factor, Z factor -- pick any letter of the alphabet you want and give it to Montgomery. There are a lot of reasons a team as good as Stanford loses by 20 points in the Final Four, but Connecticut's diminutive point guard was the biggest. After a 4-of-18 shooting performance against the Cardinal in a semifinal loss last season, she scored 15 first-half points Sunday, including a pair of 3-pointers that took the luster off post moves by Jayne Appel on the preceding possessions. And Montgomery keyed the early second-half run that turned an already easy win into a rout. |
| Mechelle Voepel | The frustrations of the past four seasons equal an X factor for a UConn team that was in demolition-derby mode for this semifinal win over Stanford. Two losses in the Elite Eight and one in the Final Four were senior Renee Montgomery's previous season-enders, and that fueled not only her, but the entire team. The Huskies didn't just play like they were the favorites, they played as if they were making up for not winning it all last year, when many picked them to take the title, too. |
| Charlie Creme | UConn's tenacity. Whether it's the way the Huskies suffocated Stanford on defense or relentlessly attacked on offense, UConn never wavered, never let up. Tiffany Hayes' acrobatic reverse layup with 38 seconds left, well after the outcome was decided, exemplified how Connecticut is leaving nothing to chance. The Huskies clearly aren't letting the pressure of a potentially historic season impact the way they play. |
SPONSORED HEADLINES
MORE WOMEN'S BASKETBALL HEADLINES
MOST SENT STORIES ON ESPN.COM
WOMEN'S NCAA TOURNAMENT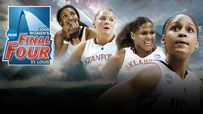 STORIES
VIDEOS
TOURNEY TOOLS