Robert Benson/US Presswire
Playing at home fits most teams just fine
By Mechelle Voepel
ESPN.com
At some point during Saturday's first-round salad bar of NCAA tournament games, an announcer suggested Western Carolina coach Kellie (née Jolly) Harper click her high heels for some help in facing Vanderbilt. Sort of a misplaced reference to "The Wizard of Oz." Harper wasn't wearing ruby "slippers" but purple ones, and this game in Albuquerque, N.M., was not one of the "there's no place like home" contests. (Unless the home Harper might have been wishing for was Tennessee, where as a player she never had much trouble with the Commodores.) There were, however, some home-sweet-home games on Day 1 of the NCAA tournament, led by No. 10 seed San Diego State's upset of seventh-seeded DePaul 76-70 behind 35 points from Jene Morris. Third-seeded Ohio State, which has had its difficulties early in the tournament in recent years (back-to-back first-round exits in 2007 and '08, and a second-round departure in 2006), found 14-seed Sacred Heart perhaps a bit less pesky because the Buckeyes got to play in Columbus, Ohio. They advanced, 77-63. No. 7 seed Rutgers needed the help of its home fans in Piscataway, N.J., as it nearly got caught by the VCU Rams but won 57-51. The win gave the Scarlet Knights the advantage of being at home against No. 2 seed Auburn on Monday (
ESPN2
, 7 p.m. ET). Tigers coach Nell Fortner might want to invoke for her team the spirit of Missouri State and Jackie Stiles, who beat Rutgers on its home court in the second round the last time the Final Four was in St. Louis (2001). And although Gonzaga had to travel about 300 miles across Washington state to get to Seattle from Spokane, the Emerald City certainly was very much more like home to the 12th-seeded Zags than to 5-seed Xavier. Gonzaga won 74-59 for its first NCAA tournament victory and next will try to topple No. 4 Pitt (
ESPN2
, 9:30 p.m. ET Monday). But, hey, with a reference to the Emerald City (Seattle's nickname for the past couple of decades), we can reconnect to "The Wizard of Oz" and thus are compelled to mention Kansas State next. The fifth-seeded Wildcats didn't play at home as they defeated No. 12 Drexel 68-44. But Wildcats guard Shalee Lehning's hometown of Sublette in southwest Kansas isn't that much farther from Albuquerque than it is from her school in Manhattan, Kan. Lehning had the top assist total of the day, 13, which ties her career high. When you think of Sublette, think of nearby Dodge City and "Gunsmoke" and Matt Dillon -- all that wild, wild West stuff. Well, back when Kansas was "west." The West now is a somewhat maligned area in women's basketball terms because only Stanford has carried the banner so much of the time. But at least on the first day of this tournament, it was good for all the West teams, except those playing other West teams. As mentioned, Gonzaga and San Diego State pulled upsets. No. 4 seed Cal, playing in Los Angeles, smothered No. 13 Fresno State 70-47. If there's something worse than smothering, that's what second-seeded Stanford did to No. 15 UCSB by a 74-39 score. And No. 6 seed Arizona State, despite the doom suggested by repeated TV close-ups of injured guard Dymond Simon on the bench, started the West's day well with a 58-47 victory over 11th-seeded Georgia in Duluth, Ga. That game went against the grain for the day because being close to its Athens campus did
not
help Georgia. The Sun Devils looked a lot more at home.
Rushdan plays supporting role at Rutgers
By Graham Hays
ESPN.com
PISCATAWAY, N.J. -- The opening act was sluggish, the final scene contained what seemed like an unnecessarily chaotic plot twist, but the middle of Saturday's production in Piscataway had its share of memorable performances.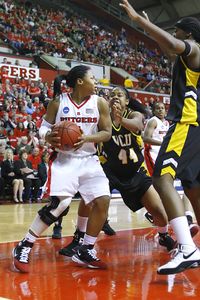 Jim O'Connor/US Presswire
Redshirt freshman Khadijah Rushdan's five points weren't as valuable as her 35 steady minutes for Rutgers.
Epiphanny Prince delivered a soliloquy now familiar but no less mesmerizing with 26 points and 11 rebounds to lead seventh-seeded Rutgers past 10-seed VCU 57-51. Prince hit seven of 11 shots after halftime and left a litany of showstopping lines on the court, including a crossover dribble and pull-up jumper that pushed the lead to 18 points with just more than six minutes to play. That was just enough, as it turned out, to withstand a 14-2 VCU run that coincided with Rutgers coach C. Vivian Stringer deploying her four enigmatic freshmen. "The games are not going to get any easier," Stringer said. "I am trying to bring these freshmen along, simple as that. So I thought, you get a chance they can demonstrate that they've come along as I would like and as they would like, and we get a chance to put it on stage, let's see." But if the true freshmen seemed to struggle with their lines, committing too many careless turnovers and needless fouls, it stood in stark contrast to the performance of another Rutgers player in her first full season on the court. Redshirt freshman Khadijah Rushdan's numbers might not jump off the stat sheet, but the five points, six rebounds and three assists she contributed weren't as important as the 35 steady minutes she played -- more than anyone on the team but Prince. Playing point guard for Stringer is graduate-level work. But after missing most of last season with a knee injury, the combination of a year of observation and a year of practice has prepared Rushdan for the pressure of the NCAA tournament. "I'm more comfortable now," Rushdan said. "I've proven at times that I can handle the job, so [Stringer] has been comfortable with me and confident in me. She's been very encouraging -- she's still on me, but my teammates are very encouraging, so it's gotten easier." Rutgers probably wouldn't beat VCU, VMI or any other team from the Commonwealth without Prince being Prince. But for the team to play like the championship contender most expected it to be -- say, against second-seeded Auburn on Monday night -- the Scarlet Knights also need help from others. No player can do more to make them look like much more than a typical No. 7 seed than Kia Vaughn. Even before Prince went on her second-half tear to break things open, Vaughn scored the first six points of the second half for a 31-25 lead. She established position aggressively and called for the ball assertively. And most important, even on possessions when she ultimately didn't score, she got repeated touches from Rushdan and the other perimeter players. "When we get Kia started, that opens up the outside for others," Rushdan said. "So it's important for her to get in there, to make her feel comfortable, so that everything else can flow." Just as later in the second half, Rushdan found Brittany Ray twice in a 45-second span for wide-open 3-pointers that further set the scene for Prince's dagger. Fans in Piscataway might never have seen their team commit a foul, but partisan loyalties aside, they know the game and know what it takes to succeed playing Stringer Ball. So when Rushdan left the court around the five-minute mark for her only significant rest, it's no surprise that a roar of applause accompanied her off the court. It takes a special player to earn that kind of recognition with five points and five turnovers in 35 minutes. But Rushdan is perfectly cast in her current role.
Catch and release
By Graham Hays
ESPN.com
PISCATAWAY, N.J. -- One of the small pleasures in watching Whitney Boddie pass is how often the Auburn point guard manages to leave the recipients in perfect shooting position. Whether it's an entry pass to the post or a cross-court skip to a shooter, the ball arrives where the player can make a move toward the basket or launch a shot without having to reposition it. As many appreciative gasps as a behind-the-back, no-look dish will draw, it doesn't do a heck of a lot of good if the player on the other end can't get the ball up and in before the defense recovers. Boddie has the flash, but she also has plenty of substance. "She creates really well, and so that draws the defense, and she can kick," Auburn sharpshooter Alli Smalley said. "She always makes very good passes where it's just easy to catch and shoot." Curious whether a particular coach had influenced such an overlooked skill, I asked Boddie how she picked it up. It turns out it was more the organic product of the pickup games she played nonstop growing up in Florence, Ala., than any coaching. Or at least the kind of coaching that comes with a whistle and a clipboard. Often playing with and against older boys and men, she quickly learned that putting the ball in the right place meant a lot less complaints coming back at her. As Boddie told it, "This one guy used to yell at me all the time, 'You give me the ball, and I can't shoot it.' He's a shooter, but I would give it to him where he couldn't shoot it. He would go all crazy and stuff and he was like, 'Hit me right here; hit me right here,' every time down the court. I was like, he knows that if I get it to him in this motion, he's going to hit it every time. Just stuff like that -- I don't know, just playing, you figure it out."
• For more on Auburn from Graham Hays, click here.
Hello again
By Mechelle Voepel
ESPN.com
It's kind of weird how a North Carolina-Purdue matchup is happening again. There's no discernible reason these teams should have met as much as they have in the NCAA tournament. Monday will mark the fifth postseason matchup between them and the third in the past four years. They also played each other once during the regular season. The first postseason duel was in the 1994 Final Four, in the game at Richmond Coliseum that the Tar Heels did
not
win on Charlotte Smith's 3-pointer with seven-tenths of a second left. That buzzer-beater against Louisiana Tech in the title game is all most remember from that Final Four, understandably. But first, Carolina had to stop then-coach Lin Dunn's Boilermakers in the semifinals. The teams met again in 1999, and that time it was Purdue -- under Carolyn Peck -- that went on to win an NCAA title. The Boilers beat the Tar Heels in the Sweet 16 that year. In 2006, North Carolina edged Purdue 70-68 in the Sweet 16. Then in 2007, the Tar Heels beat the Boilers again, that time in the Elite Eight. The programs also met last year, but that was during the regular season, a 90-72 Carolina victory. Now they'll meet in the second round of this NCAA tournament, with Carolina a No. 3 seed and Purdue a No. 6. The Tar Heels never looked all that good in their 85-80 first-round victory over No. 14 Central Florida, in which they got a surprising 17 points from Heather Claytor. Meanwhile, Purdue didn't have much trouble dispatching Charlotte 65-52. And so the Tar Heels and the Boilermakers meet again. One other interesting note: From 1994 to 2009, Purdue has had five coaches: Dunn, Nell Fortner, Peck, Kristy Curry and Sharon Versyp. UNC has had only Sylvia Hatchell, who took over in Chapel Hill in 1986.
Boards game helps UVa offset shooting woes
By Mechelle Voepel
ESPN.com
On a night of a thousand clanking shots -- OK, it wasn't quite that many -- by Virginia stars Monica Wright (who made four of 16 shots) and Lyndra Littles (6-of-19 shooting), the Cavaliers at least went to work on the boards. In its 68-61 win over No. 12 seed Marist, Virginia won the rebounding battle 42-25, including 15-5 on the offensive glass. Aisha Mohammed led the way with 14 rebounds, while Littles and Wright combined for 15. No. 5 seed Virginia will need to be sharper offensively in the next round against No. 4 Cal, a harder team for the Cavaliers to control on the glass.
Player of the day

Auburn's DeWanna Bonner notched her first NCAA tournament victory and 26 points. Rutgers' Epiphanny Prince also had 26 and kept the Scarlet Knights from melting down. Rookie point guard Samantha Prahalis led Ohio State with 23 points, a number matched by cool and efficient senior Christina Wirth of Vanderbilt. And senior Shavonte Zellous, who we should mention again was recruited by basically nobody except Pitt, led the Panthers into the second round with 31 points. All very fine first-day performances. But the player of the day goes to
San Diego State's Jene Morris
, who not only scored 35 points in the No. 10 seed Aztecs' upset victory over No. 7 DePaul but also made the big defensive plays when needed. Morris, a 5-foot-9 junior guard from San Francisco, played one season at Cal, then traveled almost the length of the state to switch colleges. Next, she will try to put the hurt on a Bay Area team, No. 2 seed Stanford (
ESPN2
, 9:30 p.m. ET Monday). Morris is averaging 16.2 ppg, and her total Saturday was a career high.

-- Mechelle Voepel
Mississippi State upends No. 6 seed Texas
NCAA tournament first-round scores
•
BERKELEY
Mississippi State 71, Texas 63
Ohio State 77, Sacred Heart 63
San Diego State 76, DePaul 70
Stanford 74, UC Santa Barbara 39 •
RALEIGH
Vanderbilt 73, W. Carolina 44
Kansas State 68, Drexel 44 •
OKLAHOMA CITY
North Carolina 85, UCF 80
Auburn 85, Lehigh 49
Purdue 65, Charlotte 52
Rutgers 57, VCU 51
Pittsburgh 64, Montana 35
Gonzaga 74, Xavier 59 •
TRENTON
Arizona State 58, Georgia 47
Florida State 83, N. Carolina A&T 71
California 70, Fresno State 47
Virginia 68, Marist 61
For the complete scoreboard, click here.
UNC avoids upset, holds off UCF
On Tap For Sunday
(All times Eastern)
•
BERKELEY
No. 9 MSU vs. No. 8 Middle Tenn. (ESPN2, noon)
No. 16 A. Peay vs. No. 1 Duke (ESPN, 2:30)
No. 13 ETSU vs. No. 4 Iowa State (ESPN2, 7)
No. 12 BSU vs. No. 5 Tennessee (ESPN2, 9) •
OKLAHOMA CITY
No. 16 Prairie View vs. No. 1 OU (ESPN2/EU, 7)
No. 9 Ga. Tech vs. No. 8 Iowa (ESPN2/ESPNU, 9) •
RALEIGH
No. 9 Utah vs. No. 8 Nova (ESPN2, noon)
No. 16 Dartmouth vs. No. 1 Md. (ESPN, 2:30)
No. 10 TCU vs. No. 7 South Dakota St. (ESPN2, 7)
No. 11 UW-Green Bay vs. No. 6 LSU (ESPN2, 7)
No. 15 UTSA vs. No. 2 Baylor (ESPN2, 9)
No. 14 Liberty vs. No. 3 Louisville (ESPN2, 9) •
TRENTON
No. 16 V'mont vs. No. 1 UConn (ESPN2/EU, noon)
No. 15 E'ville vs. No. 2 Texas A&M (ESPN2, noon)
No. 9 Temple vs. No. 8 Florida (ESPN/EU, 2:30)
No. 10 Minn. vs. No. 7 Notre Dame (ESPN, 2:30)
All games also available on ESPN360.com. Click here for Sunday's coverage map. For the full schedule, click here.
ASU advances past 11-seed Georgia
On the road again
Florida State's program long ago grew used to being the road team that always was far away from home in ACC play. But for many years, the Seminoles also didn't feel that much "at home" when they really were at home. "Mara says that it used to feel like an away game even during home games," Florida State coach Sue Semrau said of senior Mara Freshour. "It's an exciting level of progress that's occurred here." The Seminoles averaged nearly 3,000 fans for their home games this season, including a season-high 6,419 for their game against Virginia on Feb. 24. It might not sound like a lot, but considering the uphill battle Florida State has had to face with gaining fans, it's significant. With the Seminoles' 83-71 victory over North Carolina A&T in the NCAA tournament first round on Saturday, they advanced to face Arizona State in Duluth, Ga. And it's good news for a school that could use it after the academic scandal and the FSU men's hoops first-round tournament loss to Wisconsin.
-- Mechelle Voepel
OSU bucks trend, reaches second round
On the road again, II
In the past, fate hasn't been so kind to Mississippi State. In 2000, for instance, the program was a No. 3 seed. And under the old system that had the top four seeds in each region hosting, the Lady Bulldogs should have had their subregional at home in Starkville. However, a convention in town already had filled up too many hotel rooms in the area, so the hosting privileges went to sixth-seeded Oregon. Then it seemed Mississippi State got a break when UAB upset the host Ducks in the first round. But it didn't work that way, as UAB subsequently beat Mississippi State on a neutral court in Eugene. Then, in 2003, the Lady Bulldogs were again a No. 3 seed. By this point, however, the NCAA had changed the setup of the early rounds, going to 16 predetermined sites. New Mexico had won a bid to host, so it got that benefit as a No. 6 seed, then took advantage of it in The Pit, beating Mississippi State in the second round. That was the last time the Lady Bulldogs were in the NCAA tournament until this season, when they got in as a No. 11 seed. They played sixth-seeded Texas on a neutral court in Columbus, Ohio. And although the Longhorns made the game interesting late, Mississippi State earned the 71-63 victory. But again, the good fortune has ended. The Lady Bulldogs next have to face Ohio State on the Buckeyes' home court. Mississippi State, which was also in the NCAA tournament in 1999 and 2002, has never gotten the chance to host a tourney game.
-- Mechelle Voepel
Purdue wins 12th straight first-round game
Looking ahead
All four of the No. 1 seeds -- UConn, Maryland, Oklahoma and Duke -- will be in action Sunday. Don't spend any time looking for a close game among those four. However, the 8-9 games that will provide the opponent for the No. 1 teams in the second round are all compelling contests. In Storrs, Conn., ninth-seeded Temple will have full support from the Huskies fans cheering for former UConn assistant Tonya Cardoza, head coach of the Owls, against No. 8 Florida. If Maryland's Terrapins don't nod off to sleep at home in College Park, they'll see which painstaking offense they will face next if they dispatch Dartmouth: either No. 8 Villanova or No. 9 Utah. In Iowa City, Iowa, the No. 8 Hawkeyes will have a lot going for them against 9-seed Georgia Tech. They'll have the home-court advantage, plus the Yellow Jackets' leading scorer, Alex Montgomery, won't play because of a knee injury. She did not make the trip to Iowa. And speaking of home advantages, No. 9 Michigan State has that over No. 8 Middle Tennessee in East Lansing, Mich., plus the incentive to face former Spartans coach Joanne P. McCallie and her Duke team.
-- Mechelle Voepel