Half of Sweet 16 field set
AP Photo/John Bazemore
Two 6-seeds, three Pac-10 teams secure Sweet 16 berths
By Mechelle Voepel
ESPN.com
Injuries are always a big part of sports. But at Arizona State the past few seasons, injuries have seemed to be an entirely
too
big a part of the Sun Devils' lives. Every time you turned around, somebody in Tempe was blowing an ACL or getting a head-knock or something. Former player Jill Noe once appeared on pace to set a world record for knee surgeries. The Sun Devils kept playing through it all, but you figured they had to be due for a relatively injury-free season in 2008-09. But then, earlier this month, they lost Dymond Simon to another ACL injury. In 2007, her freshman season, she suffered a torn ACL and didn't get to finish the season as the Sun Devils advanced to the Elite Eight. She returned strong for 2007-08 … but ASU lost Danielle Orsillo to an ACL last season, which ended with an NCAA tournament second-round loss to Duke. This year, just as it looked like things were really coming together at exactly the right time for Arizona State, Simon -- who was leading the team in scoring -- went down again. After that game, March 7 at Stanford, Sun Devils coach Charli Turner Thorne said, "We're just completely devastated." Yet on Monday, Arizona State was celebrating as it was part of one of the evening's three upsets. And it was the first of the three Pac-10 teams to advance to the Sweet 16. The No. 6 seed Sun Devils defeated third-seeded Florida State 63-58, and later were joined in the regional semifinals by Stanford and Cal. The night's biggest upset, seeding-wise, was 7-seed Rutgers blowing out No. 2 Auburn 80-52. The Scarlet Knights' surge at the end of the season, their greater experience in NCAA tournament play than Auburn, their physical defense, and the fact that predetermined sites gave them a home-court advantage all contributed to Rutgers' victory. Sixth-seeded Purdue also upset 3-seed North Carolina 85-70 -- but this wasn't much of a surprise, really. Both these programs have a ton of postseason experience and are familiar with each other, having faced off in the NCAA tournament three times in the last four years. Purdue is just one of those programs that seems to get it done year after year in the postseason no matter what. The Boilermakers lost 10 games this season, and yet -- like Rutgers -- they are playing good basketball at the time it counts most. The same could not be said for North Carolina. Remember at one point -- back in mid-January -- Carolina was undefeated and ranked No. 2 in the country. Then UConn blew out the Tar Heels, and their season never regained its previous luster. North Carolina was defeated by Maryland in the ACC tournament semifinals, and then had an "extra" game a week later -- against South Dakota -- as a tune-up for the NCAA tournament. The Heels won that game by only six points in Chapel Hill, and it left some head-scratching as to whether that was a hiccup or a reason for concern. It turned out to be the latter -- the Heels barely got past Central Florida (which finished the season at .500) by five points in the NCAA's first round. Against Purdue, the Tar Heels were never able to dictate the pace -- which we know that they prefer to be just a step short of sheer chaos. Only with North Carolina do you see Monday's 11 turnovers and think it's a bad thing -- because it's not enough. It lets you know that Carolina didn't play like Carolina likes to play. The Heels lose three senior contributors in starter Rashanda McCants and reserves Heather Claytor and Iman McFarland. Redshirt senior Alex Miller had already ended her career during this season because of persistent knee pain. McCants -- the very definition of a hot-and-cold player -- was definitely cold for her final NCAA tournament. She was a combined 4-for-24 from the field for the Heels' two games. Still, led by Jessica Breland returning for her senior year, look for North Carolina to be the favorite in the ACC next season. It was also a down night for another ACC team, Florida State. The Seminoles shared the ACC regular-season title with Maryland, but the postseason was not what they hoped for. Florida State lost by 18 points to Duke in the ACC tournament semifinals. Then the Seminoles beat North Carolina A&T in the NCAA first round, and it looked for a while Monday as if they were going to advance. In 2007, Florida State made that program's first Sweet 16 by upsetting Stanford on the Cardinal's home court. But the Seminoles wouldn't get their second Sweet 16 at the expense of another Pac-10 team. Arizona State rallied from nine points down with just less than 10 minutes left -- despite guard Briann January leaving the game for a stretch with an ankle sprain. The biggest shot of the night came from Orsillo, who was struggling from the field (2-of-12) but then hit a 3-pointer with 35 seconds left. That put ASU up for good, 57-54. Then January, Kate Engelbrecht and Orsillo combined to go 6-of-6 from the line to seal the victory. Florida State loses seniors Mara Freshour and Tanae Davis-Cain, but the Seminoles will still have a very solid team next season. And Arizona State moves on to Trenton still without Simon, unfortunately, but far from devastated.
Newfound mindset carries Rutgers to Sweet 16
By Graham Hays
ESPN.com
PISCATAWAY, N.J. -- There's probably an appropriate parable to describe what happened in Monday's second-round game between Rutgers and Auburn that involves a knight slaying a tiger. But, as it is, it's tough to think of anything but the tortoise passing the disbelieving hare after a four-month race. Only this time, the tortoise sprinted across the finish line. In a game in which the run of play fit the expectations of the preseason polls far better than those of the postseason pecking order, seventh-seeded Rutgers blew past second-seeded Auburn, 80-52. But if coach C. Vivian Stringer's team -- which began the season ranked No. 3 in the nation -- was at one time expected to reach its fifth consecutive Sweet 16 without incident, evidence of how far it traveled to get there came from the red road uniforms the underdog Scarlet Knights wore on their home court at the Louis Brown Athletic Center. "We struggled a lot, but what's most important is that it doesn't matter where we come from, it's where we're going," Stringer said of this season. "And ultimately, we had a chance to prove that we're a much better team than what we had proven ourselves this year."
More …
Rayburn helps push Purdue past UNC
By Mechelle Voepel
ESPN.com
Purdue had a 1-4 record against North Carolina coming into their NCAA second-round meeting Monday. That included losses to the Tar Heels in the NCAA tournament in 2006 and 2007, and a regular-season defeat last season.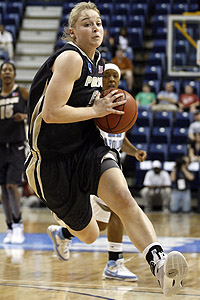 AP Photo/Bill Waugh
Freshman guard Brittany Rayburn came off the bench for 18 points in 25 minutes.
But freshman Brittany Rayburn wasn't part of any of those losses, so her slate against Carolina was clean. Now, though, it's 1-0, as the sixth-seeded Boilermakers upset No. 3 seed North Carolina 85-70 on Monday in Chattanooga, Tenn. Rayburn, a 6-foot guard, is one of those kids who was pretty much born to play for Purdue. From Attica, Ind., Rayburn has six family members who are alums of Purdue and she became the seventh "Miss Basketball" from Indiana to become a Boilermaker. Another former "Miss Basketball" from the state who played for Purdue is Sharon Versyp, now the Boilers' coach. Her game plan included forcing Carolina to play at the Boilermakers' pace, and it worked. Rayburn and fifth-year senior Lindsay Wisdom-Hylton led Purdue with 18 points each, and Rayburn had three of the Boilermakers' five 3-pointers. Rayburn , who was 7-for-13 from the field, is currently Purdue's third-leading scorer at 9.8 ppg.
Player of the Night

Tell you what … it was a tough night to pick the top player. The key number for the day was "27" as Rutgers' Epiphanny Prince, Vanderbilt's Jennifer Risper and Stanford's Nnemkadi Ogwumike each had that many points in victories. How about Pitt's Shavonte Zellous, who helped hold off No. 12 seed Gonzaga's upset attempt with 24 points? All great candidates … but we'll give the nod to
Cal's Ashley Walker
, who decimated Virginia in a 99-73 win that advanced the Golden Bears to their first Sweet 16. Walker had 32 points (14-of-20 from the field) and 10 rebounds for No. 4 seed Cal. She got great support from her partner inside, Devanei Hampton, who added 22 points and 11 rebounds. Considering that Cal lost three of its last five games coming into the NCAA tournament, the Bears seemed shaky. They've proven to be anything but, pounding Fresno State and UVa. Walker had 21 points and eight rebounds against Fresno State. Next up would appear to be UConn -- unless Florida can shock the world -- and it's good to see Cal playing this well going into a game with the mighty Huskies.
-- Mechelle Voepel
Rutgers holds court, routs 2-seed Auburn
NCAA tournament second-round scores
•
BERKELEY
Ohio State 64, Mississippi State 58
Stanford 77, San Diego State 49 •
RALEIGH
Vanderbilt 74, Kansas State 61 •
OKLAHOMA CITY
Rutgers 80, Auburn 52
Purdue 85, North Carolina 70
Pittsburgh 65, Gonzaga 60 •
TRENTON
Arizona State 63, Florida State 58
California 99, Virginia 73
For the complete scoreboard, click here.
Purdue upsets 3-seed North Carolina
On Tap For Tuesday
(All times Eastern)
•
BERKELEY
No. 9 Michigan State vs. No. 1 Duke (ESPN2, 7)
No. 12 Ball State vs. No. 4 Iowa State (ESPN2, 7)
•
OKLAHOMA CITY
No. 9 Georgia Tech vs. No. 1 OU (ESPN2/EU, 9:30)
•
RALEIGH
No. 9 Utah vs. No. 1 Maryland (ESPN2, 7)
No. 7 South Dakota St. vs. No. 2 Baylor (ESPN2, 9:30)
No. 6 LSU vs. No. 3 Louisville (ESPN2, 9:30)
•
TRENTON
No. 8 Florida vs. No. 1 UConn (ESPN2, 7)
No. 10 Minnesota vs. No. 2 Texas A&M (ESPN2, 7)
All games also available on ESPN360.com. Click here for coverage maps. For the full schedule, click here.
Arizona State advances past Florida State
Duo leads Dores
Kansas State couldn't stop Vanderbilt's Carla Thomas and Ashley Earley the last time these teams met in the NCAA second round, in 2005. Thomas and Earley combined for 35 points in that 63-60 victory. Monday, it was another Commodores duo that did in the Wildcats, and they were even more potent. Jennifer Risper had 27 points and Christina Wirth 24 as Vandy won 74-61 and advanced to the Sweet 16. Vandy's post attack has been decimated with injuries, so it has been left more to the 5-foot-9 senior Risper to carry a large load in the paint for the height-challenged Commodores. They might be the smallest team to make the Sweet 16 -- Wirth at 6-1 is the tallest starter -- but their quickness and athleticism inside were too much for K-State. Wildcats forward Marlies Gipson fouled out trying to stop Risper. Gipson ended her K-State career with 16 points. Risper might remind fans of both Earley, who is 5-10, and former K-State player Kendra Wecker, who at 5-11 also played well inside in college. In that 2005 matchup, Wecker scored 29 points. -- Mechelle Voepel
Tournament Challenge
Not everyone was surprised Sunday by Ball State's upset of Tennessee, which lost in the first round for the first time in the 28-year history of the women's NCAA tournament. Turns out, 4.72 percent of the brackets submitted in this year's Women's Tournament Challenge tabbed the Cardinals to upset Tennessee. Incidentally, just 0.02 percent -- or 49 entries -- picked Ball State to win the Big Dance in their bracket. No word yet on whether Ball State alum David Letterman beat the system and submitted more than 10 entries. -- ESPN.com