Beard is nation's best
Updated:
March 14, 2004, 1:54 AM ET
ESPN.com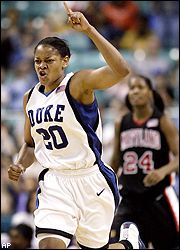 Duke's Alana Beard is averaging 18.3 points in the tournament.
Player of YearAlana Beard, Duke
STATS THROUGH MARCH 10

PTS
AST
REB
STL
FG%
FT%
20.2
3.8
5.2
2.3
50.8
78.6
Click here for ESPN.com Coach, Freshman of Year
Hush now, Husky fans. Look at the numbers -- this one is tough to argue. Because, as ESPN's Nancy Lieberman points out, no one in the country is playing better basketball right now than Alana Beard. And that's why Duke's 5-foot-11 senior guard has been selected as ESPN.com's Player of the Year. Beard has led the Blue Devils to a 27-3 mark and back to the No. 1 spot in this week's top-25 polls. Duke, which plays the nation's third-toughest schedule, was No. 1 for three weeks in January after beating Connecticut on the Huskies' home floor in Hartford, and returned to the top spot this week as Beard helped the Blue Devils win their fifth consecutive ACC tournament title. Beard has been spectacular at both ends of the floor, particularly over the last month as Duke has won 10 consecutive games. She has scored at least 20 points in 10 of Duke's last 13 games, shooting 54 percent from the field to average nearly 22 points. Beard has knocked off a few milestones, too, and became Duke's all-time leading scorer for women and men (passing the likes of Christian Laettner and Johnny Dawkins) on March 1, and enters the NCAA Tournament with 2,622 points. With just six more steals, Beard will become the only player in NCAA history -- man or woman -- to log 2,500 points and 400 steals. (According to NCAA records, Beard is the 31st woman to reach the scoring milestone, while only 14 women have made 400 steals in their career.) Beard also has tallied more than 760 rebounds, 490 assists and 140 blocks. Beard, who ranks 17th in the nation in scoring this season with a 20.2 scoring average, ranks 20th all-time on the NCAA women's career scoring list. Her defense, arguably Beard's best attribute, has been as solid as ever; and her 3-point shooting, perhaps her only weakness, is almost 6 percentage points higher than last season, up to 33.7 percent. "Alana has expanded her range and shooting repertoire, and done everything you could ask of a senior," ESPN.com columnist Mechelle Voepel said. And that really is what this award comes down to
this
season. Not what a player has done up to this point, or accomplished in past years. And that's ultimately what lifted Beard over UConn senior Diana Taurasi, the consensus national player of the year in 2002-03 after fighting nagging injuries to lead a team with no seniors and a handful of freshmen to the Huskies' second consecutive NCAA title. "There is no doubt Alana has had the better year," Lieberman said. "Does that mean she's a better player than Diana? No. Does it mean that Beard's the No. 1 pick in the WNBA draft? No. "But when you're handing out the player of the year award, it comes down to, 'What have you done for me lately?' And statistically, Beard stands out." Don't believe us? Beard's averaging 20.2 points; Taurasi, 15.5. Beard also is averaging more rebounds, steals and blocks, with 18 20-point games to Taurasi's seven. Over the past 14 games, Taurasi is averaging 11.6 points while hitting 37.1 percent of her attempts from the field. In that same span, Beard averaged 21.6 points on 53 percent accuracy from the field. And don't forget that Beard's Blue Devils got the better of Taurasi's Huskies in their lone matchup this season. "Giving this award to Alana isn't a slight to Taurasi, it's a compliment to her and the high standards she has set for the rest of the nation," Lieberman said. In her final year, Beard is part of the first men's or women's basketball class in the ACC's 51 years to register eight league championships. Since she arrived at Duke, the Blue Devils have not lost in the ACC tournament and have won the ACC regular-season title each of her four years. On Jan. 24, Beard became the first Duke women's basketball player to have her jersey retired.
AND THE WINNER IS ...

Freshman of the Year
Tiffany Jackson, Texas
One glance at Jackson and you might be fooled into thinking she's more than a rookie. That's because this freshman, says Mechelle Voepel, already has the body of a senior, a solid grasp of defense and great touches on offense. The 6-foot-3 forward, who was named Big 12 Freshman of the Year, has helped keep Texas ranked in the top five all season long, especially when Stacy Stephens was hampered by injury early on. Jackson's also a big reason the Longhorns grab 40.8 boards per game and boast a plus-8.1 rebounding margin. Jackson, who has scored in double figures in 24 of 30 games this season and should top 400 points by the end of the Big 12 tournament, also ranked seventh in the league in blocks and steals. Nancy Lieberman's impressed by Jackson's quick transition to college ball. "In high school, Jackson put up a shot, and if she missed, got it and put it back in. "But in college, you've got to make quick decisions, read defenses and deal with being double-teamed. Jackson has passed with flying colors and has an incredible basketball acumen for a young player." Added Voepel: "When Jackson learns to cut down on turnovers, she'll be nearly unstoppable."




STATS THROUGH MARCH 10

PTS
REB
AST
STL
FG%
FT%
12.8
7.7
1.5
2.0
47.4
75.4

Coach of the Year
Joe Curl, Houston
School-record for most victories in a season? Check (27). Best-ever mark in league play? Check (13-1). Highest ranking ever? Check (No. 11 in this week's AP Top 25). First regular-season title and a C-USA tournament championship to go along with it? Check, check. And then, of course, the one thing that really matters: Houston's first NCAA Tournament appearance in 12 years. Not bad for a team that won just five games five years ago. Yes, Curl's Cougars have come up big this season, winning 22 of their last 23 games to ride a 12-game winning streak into the Big Dance. Even the losses are respectable: Purdue, Georgia and Louisville. And while a lot of credit goes to Houston standout Chandi Jones, who ranked fourth in the nation in scoring during the regular season, you have to credit Curl for the way he coaches his team. "Curl doesn't overcoach," Nancy Lieberman said. "He lets the Cougars play free and makes sure they get the ball in Jones' hands. And yet, there's no talk of anybody being a ballhog. His players know their roles and have bought into their coach's system." Just goes to show Houston has more than your average Joe.

CURL'S CAREER

WIN
LOSS
WIN PERCENTAGE
237
180
56.8 percent
ESPN analyst Nancy Lieberman, ESPN.com columnist Mechelle Voepel and Melanie Jackson, who coordinates ESPN.com's women's college basketball coverage, comprised the selection committee.
SPONSORED HEADLINES
MORE WOMEN'S BASKETBALL HEADLINES
MOST SENT STORIES ON ESPN.COM