Texas A&M, Kansas struggle to keep up
Updated:
November 4, 2004, 1:41 AM ET
Associated Press
KANSAS CITY, Mo. -- Gary Blair's advice for Bonnie Henrickson is not to learn the importance of patience the hard way.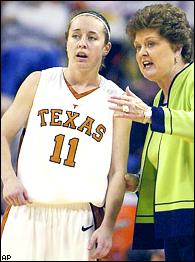 APJamie Carey, left, and Jody Conradt are a winning combination at Texas.
The hard way is how it came to Blair last season in his first year as Texas A&M's women's basketball coach. Accustomed to great success at other schools over an 18-year career, Blair suffered as the Aggies won only two conference games.
The only team that did as poorly was Kansas, which also won just two league games in the final year of Marion Washington, a pioneer of women's basketball.
Now Henrickson, like Blair, has left the comfort of a successful program to take the challenge of rebuilding a team in one of the nation's toughest leagues.
"Bonnie was like myself. We had never lost before,'' said Blair, whose teams before last year had made 11 trips to the NCAA Tournament and won fewer than 20 games only three times.
While trying to get Kansas off the ground Henrickson would do well, Blair cautioned, to forget the 158-62 record she compiled in seven years at Virginia Tech.
"You are not going to pass anyone up just because of what you have done in the past,'' he said Thursday at the Big 12's media day.
"I found that out real quick. The only advice I could give Bonnie is to learn to be a little more patient than perhaps I was. Learn to see winning through different lights besides just what's on the scoreboard. I had to see winning through recruiting. I had to see winning through marketing.''
He figures Henrickson and every other coach who is trying to build something in the Big 12 would also be smart to avoid the temptation of a quick fix through the junior college route.
"Fill in with the junior college players as long as they are impact players,'' he said. "But build it with quality freshmen and build it your way and have them for four years, very similar to what Oklahoma did when Sherri Coale came here.''
Henrickson knows she stepped into a deep hole at Kansas, which was a powerhouse for many years before embarking on a long, steep decline.
"The program has had success historically in the Big Eight,'' Henrickson said. "Right now my responsibility and my staff's responsibility is to re-establish tradition.''
Henrickson does not have to look far to find an immediate challenge. Just down the highway is Kansas State, where Deb Patterson has established one of the country's premier programs. So how long will it take for the Jayhawks to catch up?
"Fair question. Tough answer,'' she said. "Our first two and three recruiting classes will be the biggest key for us. As you know, we are all better coaches with talent.''
According to preseason polls, nobody in the Big 12 -- and possibly the nation -- has greater talent than Texas. With four starters returning from last year's 30-5 team, the Longhorns look almost unconquerable.
"I honestly think Texas could contend for a national championship,'' said Iowa State coach Bill Fennelly. "If I was voting, they would be my No. 1 team. Texas has all the ingredients.''
The Longhorns are not shirking away from their preseason ranking.
"The expectations we place on ourselves are far greater than expectations other people place on us,'' senior point guard Jamie Carey said. "We all know it's not about how you finish, it's where you finish.''
One of this year's more interesting challenges belongs to Nebraska, where coach Connie Yori has only one returning starter.
"We are definitely in a transition situation in our program,'' Yori said. "We're very inexperienced. We have just one player in our program (Jina Johansen) who has any starting experience whatsoever. Right now we have 11 players practicing and only four of them have ever put on a Nebraska uniform.''
Inexperience will be no problem for Oklahoma, which returns 12 letter winners and three starters from the squad that went 24-9 and beat Texas in the Big 12 tournament final in Dallas before Stanford routed the Sooners in the second round of the NCAA Tournament.
"We played, obviously, extremely well in Dallas,'' Coale said. "That creates within your kids a swagger. The way these guys performed for four straight games in Dallas was special. They walked out of that gym with their shoulders held back and a different cadence to their step.''
With five seniors and a team grade-point average of 3.5, Iowa State figures to have a smart, experienced squad.
"Four days into practice I felt we had a team that could be very, very good,'' Fennelly said. "I have a lot of faith in this team and I really like their approach. I like where we stand.''

Copyright 2004 by The Associated Press
MORE WOMEN'S BASKETBALL HEADLINES
MOST SENT STORIES ON ESPN.COM