McCarville has nation feeling Minnesota
Updated:
November 8, 2004, 3:30 AM ET
Associated Press
MINNEAPOLIS -- They call Janel McCarville "Shaq,'' because she's an imposing, athletic force for Minnesota in the middle.
And just as Shaquille O'Neal's departure from the Los Angeles Lakers and Kobe Bryant has split up a superior inside-outside combination in the NBA, McCarville returns without half of the dominant duo that guided the Gophers to their first Final Four.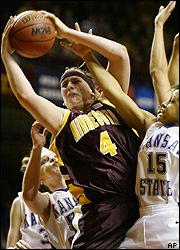 Minnesota's Janel McCarville has been unstoppable on both ends of the floor.
Life after Lindsay Whalen won't be easy, but McCarville -- with a deep, promising supporting cast -- gives Minnesota confidence it can sustain itself as a national power. The Gophers have averaged 24 wins over the past three seasons, going 7-3 in the NCAA Tournament.
"Those are great stepping stones for us,'' coach Pam Borton said. "I think we've really developed a great culture here.''
The program's potential was what lured McCarville from her 162-acre family farm outside Stevens Point, Wis. -- even though the Gophers were coming off an 8-20 season under embattled coach Cheryl Littlejohn.
McCarville started as a freshman after shedding significant weight from her 6-foot-2 frame. She let Whalen lead the renaissance that culminated with the Gophers' first postseason appearance in eight years.
Borton arrived in 2002, and her challenges to make McCarville leaner, better and tougher in the post -- as well as a more positive person -- weren't always accepted.
Coach and player frequently clashed.
"I think I was kind of stubborn,'' said McCarville, now the team's lone senior. "Change is kind of hard when things are going right, so that was obviously a big thing. Over time, you just pick it up and do what's best for the team.''
Borton was patient.
"The biggest thing that struck me was how good she could be if she worked hard,'' Borton said. "She had so much potential -- that if she worked hard, she could be as good as she is today.
"Janel needs to be coached a different way than other kids need to be coached. I think if a coach figures out how to coach Janel, she'll go through the wall for you.''
McCarville, the conference's preseason player of the year, averaged 16.1 points per game last season and set an NCAA record with 75 rebounds over the Gophers' five tournament games. She even got the Big Ten tournament's first triple-double with 23 points, 11 rebounds and 10 steals against Ohio State.
"She's one of the most mobile post players I've ever seen,'' said guard Shannon Schonrock, one of three returning starters. "To see her doing some things that guards do is pretty unreal.''
McCarville's season suffered a minor setback last week when she broke a bone in her left hand during practice. She's expected to miss Minnesota's first two games; the Gophers begin play on Nov. 14 against UNLV in the WBCA Classic in Seattle.
The injury is nothing big compared to the struggle McCarville's mother, Bonnie, has endured over the past couple years with colon cancer. Janel, the youngest of five children, happily reported this fall that her mom is feeling well and hasn't needed chemotherapy treatments for months.
Family is extremely important to McCarville, who recently added a sprawling, dark blue tattoo to the underside of her right arm. The words, "Strength Lies Within,'' and the names of McCarville's six immediate family members are circled around a large "M.''
Three older, football-playing brothers helped instill a valuable dose of mental and physical toughness.
"We would roughhouse a lot,'' she said. "Fight over what chores to do.''
McCarville carries herself with rugged confidence: Her jersey number is 4, because that's what bad-boy Kenyon Martin wore in college for Cincinnati.
She has an equal dose of youthful exuberance, too, as evidenced on a recent afternoon (her 22nd birthday) by the black-and-white baseball cap cocked sideways on her head.
Certain to be a top-five pick in next year's WNBA draft, as Whalen was, McCarville is clearly enjoying her moment. The Gophers' popularity reached an all-time peak around the state during their Final Four run, and the women are far more recognizable around campus than players on the struggling men's squad.
"You can be bundled up in a snowsuit, hat on, scarf over your face and somebody will be like, 'Oh, a women's basketball player,' '' McCarville said, flashing a big smile. "It's kind of nice.''
Once she's able to return to the court later this month, there will be plenty to accomplish. Including a secret goal to a throw down a dunk during a game at Williams Arena.
"I did it two or three times in warmups,'' she said. "Games? They're just so hard.''
Now a more vocal, mature leader, McCarville is admired as much by teammates for her humor and kindness as she is for her ability.
"There's no one like her,'' Schonrock said. "That's what makes her special.''

Copyright 2004 by The Associated Press
MORE WOMEN'S BASKETBALL HEADLINES
MOST SENT STORIES ON ESPN.COM