Questionable call ends Baylor's season
Updated:
March 5, 2006, 8:55 PM ET
By
Melanie Jackson
| Special to ESPN.com
Editor's note: As the NCAA celebrates its 25th season of women's basketball, ESPN and ESPN.com count down the top 25 moments of NCAA Tournament history. Here, we continue the countdown with memorable NCAA moment No. 18, a controversial call that allowed Tennessee to advance past Baylor into the 2004 Elite Eight.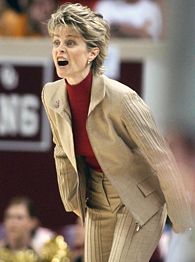 AP Photo/L.M. OteroKim Mulkey-Robertson said she had never seen a more bizarre end to a game.
Before Kim Mulkey-Robertson hoisted the NCAA trophy in that light blue pantsuit last April, most women's basketball fans probably had a completely different image of the Baylor coach etched in their memories.
Just 12 months earlier, on March 28, 2004, one of the most controversial calls in women's NCAA Tournament history had left Mulkey-Robinson practically writhing on the floor.
The look of accomplishment that million-dollar smile feted last April was replaced with anguish. Shock replaced success. The moment was more inconsolable than incredible. Heck, even Mulkey-Robertson's brown-colored ensemble seemed to mark the mood of the moment.
Seconds earlier, with the score tied at 69 in a Sweet 16 battle between top-seeded Tennessee and fourth-seeded Baylor in the Midwest Regional in Norman, Okla., the Lady Bears' Jessika Stratton was called for a foul with 0.2 seconds to play after colliding with Tennessee's Tasha Butts.
Then came Mulkey-Robertson's indelible reaction. She stomped her feet. She jawed at the refs. And ultimately, she crumbled to the floor sideways in astonishment, punctuating the act with an open-faced slap to the court that she probably would have liked to land elsewhere. Then Butts stepped to the line, hit both free throws for a 71-69 win and two days later Tennessee earned its umpteenth trip to the Final Four. And that was that.
But it wasn't. The foul -- which many critics later denounced ("This should have been a no-call situation," ESPN analyst Nell Fortner said afterward) -- was controversial in itself. Add in that it came after two missed gimmes from Tennessee -- first on Shyra Ely's fast-break layup and then Butts' missed putback, which essentially was a tip in -- and it was especially painful.
And then, of course, there was the clock to contend with, too. During the scrum that resulted in the questionable call, the buzzer actually had sounded. But after reviewing the replay on a courtside monitor, the officials determined the foul had occurred before time expired and reset the clock for 0.2 seconds.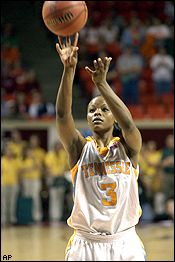 AP PhotoTennessee's Tasha Butts hit the winning free throws -- after the controversial call and after 0.2 seconds were put back on the clock.
Mulkey-Robertson said it was the most bizarre ending she had experienced.
"I don't know that I've been involved in one where the game was over and they put time back on the clock and they shot free throws," she said in her postgame news conference.
Still, even Mulkey-Robertson admitted the game was one of missed opportunities. The Lady Bears -- who were making their first appearance in the Sweet 16 -- led 64-57 with 6 minutes, 41 seconds to play. Tennessee rattled off a 12-3 run to take a lead, but a one-hander in the lane from Baylor star Sophia Young knotted the score at 69.
Ely then missed two free throws, leaving Baylor with the ball and 57 seconds left on the clock. Baylor's Dionne Brown then missed a shot, but the ball was knocked out of bounds and Baylor retained possession with 31 seconds to play.
But the Lady Bears never got off another shot. Stratton "dribbled the ball down to 9 seconds before driving to the basket and giving the ball away. Ely took it the length of the court, but couldn't make the layup," the Associated Press recap read afterward.
"I think you want the kids to decide the outcome of the game," Mulkey-Robertson said at the postgame presser. "I don't like to see basketball games end like you all just saw. I don't think Pat Summitt does either. Didn't she say that?"
Immediately after the game, Tennessee's coach did admit it was an awful ending.
"I hate to see a good game end like that," Summitt said. "Tonight was a situation where there were a lot of calls everybody is on edge about."
But the next day, Summitt insisted the victory was not tainted.
"If such a foul occurs in the first three minutes of the game, do you call it? Yes," she said.
We're just thankful Mulkey-Robertson picked herself up off the floor in Norman. Because last year in Indianapolis, nothing stopped Baylor.
Moment No. 17 will be unveiled Monday during ESPN2's Connecticut-Rutgers game.
Women's Basketball
Melanie Jackson is ESPN.com's women's basketball editor.