Latta leads the way in 2006
Updated:
April 1, 2006, 3:14 PM ET
ESPN.com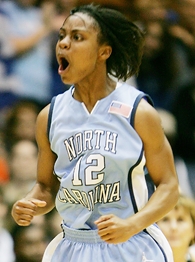 AP Photo/Gerry Broome Ivory Latta has helped UNC reach its first Final Four since winning it all in 1994.
Player of YearIvory Latta, North Carolina, junior, guard, 5-6
STATS THROUGH MARCH 30

G
MPG
FG%
3FG%
APG
PPG
34
31.9
46.1
41.6
5.2
18.4
Click here for ESPN.com's All-America teams
She's emotional, energetic and effervescent. Relentless and unflappable. And this season, North Carolina point guard Ivory Latta is simply the best.
Sure, she might not have as smooth a shot as Seimone Augustus, the pure point guard game of Cappie Pondexter or the gaudy numbers of Courtney Paris or Candice Wiggins. But as ESPN's Beth Mowins puts it, "Latta was the most influential player on the best team in the country this season."
The Tar Heels opened the 2005-06 campaign ranked eighth in the coaches' poll and seventh in the AP Top 25. But with Latta leading the way, UNC earned its first No. 1 ranking and was the country's last only unbeaten team in men's or women's Division I basketball en route to its first Final Four appearance in 12 years.
Latta, of course, led the way to Boston, flexing for LeBron James and showing us that trademark fist pump along the way. Indeed, she has had many big plays to celebrate.
"She is a one-woman press breaker, harasses opposing point guards, knocks down crucial 3-pointers and leads her team when times are tough," Mowins said.
ESPN's Nancy Lieberman is most impressed with Latta's maturation. As an underclassman, Latta had a well-deserved reputation for playing out of control at times. But now the 5-foot-6 junior's shot selection, leadership and decision making seem to have grown leaps and bounds, and "she really understands how to make players around her better," Lieberman added.
And that, Mowins said, "has been the difference between an Elite Eight team and a Final Four team."
And perhaps, North Carolina's second national championship.
"[Latta] has been the emotional spark and the on-court leader for North Carolina, which remains the favorite for winning the national championship," Mechelle Voepel says. "And in the Cleveland Regional, she made the big plays at crunch time to get her team to Boston."
Also receiving votes: Courtney Paris, Oklahoma; Candice Wiggins, Stanford.
ESPN.COM 2006 ALL-AMERICA TEAMS

FIRST TEAM
SECOND TEAM
Seimone Augustus, LSU*
Monique Currie, Duke
Ivory Latta, North Carolina*
Jessica Davenport, Ohio St.
Courtney Paris, Oklahoma*
Tasha Humphrey, Georgia
Cappie Pondexter, Rutgers
Candace Parker, Tennessee
Candice Wiggins, Stanford
Sophia Young, Baylor
Also receiving votes:
Crystal Langhorne, Maryland; Sylvia Fowles, LSU; Khara Smith, DePaul; Kim Smith, Utah; * denotes unanimous choice
ESPN's Nancy Lieberman and Beth Mowins, ESPN.com's Mechelle Voepel and Graham Hays, and Melanie Jackson, who coordinates ESPN.com's women's college basketball coverage, comprised the selection committee.
MORE WOMEN'S BASKETBALL HEADLINES
MOST SENT STORIES ON ESPN.COM