Record crowd on hand to witness Huskies' perfection
Updated:
April 5, 2006, 10:00 PM ET
By
Graham Hays
| ESPN.com
Editor's note: As the NCAA celebrates its 25th season of women's basketball, ESPN and ESPN.com count down the top 25 moments of NCAA Tournament history. Here, we continue the countdown with memorable NCAA moment No. 3, Connecticut's 39-0 season in 2002.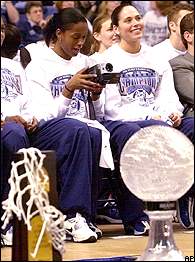 Swin Cash, left, and Sue Bird, right, teamed up for two NCAA titles, including the 2002 crown.
When the Final Four convened at the Alamodome in San Antonio in 2002, it was the first time the women's event had been contested in a 20,000-plus-seat domed facility.
As the event's 10th consecutive sellout proved, organizers needed every one of those 29,619 seats to give fans a final chance to view arguably the greatest team in the game's history.
With a starting lineup consisting entirely of future WNBA first-round picks, including four seniors looking for their second national championship, the Connecticut Huskies completed the fourth undefeated season (and second 39-0 season) in the history of NCAA women's basketball.
The Final Four itself was short on drama, although fellow No. 1 seed Oklahoma gave the Huskies as much of a test as almost anyone had all season, pulling within six points in the second half but ultimately losing 82-70 in the championship. But the significance of the 2002 event came in the coronation of one of the game's best teams and a celebration of the growing popularity of women's basketball.
If calling a 12-point win in the final game a relative close call sounds strange, it's a testament to just how quickly Geno Auriemma's star-studded team took care of business against most its opponents. The Huskies won their 39 games by an average margin of 35.4 points, and it didn't get much closer in the NCAA Tournament, where the average margin of victory in six games was 30.2 points per game. Only once all season, in a road game against a Virginia Tech team that advanced to the tournament, did the Huskies win by fewer than 10 points.
And if some teams were intimidated before the game even started, they can hardly be faulted.
In seniors Sue Bird, Swin Cash, Tamika Williams, Asjha Jones and sophomore Diana Taurasi, Connecticut had a starting five that rivaled the all-conference teams in even some major conferences. Led by Cash, who would win most outstanding player honors at the Final Four, at 15 points per game, the Huskies spread the bulk of the scoring load between all five players. And they were physically intimidating, as well, with only Bird standing shorter than 6 feet.
Against star guard Stacey Dales and coach Sherri Coale, leading a resurgent Oklahoma program that won a total of two NCAA Tournament games before Coale's arrival from an Oklahoma high school and Dales' arrival from Canada, the Huskies raced to 42 first-half points and a 12-point lead. The Sooners rallied in the middle stages of the second half but simply didn't have enough to counter the Huskies, as Dales eventually fouled out with 18 points. Cash put an exclamation point on her prodigious postseason run by leading all players with 20 points and 13 rebounds.
And just as Connecticut's first undefeated season in 1995 had announced the women's game arrival on the nation scene, the school's second perfect run and the attention it received proved the game was here to stay.
Just ask anyone in the record crowd in San Antonio who saw it happen live.
Click here to see when the next memorable moment will air in our countdown.
espnW.com
Graham Hays covers college sports for espnW, including softball and soccer. Hays began with ESPN in 1999.
SPONSORED HEADLINES
MORE WOMEN'S BASKETBALL HEADLINES
MOST SENT STORIES ON ESPN.COM