Penn State reprimands, fines coach Portland
Updated:
April 19, 2006, 12:56 AM ET
Associated Press
STATE COLLEGE, Pa. -- Penn State fined women's basketball coach Rene Portland $10,000 after concluding she violated university policy in her treatment of a player who was perceived to be a lesbian.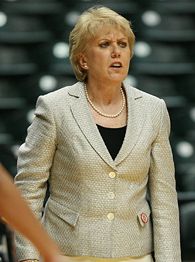 AJ Mast/Icon SMIPenn State ordered Portland to take professional development "devoted to diversity and inclusiveness."
The university said Portland would be dismissed for any future violation of the school's nondiscrimination policy. She was also ordered to take professional development "devoted to diversity and inclusiveness."
The university released the results of the investigation Tuesday.
Reading from a statement at a news conference, Portland said she disagreed with the ruling and that the conclusions were flawed. She said would return as Penn State coach next season but declined to answer any questions.
The school began the investigation after a former player, Jennifer Harris, alleged that Portland had harassed her, told her she needed to look "more feminine" and had a policy of keeping women she thought were lesbians off the team.
The school concluded Portland created a "hostile, intimidating and offensive environment" based on Harris' perceived sexual orientation. Harris has said that she is not gay but was perceived to be by Portland.
Harris, who is black, later filed a lawsuit in federal court in which she said Portland, who is white, also discriminated against her because of her race.
The school said it found no evidence that Portland discriminated against Harris on the basis of race.
Harris told The Associated Press in a phone interview that she felt "vindicated in some sense" but was disappointed in the overall result.
"The fact that she still says that she did nothing wrong and not owning up to anything is the problem," said Harris, who transferred to James Madison last year. "That bothers me."
In court filings, Harris lawyers' said, "Believing Jennifer was a lesbian, Ms. Portland tried to force her to leave the team, humiliating, berating and ostracizing her."
In response to the sexual discrimination findings, Portland called the school's investigation process flawed.
"I believe the process failed to fairly consider and weigh all of the relevant information provided or which could have been provided," Portland said.
The allegations from Harris surfaced in October, before the start of preseason practices.
"I was confronted with what I continue to believe are unfounded claims that I caused a player to leave the Lady Lions team because of her race and alleged perceptions of sexual orientation," Portland said.
After the news conference, Portland walked out of the Bryce Jordan Center accompanied by family and assistant coaches. She left town for a fundraising trip soon afterward.
Portland maintains that Harris' departure was purely related to basketball issues.
Portland has led Penn State to 21 NCAA Tournament appearances, a Final Four appearance in 2000 and five Big Ten regular-season titles. In 2005-06, the team finished 13-16, the school's worst record in her 26-year tenure at Penn State.
Portland has a career record of 678-249, including 592-220 at Penn State. Her contact runs through 2009.
Penn State's internal report was conducted by the school's affirmative action office. According to the school statement, the report recommended a one-game suspension this fall.
"President [Graham] Spanier felt it necessary to have a sanction that was more immediate" and chose to impose the $10,000 fine instead, the statement said.
Karen Doering of the National Center for Lesbian Rights, a lawyer representing Harris, praised Penn State's response in some areas but was not pleased that Portland remained coach.
"The ultimate goal is to make sure that no other person has to experience this type of discrimination again," Doering said. "We're not encouraged that the goal of the litigation is satisfied by these actions."
Spanier said the school's affirmative action office would be part of already-mandatory exit interviews of Portland's players for the next three years and ordered athletic director Tim Curley to review the university nondiscrimination policy with his department this fall.
Curley, in a statement, said his office would "respond accordingly" and was focused on helping Portland prepare for next season.

Copyright 2006 by The Associated Press
SPONSORED HEADLINES
MORE WOMEN'S BASKETBALL HEADLINES
MOST SENT STORIES ON ESPN.COM