Tech's NCAA streak in jeopardy entering WAC tourney
Updated:
March 6, 2007, 6:37 PM ET
Associated Press
When Chris Long tells people around the country he coaches at Louisiana Tech, he generally doesn't have to say which sport.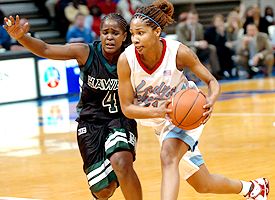 AP Photo/The News-Star, Margaret CroftLouisiana Tech's Shan Moore is the WAC player of the year.
"People immediately start talking about the Lady Techsters. We hear that all over,'' Long said. "Women's basketball has brought a lot of national attention and notoriety to the campus. … Twenty-five NCAA Tournaments is something to be very proud of.''
The figure 25 is significant because there have only been that many NCAA Tournaments in women's basketball. The NCAA didn't start sanctioning the women's college basketball postseason until the 1981-82 season. Every March since, Tech has been a part of it. Tennessee is the only other program to do that.
The fourth-ranked Lady Vols are certain to extend their streak this season. Whether Louisiana Tech makes it back is far from a sure thing as the Lady Techsters open play against New Mexico State in the Western Athletic Conference tournament Wednesday night.
Long is in his second season as head coach after serving six years as an assistant under Hall of Fame coach Leon Barmore, who retired in 2002, and then Kurt Budke. He is overseeing a Techsters team that still wins consistently but is not nearly as dominant as teams past.
Tech (17-12, 12-4 Western Athletic Conference) shared the WAC regular-season title with Boise State and enters the conference tournament as the No. 2 seed.
"I don't think there's any question we have to win the WAC tournament,'' to advance to the NCAA Tournament, Long said. "We accomplished our first goal by wining the regular-season title. We've been playing our best basketball lately. There's no question in my mind we'll go out and put it all on the line and play with a lot of energy.''
Former NFL great Terry Bradshaw is probably the best known athlete to come out of Louisiana Tech, and he significantly raised the national profile of the school set in the northeastern Louisiana town of Ruston.
But for most of the last three decades, while bowl games were no sure thing for Louisiana Tech's football team, the women's basketball program routinely was a threat to advance to the Final Four, making nine of them under Barmore, the last in 1999. Tech won the national championship in 1988 and was the runner up in 1983, 1987, 1994 and 1998.
But as women's basketball has grown nationwide, with more large state schools pouring more money into their women's programs, staying on top has gotten tougher for team's like Tech and Tennessee.
"It's remarkable that Louisiana Tech and Tennessee, for that matter, have never missed a tournament, just remarkable,'' Long said. "There's no doubt the landscape of women's game changed over last decade. A lot of schools are putting a lot of money into women's basketball and a lot of programs have improved over the years.''
When Long recruits against what he refers to as BCS schools, or large universities whose football teams are in conferences with direct tie-ins to the Bowl Championship Series, he can no longer say his facilities or the attention his school dedicates to women's basketball are unrivaled. What he can point to is a tradition of success for a program that now commands a loyal fan following in Ruston.
"Everybody wants to play in the NCAA Tournament and get to the WNBA, and you have a great chance to do that at Louisiana Tech,'' Long said, noting that Tech has sent 18 players to the WNBA.
While this team is in jeopardy of missing the NCAAs altogether if it can't win the WAC tournament, there is still talent on this year's Techsters team.
Louisiana Tech senior guard Shan Moore was named the 2007 Western Athletic Conference Player of the Year. She averaged 13.7 points per game, scoring 20 or more in her last eight games, including a 27-point performance in Tech's 79-63 win over Boise State. Her cousin, senior forward Ty Moore, also was on the All-WAC first team, averaging 12.3 points per game.
"We go 26-5 last year, we struggle this year,'' Long said. "People are trying to say the Techsters are falling away. I don't think that's the case at all.''

Copyright 2007 by The Associated Press
SPONSORED HEADLINES
MORE WOMEN'S BASKETBALL HEADLINES
MOST SENT STORIES ON ESPN.COM