ESPN.com Player of Year Parker headlines All-America teams
Updated:
March 17, 2008, 4:22 PM ET
ESPN.com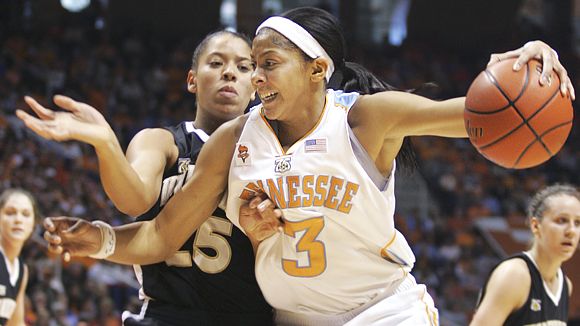 AP Photo/Wade PayneThree of ESPN.com's four panelists voted for Tennessee's Candace Parker for player of the year.
Just how good are Tennessee's Candace Parker and Connecticut's Maya Moore? Fans from both teams can finally agree on something. The Lady Vols junior and Huskies freshman were the two best players in the country this season. When it comes to selecting the top player of 2007-08, either player could be a right answer. Parker, who led Tennessee to the 2007 NCAA title, has guided this season's Lady Vols to a 30-2 mark and the SEC tournament title, elevating her game (not to mention her offense) even higher from a level that won her most of last year's national player of the year honors. Moore has helped the 31-1 Huskies stay at No. 1 most of the season and capture the Big East's regular-season and tournament crowns. Tennessee fans are probably already having nightmares that "We have Maya and you don't" will be the next catchphrase all too soon. Both players have had exceptional seasons, and in another three-and-a-half weeks, either one could be hoisting a national championship trophy. But when it comes to the best of the best, Parker edges Moore -- and LSU's Sylvia Fowles, probably the other strongest candidate -- for the honor. At least, for the ESPN.com Player of the Year award. "It is a very close call," ESPN.com columnist Mechelle Voepel writes. "But Parker gets the nod for how consistently she produced no matter what kind of defense was thrown at her or how the rest of her team performed. She did nothing to
not
deserve repeating as national player of the year." Our only concern is that these two might never share the court in the college ranks, since Parker -- a senior academically after redshirting her freshman season -- has said she will enter the WNBA draft in April. Parker and Moore were both unanimous selections to ESPN.com's five-member first team All-America team. A look at the squads, as voted on by Voepel, fellow columnist Graham Hays, Bracketologist Charlie Creme and ESPN.com women's basketball editor Melanie Jackson (
click here
to cast your vote; stats through games played as of March 13; * denotes unanimous pick):
ESPN.COM ALL-AMERICAN FIRST TEAM

ESPN.com All-American
What ESPN.com's saying

Sylvia Fowles*
LSU
C, 6-6, sr.
Stats: 17.2 ppg, 9.9 rpg, 1.7 bpg, 60 percent from field

"Fans can debate whether Fowles or Parker deserved SEC Player of the Year, but there's no debating that Fowles made it worthy of an argument by giving LSU the nation's best one-woman post game." -- Graham Hays

"She's an All-American and the defensive player of the year. LSU can take more chances and apply more pressure because she's back there guarding the basket." -- Charlie Creme


Maya Moore*
Connecticut
F, fr., 6-0
Stats: 17.7 ppg, 7.4 rpg, 3.2 apg, 55 percent from field

"With a 3-point touch that hovered near 50 percent for much of the season on top of all her other skills and a relentless motor, Moore wasn't as good as advertised. She was better." -- Graham Hays

"A phenomenal talent who has been more mentally prepared than you should ever expect from a rookie." -- Mechelle Voepel

Courtney Paris
Oklahoma
C, jr., 6-4
Stats: 18.7 ppg, 15.1 rpg, 3.5 bpg, 55 percent from field

"Andrea Riley's play might have had a bigger impact in the Big 12, but Paris is the most outstanding and consistent player in the league." -- Charlie Creme

"Paris' only downfall is that her amazing consistency has conditioned us to take double-doubles for granted." -- Melanie Jackson

Candace Parker*
Tennessee
G/F/C, jr., 6-4
Stats: 21.3 ppg, 8.4 rpg, 2.4 bpg, 55 percent from field

"There's no doubt that when a big shot is needed, she's almost always going to make it." -- Mechelle Voepel

"Parker was in a no-win game of expectations as the face of the sport on the reigning national champions, but she put together her most dominant offensive season for a team that needed a cornerstone." -- Graham Hays

Candice Wiggins
Stanford
G, 5-11½, sr.
Stats: 19.3 ppg, 4.5 rpg, 2.9 apg, 43 percent from field



"Even if her shooting accuracy wasn't quite up to her own lofty standards, Wiggins remained one of the best all-around elite scorers in the country by averaging better than four rebounds, three assists and two steals per game." -- Graham Hays

"Anybody else feel like this is Wiggins' sixth season? That's what happens when you're as good as she was as a freshman and only get better every season." -- Melanie Jackson
ESPN.COM ALL-AMERICAN SECOND TEAM

All-American
What ESPN.com's saying

Crystal Langhorne
Maryland
C/F, 6-2, sr.
Stats: 16.7 ppg, 9.2 rpg, nation-leading 64.6 percent from field

"Hitting better than 60 percent of your shots from the field isn't normal; Langhorne just made it appear that way for the fourth season in a row as the quickest post in the nation." -- Graham Hays

Erlana Larkins
North Carolina
F, 6-1, sr.
Stats: 13.8 ppg, 9.4 rpg, 1.8 spg, 57 percent from field

"She has helped her rookie point guard and played through a broken hand. Larkins is an anchor player." -- Mechelle Voepel

Angel McCoughtry
Louisville
F, 6-1, jr.
Stats: 23.6 ppg, 8.8 rpg, 4.2 spg, 47 percent from field

"One of just four players in the country to average at least 20 points and nine rebounds per game -- and certainly the only one to also average four steals -- she has grown into more than just a statistical marvel under first-year coach Jeff Walz." -- Graham Hays

Andrea Riley
Oklahoma State
G, 5-5, so.
Stats: 22.8 ppg, 3.4 rpg, 4.2 apg, 42 percent from field

"Riley led the Big 12 in scoring and led her team this season to heights the program had never been to before in the Big 12: a bye in the conference tournament and now the tourney title game." -- Mechelle Voepel

Kristi Toliver
Maryland
G, 5-7, jr.
Stats: 16.8 ppg, 7.5 apg, 44 percent from field



"It's tough to question Toliver's mettle as a point guard after the junior ranked among the top five in the nation in assists -- all while retaining the scoring instincts that sparked the questions in the first place." -- Graham Hays
Also receiving votes:
Renee Montgomery, UConn; Jolene Anderson, Wisconsin; Ashley Walker, Cal.
MORE WOMEN'S BASKETBALL HEADLINES
MOST SENT STORIES ON ESPN.COM
STORIES FROM HUFFINGTON POST