How good will UConn be next season?
Updated:
April 7, 2009, 11:08 PM ET
ESPN.com
When four starters graduated from Connecticut's perfect 39-0 team in 2001-02, no one was quite sure what to expect from the Huskies the following season, even with Diana Taurasi carrying the load in Storrs.
As it turned out, the Huskies won their first 31 games of the 2002-03 season, amassing a 70-game winning streak, before suffering their first loss. And by the end of the season, UConn had won another national championship.
So with a ton of talent coming back, including consensus national player of the year Maya Moore and fellow All-American Tina Charles, what can we expect from UConn in 2009-10? What are next season's Huskies capable of? What's their potential? Here's what ESPN.com's writers and ESPN's analysts had to say.
What should we expect from UConn in 2009-10?
What's in store in Storrs?


Mechelle Voepel
UConn will have to find a new floor leader next season with Renee Montgomery gone. And even with two superstars in Maya Moore and Tina Charles back, the Huskies might not be able to quite sustain perfection. Monty has been so much the consistent force on this team, not just this year but last. She also shouldered without complaint all the responsibility that coach Geno Auriemma puts on his point guard. Tiffany Hayes, who will be a sophomore, might take over that role, but nobody will be able to really fill in for Montgomery right away. That in itself might cause a slip-up or two, perhaps against a Big East opponent that catches UConn on the wrong night for the Huskies. So should we expect perfection again? Probably not, but that doesn't mean UConn won't repeat as national champion. Stanford will be better and might provide one of the biggest threats. And look for a lot of growth from Tennessee as it tries to rebound from this year's orange nightmare.


Graham Hays
In a lot of ways, this perfect season belonged to Renee Montgomery. But her departure might be the only loss the Huskies suffer in at least the calendar year 2009, leaving us to debate yet another run at perfection in the second half of next season. Take a team that returns two of the 10 best players in the nation, including the consensus player of the year, and four starters overall, and you're still looking at the best team in college basketball next season. That's before you add in the prospect of a healthy Caroline Doty somewhere along the way, as well as more post depth with redshirt freshman Heather Buck and transfer Jessica McCormack. And we haven't even gotten to incoming freshman guard Kelly Faris, who played in the shadow of Skylar Diggins in Indiana, just as Montgomery spent her West Virginia prep career in Alexis Hornbuckle's shadow. Whether it's Lorin Dixon stepping up or Hayes sliding over, someone has to take over for Montgomery at point, but there's too much overall talent for that to be a hurdle.


Rebecca Lobo
UConn's last perfect team in 2001-02 lost four starters. This season's national championship team loses one, but Renee Montgomery is the most important piece because of her point guard position and leadership. So the question becomes: Who will run the point for UConn next season? Will Lorin Dixon get the reins or Caroline Doty? Dixon needs to develop her leadership skills and learn how to play at two speeds. Doty has the toughness but will have to learn how to play the point for coach Geno Auriemma. The Huskies are my preseason No. 1 and barring injury, they definitely enter as the preseason favorite to win it all in 2010.


Beth Mowins
I would put them as the preseason No. 1. Maya Moore is like Diana Taurasi, and any time you've got that caliber of a player on your team, you are going to be awfully tough to beat. Tina Charles also is coming back, and Tiffany Hayes, Caroline Doty and Kalana Green give UConn third and fourth scoring options.

There's no doubt in my mind the Huskies can rattle off another 20 or even 30 consecutive wins. Whether they can run the table or win another title falls on the improvement of Lorin Dixon or whomever UConn chooses to put at the point. Renee Montgomery was UConn's MVP this season and replacing her will be difficult. But the Huskies have proven they can do it with a tough point guard. In 2002-03, the expectations weren't real high for Maria Conlon, but she was steady and solid alongside Taurasi. And Maya Moore is only going to continue to improve and get even better.


Charlie Creme
Replacing Renee Montgomery is impossible. That being said, the 2009-10 Huskies, even without her, are capable of some of the same lofty heights that the 2008-09 team produced, up to and including another unbeaten national championship run. On first read, undefeated in consecutive seasons might sound absurd, but a look at some history and the game's current landscape suggest that it's actually very possible. After UConn went unbeaten in 2001-02, the 2002-03 team had to replace Sue Bird at point guard and Swin Cash, Tamika Williams and Asjha Jones inside. But that team was left to an immensely talented and driven wing in Diana Taurasi, just as 2009-10 will largely be in the hands of Maya Moore, already the undisputed nation's best player. The 2002-03 team began 31-0, lost just once all season, and captured another championship. What's to say UConn can't do the same, minus that one loss, and repeat unblemished next season?

Even if UConn goes undefeated next season, it doesn't necessarily mean the Huskies will be as completely devastating as this team was. Being unbeaten simply means being better than the opponent in that particular game. Regardless of the final schedule, UConn (at this point) will be the favorite in every game it plays next season. That's not a huge leap to winning them all. On the national scene, Stanford appears to be the only club that would even threaten that.

Notre Dame and Rutgers seem to be the Huskies' top competition within the Big East. Both should be good teams, but Moore and Tina Charles are still better players than anyone on either of those rosters. Add in the expected return from a knee injury of Caroline Doty, the usual freshman to sophomore year improvement of Tiffany Hayes, Lorin Dixon's ascent (she is more of a true point guard than anyone on the 2002-03 team), Kalana Greene's all-around game, and the influx of new talent, and Connecticut should be the preseason No. 1 and favorite to win the 2010 title. Will the Huskies go undefeated again? Probably not. The law of averages and history say no. But can they? Absolutely.
SPONSORED HEADLINES
MORE WOMEN'S BASKETBALL HEADLINES
MOST SENT STORIES ON ESPN.COM
WOMEN'S NCAA TOURNAMENT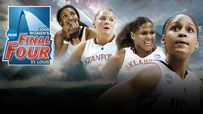 STORIES
VIDEOS
TOURNEY TOOLS