Commentary
Maya Moore on perfection
The UConn F explains how she defines the word in basketball and in life
Updated:
December 1, 2010, 11:37 AM ET
By
Maya Moore
| ESPN The Magazine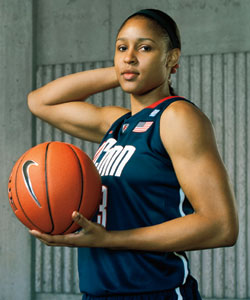 Alessandra Petlin for ESPN The Magazine"I don't know if we've had a perfect game, but we've had a couple of halves that have been close."
Achieving perfection in basketball is difficult because there are so many pieces to the game that have to come together. You're one of 10 people on the court. You need to know what your four teammates are doing, and what the five on the other side are doing. It's extremely hard -- and that's why it's so great. I don't know if we've had a perfect game, but we've had a couple of halves that have been close.
There's a lot of expectations for us in terms of wins and losses, but there's a lot more that goes into how I would define a perfect game or season. For us, it's how you play. Perfect, to us, could be that I missed my first five shots in a game but I was a great defensive player.
Our coach says that striving for perfection is good, but you don't have to require it. You're going to make mistakes, and it's about how you respond and bounce back. In basketball, the beautiful thing is that you get a chance to bounce back really quickly. If you mess up on offense, you try to make something happen on defense. You use that fuel, that anger, to motivate you to make a stop.
--As told to Anna Katherine Clemmons
More athletes on Perfection
Contributor, espnW.com
Maya Moore helped the Minnesota Lynx win the WNBA title and was the 2011 Rookie of the Year in her first pro season. In college, she was UConn's all-time leading scorer, set the NCAA record for career wins, was a four-time All-American and twice was named Academic All-American of the Year.
SPONSORED HEADLINES
MORE WOMEN'S BASKETBALL HEADLINES
MOST SENT STORIES ON ESPN.COM
ESPN The Magazine: December 13, 2010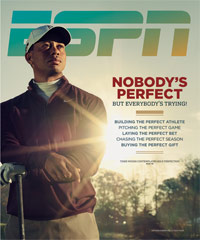 Check out ESPN The Magazine's December 13, 2010 issue -- the Perfect Issue -- below.
Features