The importance of finishing what you start
Updated:
February 19, 2006, 12:23 PM ET
Editor's note: Oklahoma coach Sherri Coale will share a diary with ESPN.com throughout the season for the fifth consecutive year. Coale has a master's degree in education and was a high school English teacher from 1989-96.
Jan. 3, 2006
My media relations director keeps nudging, gently of course, for another journal entry. I keep telling him things change. I get started on an entry and then don't have time to complete it, and by the time I return to pick up where I left off it feels like an artificial limb. I can't even tell you how many pieces/parts I have floating around on my computer. And so, we had this crazy idea to quilt it all together -- sort of a stream-of-consciousness kind of run through the last month and a half.
I have a coaching buddy who says I don't write when things aren't going well. Maybe. He'll be pleasantly surprised by this then, because December was pretty ugly for us. And for about a week there things didn't go very well at all. Without further adieu, here goes the quilt …
Nov. 30, 2005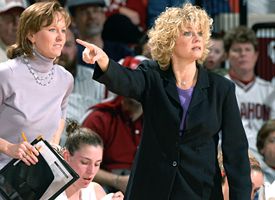 AP Photo/Jerry LaizureWhat's so remarkable? OU's run through conference play. The selflessness of the Sooners seniors. And 12,122 fans jammed into Lloyd Noble Center.
The view of San Francisco from Alcatraz Island on a clear November day: $16 … traditional Thanksgiving turkey and dressing served in Sausalito overlooking the magnificent Bay: $30 … Beky Preston securing the game-winning rebound against San Francisco U: priceless!
As my dear friend Coach Bo would say (and did via the cell phone, as a matter of fact): Get on the Bus. Sometimes the best thing to do is just count your blessings and get on to the next thing.
Our trip to San Francisco came on the heels of our trip to Connecticut which came on the heels of our trip to New Mexico, which meant we had all been too close together for far too long. So I escaped to a magnificent view and a soul-stirring read. On a perfectly clear Thanksgiving afternoon, I sat in the bay window of my room on the 31st floor of the St. Francis Hotel cheering Bill Hancock on in the final stages of his bike ride across America. Riding With the Blue Moth had traveled with me throughout this extended road trip. I read it slowly, sometimes out of necessity because the content is heavy and it weighs on your soul, and sometimes just to make certain I didn't miss a diamond hiding in the crevices of a digression.
I don't know Bill Hancock personally, but I've known of him for years. I knew his late son, Will, only slightly, as our paths crossed on occasion through his responsibilities with Oklahoma State men's basketball. But when you read 'Blue Moth' you feel like you know Bill Hancock. I cried and laughed and pondered -- deeply -- while he peddled through the desert and across the plains. I shared his terror of dogs (even when they're on chains) and I concurred with his description of the Oklahoma short grass. As I looked out at the majestic Golden Gate Bridge on Thanksgiving Day, I counted Bill Hancock's courage, his wisdom, and his passion for life among the many blessings I am fortunate to know.
We are 8-1 as I write -- a very tested 8-1. The remainder of our preconference schedule is minefield after minefield but I can't tell you how much fun it has been so far. Our guys are getting better. We're getting more and more comfortable as we inch along trying to get good at the things that happen a lot. We have holes everywhere, places where we just aren't sound and our efforts aren't sure, but so far we've been good enough to find ways to win while we're figuring it out.
Dec. 19, 2005
Finals week always presents its own unique challenges. I worry about the game on the front end for fear that we'll be distracted from the task at hand. And I worry about the game on the back end for fear that we'll be too exhausted to care. I honestly believe that there are some teams who aren't affected by it at all. We are not one of them, however, and as I analyze the way we played in these two games, I have to wonder how much of it was finals and how much of it wasn't.
We played lousy at Missouri State and won. We were lucky and I knew it. We played lousier at Illinois and lost. Not so lucky this time; and I wasn't too surprised. I could feel it coming, like you feel an Oklahoma tornado when the sky turns greenish-gray and the leaves get too still. We were uninspired. We were lethargic. We seemed almost uninterested. Little turns my stomach like lukewarm. I was sick all the way home. We deserved to lose because we didn't fight to win.
Coaches aren't responsible for teams feeling or playing that way, but we are responsible for changing it. That's the hard part. I want a how-to book on that.
Jan. 1, 2006
All of our practices are open. I don't close them to the media, to fans, to teams. They aren't closed to anyone. It's not like there is ever a crowd though -- we practice weekdays at 1 p.m. in the afternoon, and most days I never think twice about who might be in attendance. But there are those days …
We lost twice before Christmas -- back to back losses. One on the road in front of virtually no one and one at home in front of 8,000 people and a nationally televised audience. Then we went on Christmas break and I didn't see my team again for six days. Probably the best possible scenario for us all. A long time ago I decided that fresh legs in March outweighed pretty practices in early January. So we make the Christmas practice schedule in August so that players can make plans with their families and that doesn't budge no matter how badly we play on Dec. 21. What we do on the first day back, however, can be legendary.
This break, particularly, was laden with issues. We didn't play well in either of our pre-holiday losses, but it wasn't the dismal shooting or poor execution or even the turnovers that ravaged my brain over the break. It was our effort. I felt like we embarrassed the uniform. We didn't play like Oklahoma. We didn't dive on the floor after loose balls; we didn't slide over and take charges; we didn't run down long rebounds; we didn't point to the guy that passed us the ball. There was an absence of passion that made my soul sick. And the only saving grace going into the holiday was that it made our players' souls sick as well. That meant it was curable. We could survive.
Robert Frost once said, "The best way out is always through." Amen. Amen. Amen. Getting to the other side, however, is easier said than done and it's rarely an enjoyable trip. We had to develop toughness. We had to learn to be a TEAM. That sounds so trite and yet to try to say it any other way would almost be blasphemy. We weren't miles away from the mark but we certainly weren't on it, either. When I was a little girl I used to thread the sewing needle for my grandmother and nothing made me crazier than almost, almost, almost getting that thread through the hole. Unfortunately, being close is sometimes more painful than being far away. So collectively, we had to commit to walking through the fire. Athletes who have been there and done that know exactly what that means. I'd be willing to bet they can close their eyes and feel it. The rest of you are wondering, right?
In layman's terms "walking through the fire" meant a mini lecture from me, a pointed, very focused and telling film session, and a practice that tested individual and collective mettle. The first two occurred in the privacy of our team room, the second in our practice gym -- in front of not one, not two, but three junior high teams, their coaches and their parents! This was "one of those days" I referred to earlier. People were lined up around over half of the court! It was like camp! So there we were trying to pay for our sins and purge our frailties on bellies full of turkey and fudge in front of an impressionable audience! Ugghhh on a million levels!
Day No. 2 was the same story. Day No. 3 had fewer audience members but more purging. And as I walked up the tunnel I questioned the appropriateness of my open door policy, arguing in my brain that my classroom was where tough lessons were taught and that my students deserved the opportunity to learn and grow in private.
And then I thought about how important it was for those impressionable young eyes to see the hard stuff -- the vulnerabilities, the imperfection, the reality that makes becoming a team possible. There is nothing easy about being good. And pretty practices don't necessarily grow champions. Sometimes ugly is necessary. Sometimes it has to get messy and uncomfortable to get real. And only when you get real do you have a chance to improve. Nobody ever likes going there -- and you sure don't like anybody watching when you do -- but you're always glad you went. When you walk through the fire you come out cleaner on the other side.
Jan. 3, 2006
So that's what happened between about Dec. 10 and the first of January. We flat-lined for a while and then just fell completely apart in front of God and everybody, but we didn't go away. Our guys didn't run, they didn't hide, they didn't point fingers. They just showed up. Again and again and every day since their return they just keep showing up. Presence is a big deal. So is finishing what you start. My New Year's Resolution is to eliminate pieces/parts …
Here's to completion on and off the court!
For more on coach Coale and the Sooners, visit Oklahoma's official athletic site.
MORE WOMEN'S BASKETBALL HEADLINES
MOST SENT STORIES ON ESPN.COM
STORIES FROM HUFFINGTON POST