Checking in from Dallas
Updated:
March 12, 2004, 4:42 PM ET
(Editor's note: Texas' Jamie Carey, a 5-foot-6 guard, will share a diary with ESPN.com throughout the Big 12 and NCAA tournaments.)
March 11, 2004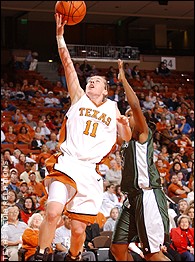 Jamie Carey and Texas hope to receive a No. 1 seed from the selection committee.
Hello! I appreciate being able to reach all the great women's basketball fans and tell y'all about our Texas Longhorns team as we progress through postseason play! This is coming to you from Dallas, Texas. Currently, we are in the wonderful city of Dallas (the Big "D"), competing in our Big 12 tournament. Just like our regular-season play in the Big 12, the league tournament is chock-full of intense and highly competitive action each game. Yesterday (Wednesday), we played a tough game against a much-improved Iowa State Cyclones team in the quarterfinals. Iowa State is one of the most difficult teams to guard in the Big 12 -- which really is saying something, considering how powerful our conference is -- because the Cyclones can all shoot and move all the time. The Cyclones remind me of a "Hoosier"-type team as they are incredibly fundamentally sound. It was a great start for our team as we toughed out a 10-point victory. Right now, I am taking some time to write to you after our mid-morning shootaround. Tonight, we play the Baylor Bears in the semifinals of the tournament. To say the least, it will be a very physical game. Last week was a very exciting one for our Texas program. We ended the Big 12 regular season with three big wins, all against Top 25 opponents (Baylor, Kansas State and Oklahoma), and these three victories entitled us to a Big 12 regular-season championship for the second year in a row! I really think this is an incredible feat, considering how very tough our conference is. The run to the regular-season championship was even more demanding for us than it was a year ago. First, we had the proverbial "bull's-eye" on our backs as defending Big 12 champions and after advancing to last year's Final Four. Then, we felt like we were playing in a Top 25 game night in and night out, considering that seven of our Big 12 teams have been ranked this season! I am so proud of our team in how we handled the rigidity and toughness of our schedule! This will hopefully help us prepare for the "Big Dance," which starts next week! Something that is so special about our Texas team is how well we get along, on and off the court. You can never discount that "chemistry" and camaraderie. During my 18-year career (yes, that does date me a bit), I have never played on a team as special as the teams here at Texas, solely because of the chemistry and bond that we possess. We work hard for each other and I think it shows on the court. My teammates are uniquely special to me in so many respects, and without them, I am minuscule compared to what I am with them! Well, I have to get going and get some class work reading done before our game tonight. I wish everyone good luck in their respective games they have remaining! "March Madness" is where it's at! Thanks for reading this, and I look forward to telling you more about our Texas basketball team next week. Until next time ... Hook 'Em!
SPONSORED HEADLINES
MORE WOMEN'S BASKETBALL HEADLINES
MOST SENT STORIES ON ESPN.COM