Moped mysteries
Updated:
December 16, 2004, 2:23 AM ET
(Editor's note: Duke junior Jessica Foley, a 6-foot junior guard from Australia, will share a diary with ESPN.com throughout the season.)
Nov. 27, 2004
FREEPORT, Bahamas -- Hello all!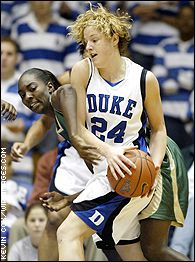 Jessica Foley's memorable college moments include last season's game-winning buzzer-beater against UConn in Hartford.
Well, I have just spent an hour outside on the beach, basking in the sun here in the Bahamas and sipping a virgin piña colada. Now under the instruction of Coach G, I have retreated to my room (overlooking the ocean) to rest before our game versus Kansas State tonight. I know, life could be worse ... sorry to gloat. This tournament has been amazing; the organizers have really done a great job. We are all enjoying our short glimpse of life in the Bahamas. A few girls on the team have also had a small glimpse of past mysteries on the Grand Bahamas Island. Six of us decided to fill in a couple of hours yesterday riding a moped around the island. We later found out that we weren't actually allowed to moped, but as Caitlin Howe puts it, "It's better to ask for forgiveness than to ask for permission." Anyway, on our short expedition we found a sign saying "Garden of the Groves, eight miles." We decided that this sounded quite tropical so we turned to take a look. About six miles down the road we stopped passing cars and started to blend in with the jungle-like surroundings. Finally, we reached the end of the road only to find a small cement canal and a dirt road heading down to a very large, run down and abandoned hotel. When two crows started circling the top of the hotel, Wanisha, Chante and myself all decided things were getting a little spooky and it was time to head back. Caitlin, Laura and Alison had different ideas and sped off down the dirt road to investigate. We three scare-d-cats reluctantly followed. After crossing fallen trees and seeing Caitlin look inside the entrance of the hotel and scream, we all jumped back on our mopeds and raced home. Later, after interviewing the locals, we found out that only a year earlier six locals had been killed and buried in that abandoned hotel. A little creepy. OK, on to a lighter note. It's time for our pregame meal and the scouting report of Kansas State. Let's hope we can get another win tonight. Adios, Jess (J-Fo) Foley
SPONSORED HEADLINES
MORE WOMEN'S BASKETBALL HEADLINES
MOST SENT STORIES ON ESPN.COM