Where there's smoke ...
Updated:
March 11, 2005, 3:42 PM ET
Editor's note: Duke junior Jessica Foley, a 6-foot guard from Australia, will share a diary with ESPN.com throughout the season.
March 9, 2005
Greetings to all! Well, I was so sure I would be writing this week and telling you about our "smokin" efforts at the ACC tournament.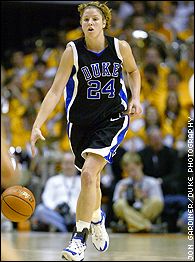 Through Feb. 10, Jessica Foley is averaging 10.5 points, 4.6 rebounds and 3.9 assists at Duke.
You see, it all started the night before the tournament when Chante Black hung a clothes hanger in her smoke detector. Somehow, the hanger triggered the fire alarm and the sprinklers in her dorm, drenching more than 16 rooms. I took this to truly be a sign that Te (Chante) was going to be on fire all tournament. And while she did make the all-tournament team, it wasn't quite enough for us to get past the great play of UNC. But don't think we've forgotten about another certain tournament starting next week -- there's still plenty of steam in this Duke train. While most of the team has come back to another week of school before spring break, I'm afraid a part of Wynter is still stuck in Greensboro, N.C.. You see, Wynter made friends with a little Yorkie puppy at the mall pet store in Greensboro. She went to visit the puppy numerous times and even named him Yogi. Unfortunately, Yogi was a little over-priced, so we had to pry her away from the store before she started singing to raise up some cash. Cheer up, Wynt. Now, I think it is about time I enlighten you all a bit on Coach G. You all might see her in the classy suits and gravity-defying squat positions on the sidelines. (How does she squat like that for a whole game by the way?). But most of you probably don't know Coach G's goofy side. Sometimes she's just a big kid who loves toys! Her favorite would have to be the harmonica. Often after a big win, we all sit through one of her impromptu harmonica performances on the bus ride home. Let's just say that she's not quite ready for a solo career but is definitely improving. We also see Coach riding the Duke hallways on scooters, cruising the roads in her T-Bird and jumping off waves on her jet-ski. And now that you all have a bit of dirt on her, I think I'll sign off. Hee hee. Thanks for listening and I hope you are all just as excited as me for the next month of basketball. Let's get it started! Jess
SPONSORED HEADLINES
MORE WOMEN'S BASKETBALL HEADLINES
MOST SENT STORIES ON ESPN.COM