On mended knee
Updated:
November 20, 2003, 11:16 AM ET
(Editor's note: Oklahoma fifth-year senior Caton Hill, who helped lead the Sooners to the 2002 NCAA title game but missed last season with a torn ACL, will share a diary with ESPN.com throughout the season.)
Nov. 5, 2003 First of all, I'll reply to everyone's question: "My knee is really good."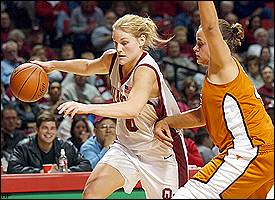 APOklahoma coach Sherri Coale said Caton Hill is gifted with intelligence, attention to detail, perseverance and indomitable will.
Actually, all of the knees on our team are doing really good. Most of the girls that had to rehab stayed in Norman all summer to get their strength and flexibility back. I can honestly say I'm all-around stronger than I've ever been. People ask if I favor my knee any and I really don't think I do. I've regained all of my swift agility and move like a prancing deer once again (just kidding). The only reminder I have of the injury is the bulging brace I am required to wear. The brace really doesn't inhibit movement for me. However, I think it sometimes bothers the quick guards. As for the team, things are progressing nicely. Our practices are competitive and productive. I am excited to get this season under way but I'm not taking anything for granted. There is just not enough time to do that. Go Sooners!
For more on Hill or Oklahoma, visit the Sooners' official athletic site.
SPONSORED HEADLINES
MORE WOMEN'S BASKETBALL HEADLINES
MOST SENT STORIES ON ESPN.COM