Powell to pose problems for Tennessee
Updated:
December 12, 2003, 10:46 AM ET
By
Melanie Jackson
| Special to ESPN.com
Pat Summitt doesn't usually watch game film on upcoming opponents until that team is next up on Tennessee's schedule.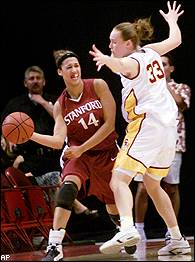 APPat Summitt expects Stanford's Nicole Powell to cause Tennessee problems Sunday.
But even though Tennessee's next foe was Rutgers, Summitt admits she snuck in a little game tape of Stanford -- which hosts the Lady Vols on Sunday -- earlier this week. "I had to sneak a peak on this group, since it is going to be a challenge," Summitt said Wednesday during her weekly teleconference. Despite Tennessee's 14-4 advantage in the series, Summitt knows a battle with the Cardinal -- especially at Stanford's Maples Pavilion, where they had won 26 straight games before losing at home last March in the NCAA Tournament -- is never easy. After all, these two programs dominated the 1990s, combining for six NCAA championships. The coaches have combined for more than 1,400 victories, and both teams are unbeaten ranked in the top five (Tennessee is second, Stanford fifth) in this week's ESPN/USA Today poll heading into Sunday's matchup (3 p.m. ET, Fox Sports Net). Tennessee has won six consecutive games against Stanford, which last beat the Lady Vols on Dec. 15, 1996. But eight of the games have been decided by fewer than 10 points. Summitt expects another close challenge this weekend. "There are a lot of similarities between our teams," said Summitt, whose Lady Vols embark on a three-game, 10-day road trip after beating Rutgers on Thursday. "Stanford plays well in transition and shoots the 3. They are solid on the defensive end and play well together. They come at you and are aggressive. They make you play them or pay for it." Summitt knows that's especially true for Stanford senior Nicole Powell, who's averaging 22.8 points, 11.8 rebounds and 3.8 assists while shooting 51.3 percent from the field and 93.8 percent at the foul line. "With Powell, Stanford will present greater problems for us since she makes everyone else on the floor better," said Summitt, who added that a combination of Shyra Ely, Tasha Butts and LaToya Davis would shoulder the bulk of the responsibility of guarding Powell. "I would not ask any one player to defend Powell for the duration," Summitt said. "Obviously the assignments will be done by committee. Potentially, Ashley Robinson could defend her as she is mobile enough to move out." Summitt said Tennessee is also weary of Stanford's 3-point shooting ability. "Obviously, 10 3s in the championship game last year cost us," she said. "We have to use our half-court defensive quickness and coverage to limit open looks. I hope we can do a good job of defending them in their transition game. We have to do a good job of not giving them open 3s and early layups. "It is going to be a big challenge to play at Stanford. They have a great facility ... and the floor has a bounce to it. We need to have a bounce ourselves to compete."
Cannon balls
Australian Lauren Jackson stole the show -- and the MVP award -- last summer in the WNBA. Now, one of her mates is putting on a show at the college level.
UPDATED STATS
Updated statistics were released Monday. A look at the leaders:
Top scorer: Stefanie Collins, St. Bonaventure, 25.4
Top rebounder: Sherry McCracklin, UNLV, 14.0
Top shooter: Iva Sliskovic, South Carolina, 73.6
Top blocker: Amie Williams, Jackson State, 5.0
Top steals: Jenni Dant, DePaul, 5.2
For a complete look at the stats, click here.
Oral Roberts sophomore Leah Cannon leads the nation with an 11.6 assists-per-game average through five games. The Adelaide native has twice broken the Golden Eagles' single-game assists record this season, dishing out 15 assists in a loss to Texas-Arlington on Nov. 25 to break the old mark (14), set nearly 13 years ago. Then, on Dec. 6, the 5-foot-5 Cannon tallied 17 assists in 29 minutes of action in a 49-point rout against Kansas-Newman. Cannon has posted at least 15 assists in three of her past four games. On the season, she has dished out 58 assists -- to just 13 turnovers -- and also averages 10.6 points, 3.0 steals and 2.8 rebounds. She's shooting 47.6 percent (20-for-42) from the field for Oral Roberts (2-3). South Carolina senior Cristina Ciocan ranks second with 11.5 assists per game, tallying 69 in six contests. Ciocan, who is from Bucharest, Romania, broke the Gamecocks' single-game assists mark -- and tied a 15-year-old SEC mark -- with 18 in 35 minutes in a 30-point win over Florida A&M on Nov. 29. Ciocan broke her own single-game school record (14 assists), set in January 2002 against Vanderbilt. The SEC mark had been held by two players, Tennessee's Dawn Marsh in 1988 and Alabama's Martha Monk in 1981. In a season-opening overtime loss to Clemson, Ciocan recorded her first career triple-double, tallying 22 points, 13 assists and 10 rebounds in 42 minutes. She's just 54 assists shy of breaking the career mark at South Carolina. The nation's next-best assists average is 8.9 by Oregon's Corrie Mizusawa.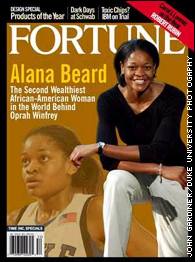 Fortune created this mockup for Alana Beard after she said she'd like to appear on its cover.
Ask and you shall receive
Some athletes aspire to grace the cover of Sports Illustrated or ESPN The Magazine. Others, such as Duke's Iciss Tillis, are more focused on fashion and would prefer a cover story in Vogue. And then there's Duke's Alana Beard. The senior All-American told SI in a recent article that if she had her choice, the cover of Fortune is where Beard wanted to be. Beard even offered her own headline: Alana Beard, the second wealthiest African-American woman in the world behind Oprah Winfrey. Well, turns out at least one Fortune writer reads SI. And in Andy Serwer's Dec. 9 Street Life column (check out http://www.fortune.com/fortune/streetlife/0,15704,558421,00.html and scroll to "Loose Change" near the bottom), the magazine created a mock cover just for Beard (see image at right). Talk about good Fortune.
Aggies update
When the Utah State women's basketball program was dropped in 1987 because of state budget cuts, Raegan Pebley was just a 12-year-old sixth-grader who wore parachute pants and Izod shirts with the collar flipped up and listened to Bon Jovi, Madonna and Lisa Lisa. Now, Pebley is the Aggies coach -- at 28 the youngest head coach in Division I basketball -- and trying to rebuild a program that on Nov. 21 played its first game in 17 years. It's a tough road, and so far the Aggies (0-4) are still looking for their first win. But it's still the feel-good story of the year and there have been some bright spots for the nation's third-youngest team (no seniors, two juniors, three sophomores and nine freshmen with an average age of 18.9). Through four games, Utah State ranks second in the Big West in rebounding (39.0 per game) and tied for second in the conference in offensive rebounding (15.0). Sophomore center Ali Aird was named to the Fiesta Bowl Women's Classic all-tournament team after averaging 14 points and six boards in losses to Massachusetts and American on Dec. 6-7. Aird has scored in double digits in each of her last three games.
Record watch
The 2003-04 season might hold several milestones in store. A look at some of the records that might fall on the way to New Orleans:
NOTABLE NUMBER
Diana Taurasi, who has scored 1,717 points at UConn, could take over the Huskies' all-time scoring mark. She's 461 shy of tying Nykesha Sales, who scored 2,178 from 1995-98.
Several coaches are closing in on milestone wins. Among them, LSU's Sue Gunter (684 wins) and Rutgers' C. Vivian Stringer (677 wins) could become just the third and fourth women's basketball coaches to reach the 700-win plateau. Heading into Friday's game against Pacific, Stanford's Tara VanDerveer has 580 wins.
The Huskies could have a few new records in hand by the time the season ends. Diana Taurasi could become Connecticut's career leading scorer. Through six games this season, Taurasi has scored 129 points, bringing her career total to 1,717. That's 461 shy of tying Nykesha Sales' all-time school record of 2,178 points. Taurasi, who needed 590 points to tie the record when the season started, scored 663 points in her junior season and 564 as a sophomore. Taurasi also needs another 27 3-pointers to tie the career mark (277) at UConn. Also of note in the Husky Nation: The next time UConn loses will mark coach Geno Auriemma's 100th coaching loss. The Huskies, who are trying to become the first team in history to reach the Final Four five consecutive seasons, will go for the 600th win in program history in their next game, Dec. 18 against Arizona State at the Hartford Civic Center. Melanie Jackson coordinates ESPN.com's women's basketball coverage. E-mail the Dish at Melanie.J.Jackson.-ND@espn3.com.
Women's Basketball
Melanie Jackson is ESPN.com's women's basketball editor.
SPONSORED HEADLINES
MORE WOMEN'S BASKETBALL HEADLINES
MOST SENT STORIES ON ESPN.COM