Forget Paris? Not anytime soon
Updated:
December 14, 2005, 1:25 PM ET
By
Melanie Jackson
| Special to ESPN.com
We'll always have Paris, right?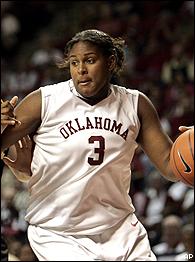 AP Photo/Sue OgrockiCourtney Paris is on pace to break nearly every Oklahoma single-season freshman record.
Well, the Oklahoma record books might.
Rookie Courtney Paris has played just 10 games in a Sooners uniform, but she already is tearing through the charts and has set eight school records in OU's 9-1 start. The first came in the Sooners' opener on Nov. 11, when Paris scored a freshman debut-record 24 points. The 6-foot-4 center has since reached 100 points (five games), 200 points (10 games) and 100 rebounds (nine games) faster than any player in OU history.
Paris -- the daughter of former All-Pro lineman William "Bubba" Paris for the San Francisco 49ers -- also is the first OU player to: notch a double-double in the first three games of her career, score at least 10 points in the first 10 games of her career and record double-figure rebounds in her first three games.
Paris' numbers rank among the best in the Big 12 and nationally, too. She's leading the conference in rebounds (13.1 boards per game) and blocks (3.22) and ranks in the top five of six statistical categories in the Big 12. And her twin sister, Ashley, a 6-3 forward, adds 7.5 points and 7.3 rebounds per game.
Paris' 22-rebound game against UCLA is tied for this season's single-game NCAA Division I high, and the total set an OU freshman single-game record. Her 20 rebounds against SMU last month set the Preseason WNIT single-game mark and paved the way for her tournament-record 54 rebounds.
Paris is averaging 21.0 points and 13.6 rebounds and shooting 67.5 percent from the field. With 20 regular-season games left, Paris already has 31 blocks and is almost halfway to the single-season mark (64). The only "negative" number would be Paris' 57.1 percent free-throw accuracy. She also averages 3.1 turnovers.
PARIS RECORD WATCH
Angie Guffy. Get familiar with the name. Because it's her records that most likely will be falling as Courtney Paris continues her record-breaking season at Oklahoma. Paris already has taken out two of Guffy's marks: Paris' 10-game freshman scoring average of 21.0 points easily eclipsed the previous mark of 13.2 ppg, set by Guffy in 1991-92. And Paris' 10-game freshman rebounding average, 13.6, wiped out Guffy's 8.0 record.

Here's a look at OU's other freshman records -- all of which Paris is on pace to break this season -- to keep an eye on:

Scoring average
15.3 ppg, Angie Guffy, 1991-92

Rebounding average
7.0 rpg, Angie Guffy, 1991-92

Total blocks
64, LaNae Jones, 1992-93

Field-goal percentage
.600 (243-of-405), Molly McGuire, 1979-80
Paris' physical talent is as impressive as her numbers.
"She has a pro body now, and there's not a big learning curve for her," ESPN analyst Nancy Lieberman said. "She's big, strong and has everything you need physically to excel, like excellent footwork and a nose for the basket. Usually at the next level, there's somebody bigger than you. But for Courtney, she's the one being aggressive and not afraid to test her opponent."
Or the record books. Paris is on pace to break just about every single-season freshman mark at Oklahoma -- and the program's single-season records for scoring and rebounding, regardless of class. That's right, even OU legend Phylesha Whaley, who averaged 20.8 points in 1999-2000, might not be immune. The single-season rebounding record, 12.9, was set by Shirley Fisher in 1983-84.
Lieberman says the Paris twins finally give Oklahoma a big-bodied presence down low.
"And I say that with all due respect to Caton Hill, who was more of an outside post," Lieberman quickly adds. "And Whaley was a 5 in a 3 body. Her huge determination made up for her being undersized."
More important, Lieberman says, is that the Paris twins bring size and success. Season-ticket sales at OU already have set a program record.
"Courtney will own every record at OU by the time she's done, and it's absolutely remarkable what the twins might be able to do," Lieberman said. "They are program changers. They've already taken OU from a potential top-25 team to a top-12 or 15 team."
Of course, the Big 12 schedule looms ahead, and things are only going to get tougher, right?
"That's true," Lieberman said, "but this might be considered a down year in the Big 12. So anything's possible."
| | | |
| --- | --- | --- |
| TOO GRAND | IRISH EYE SELLOUT | GAUCHOS GET ANOTHER |
| LSU fans might have been going through withdrawal as 16 days passed between LSU's most recent games. But when the team finally returned to action Monday, Seimone Augustus made it memorable. The senior scored her 2,000th career point late in the second half of LSU's 72-41 win over New Orleans. She's just the fourth player to reach the milestone, and she did so in just 110 games. She has scored in double figures in 102 games, posted double-digit scoring in a school-record 67 straight games and scored at least 20 points 49 times in her career, including three times this season. With 2,015 career points, Augustus is the nation's active scoring leader. | Notre Dame fans will ring in the new year in style. The Dec. 31 game at the Joyce Center between the Irish and top-ranked Tennessee is sold out, marking just the third sellout of the 11,418-seat arena in program history. The New Year's Eve contest is the fastest sellout in the 29-year history of Notre Dame women's basketball and the first since the Irish had two capacity crowds during their national championship season in 2000-01 (the sellouts that season were against Connecticut and vs. Georgetown for Senior Night). The Irish have ranked among the top 20 in the country in attendance the past five seasons. | Baylor has lost a second player to UC Santa Barbara. Chisa Ononiwu averaged 1.3 points and 0.7 rebounds in 13 games during Baylor's NCAA run last season. But, as UCSB coach Mark French announced Monday, Ononiwu, a 5-7 guard, will begin practicing with the Gauchos in January. She's not eligible to play until the conclusion of the fall quarter of 2006. Ononiwu then will be able to play for the remainder of next season as well as the entire 2007-08 campaign. Because she played 11 minutes of Baylor's first exhibition game of 2005-06, Ononiwu exhausted her sophomore year of eligibility. She will be considered a junior once she takes the court for UCSB. |
Melanie Jackson coordinates ESPN.com's women's basketball coverage. E-mail the Dish at Melanie.J.Jackson.-ND@espn3.com.
Women's Basketball
Melanie Jackson is ESPN.com's women's basketball editor.
MORE WOMEN'S BASKETBALL HEADLINES
MOST SENT STORIES ON ESPN.COM