Commentary
Seniors, anger, fuel first perfect season
Updated:
February 28, 2009, 5:16 PM ET
By
Greg Garber
| ESPN.com
Editor's note: While covering the UConn women's perfect run in 2001-02, ESPN.com revisited each of the previous undefeated seasons in women's college basketball history.
Anger can be a powerful motivator. The 1985-86 University of Texas women's basketball team was 11 players deep, with tons of talent, but it was the Longhorns' fire that carried them into history.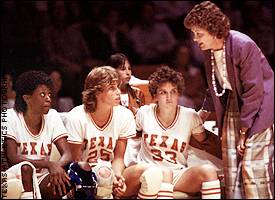 The Longhorns, including All-Americans (from left) Annette Smith, Andrea Lloyd and Kamie Ethridge, helped coach Jody Conradt make history in 1986.
"We screwed it up the year before," remembered point guard Kamie Ethridge, now the associate head coach at ascending Kansas State. "And it made us mad. We were a very senior-dominated, driven team."
Said Jody Conradt, the coach then and now: "We had six seniors on that team, and I really believe that their resolve came from the disappointing seasons before that. We were ranked No. 1 for three consecutive years. We were supposed to win the whole thing. It's an Austin Final Four (in 1985), it's all set up for us. People had bought tickets, but the pressure of trying to get back was too much."
The Longhorn seniors, who lost in the regionals at Louisiana Tech as freshmen and sophomores, got upset the following year in the Sweet 16 at Western Kentucky on a buzzer-beater. Ugh.
Naturally, the very first game they played as seniors was a queasy 78-76 victory at Ohio State -- in retrospect, their closest game of the season. Gradually, though, an equilibrium developed and the Longhorns settled down, easily dispatching No. 3 Northeast Louisiana and No. 4 USC.
Texas, in the process of a remarkable four-year run through the Southwest Conference without a loss, found itself 29-0 after defeating Texas Tech 77-53 in the conference championship. Given the recent history, there wasn't a lot of discussion about going undefeated.
"Coaches live in the moment," Conradt said. "It's not like a no-hitter where you're afraid to talk about it. Well, there might be some of that."
The regional final, as it always seems to be for the heavily favored teams, was a struggle. Texas escaped with a 66-63 victory to advance to the Final Four in Lexington, Ky.
"Against Mississippi, we played like we had the weight of the world on us," Ethridge said. "The ranked teams are the ones that are supposed to get there & that's the most difficult game to play your best. The more seniors there are on your team, the more it's like that."
Conradt said she never felt the kind of pressure she did in that regional final. "You're thinking, 'Is this going to happen again?' " she said. "The seniors were so tense. After you get there, you feel such relief. I didn't feel exuberant at all."
Ethridge, one of three senior starters, won the Wade Trophy as national player of the year, but it was a freshman that dominated the Final Four for Texas. Clarissa Davis, a 6-foot-1 forward off the bench, was the tournament's Most Outstanding Player.
"Texas had great athletes," Ethridge said. "We were one of the few teams that, by today's standards, had that quality on the bench. Clarissa Davis had something like 50 points and 40 rebounds in two games."
The Longhorns throttled Western Kentucky, their old nemesis, 90-65 in the semifinals at Rupp Arena, then blasted USC with another 16-point victory in the finals. Texas finished 34-0 and became the first women's team to go undefeated. The Longhorns' record stood for nine years.
"We understood what we had done, but in some ways we really didn't," Ethridge said. "Now you realize, 'Hey, we started this thing. Not a lot of teams can do this. There's but a handful that go down in history.' "
Greg Garber is a senior writer at ESPN.com.
Writer, Reporter
Greg Garber joined ESPN in 1991 and provides reports for NFL Countdown and SportsCenter. He is also a regular contributor to Outside the Lines and a senior writer for ESPN.com.
SPONSORED HEADLINES
MORE WOMEN'S BASKETBALL HEADLINES
MOST SENT STORIES ON ESPN.COM