The stuff legends are made of
Updated:
August 23, 2011, 6:42 PM ET
ESPN.com
Some say the road to Pat Summitt's success all began more than 30 years ago, when she took over Tennessee in September 1974, then co-captained Team USA to a silver medal at the 1976 Olympics. Others argue that Summitt truly broke onto the national scene in the '80s, when she coached the USA to its first gold medal in women's basketball in Olympic competition (1984) and won her first two NCAA titles.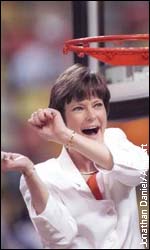 Pat Summitt has guided Tennessee to eight national championships.
Either way, Summitt ensured her legendary status in the 1990s, when she won four national championships, including a then-unprecedented three consecutive from 1996-98. In 2008, Summitt led the Lady Vols to their eighth national championship and NCAA-record 18th Final Four.
Summitt, who is the winningest Division I coach in men's and women's basketball and ranks second only to legendary UCLA coach Wooden for the most NCAA titles, has produced 20 30-plus win seasons ) and boasts a .843 winning percentage.
Here's a look at some of the bigger moments from the 59-year-old's career in Knoxville, Tenn.
Jan. 10, 1975: Summitt, 22, wins her first game as a coach at the collegiate level, a 69-32 victory over Middle Tennessee in Tennessee's Alumni Gym in front of 53 spectators. Gerald Ford is the president, gas costs 36 cents a gallon, the No. 1 television show is "All in the Family" and the Steelers were once again playing in the big game -- Super Bowl IX.
Jan. 13, 1979: Summitt hits the century mark, winning her 100th game, a 79-66 victory over NC State.
JOURNEY TO 1,000 WINS
Pat Summitt's fastest 100-win total occurred between victories No. 500 and 600, which she amassed in just three years, two days. From her first victory on Jan. 10, 1974, to win No. 999 on Jan. 29, 2009, 12,438 days passed. A look at how long it took Summitt to reach each plateau:
| Wins | Length |
| --- | --- |
| 1-100 | 4 years, 4 days |
| 100-200 | 3 years, 324 days |
| 200-300 | 4 years, 32 days |
| 300-400 | 3 years, 21 days |
| 400-500 | 3 years, 300 days |
| 500-600 | 3 years, 2 days |
| 600-700 | 3 years, 12 days |
| 700-800 | 3 years, 39 days |
| 800-900 | 3 years, 4 days |
Dec. 3, 1982: Tennessee beats St. John's 69-56 in Detroit's Coca-Cola Classic for Summitt's 200th coaching victory.
Jan. 4, 1987: An 87-68 victory over North Carolina earns Summitt win No. 300.
March 29, 1987: The Lady Vols win their first NCAA title, beating Louisiana Tech 67-44 at the Erwin Events Center on the University of Texas campus.
April 2, 1989: Summitt and the Lady Vols win NCAA title No. 2, beating SEC rival Auburn 76-60 at the Tacoma Dome.
Jan. 25, 1990: Tennessee beats South Carolina 70-69 to deliver win No. 400.
March 31, 1991: The Lady Vols beat Virginia 70-67 in the first overtime national championship game for Summitt's third NCAA title, this time winning in New Orleans.
Nov. 21, 1993: Summitt's 500th coaching victory arrives with the Vols' 80-45 season-opening victory over Ohio State.
March 31, 1996: The Lady Vols capture their fourth NCAA title, this time in Charlotte, N.C., with an 83-65 win over Georgia.
Nov. 23, 1996: Five games into the season, Tennessee beats Marquette 83-68 for Summitt's 600th coaching victory.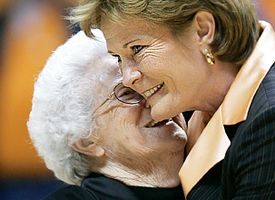 APPat Summitt, right, gives a hug to her mom, Hazel Head, who surprised her daughter by showing up for win No. 880.
March 30, 1997: Despite losing 10 games on the season, the Lady Vols upset Old Dominion 68-59 in Cincinnati for the program's fifth national championship.
Feb. 22, 1998: The Lady Vols beat Louisiana State 90-58 at Thompson-Boling Arena to cap a 30-0 record, the program's first undefeated regular season.
March 29, 1998: Tennessee beats Louisiana Tech 93-75 in Kansas City, Mo., to wrap up a perfect 39-0 season and its then-unprecedented third consecutive NCAA title.
Jan. 17, 1999: More than 50 former players attend Summitt's Silver Anniversary gathering. Midway through Summitt's 25th season at Tennessee, the Lady Vols beat Kentucky 98-60.
Dec. 5, 1999: The Lady Vols beat Wisconsin 85-62 on the road to capture Summitt's 700th career coaching victory.
Feb. 2, 2000: Tennessee beats top-ranked Connecticut 72-71 on the road. The Lady Vols' victory would be UConn's only loss during the Huskies' NCAA title run.
ODDS AND ENDS
A collection of notable facts and figures from Pat Summitt's coaching career, as provided by Tennessee's 2008-09 media guide and ESPN's Stats and Analysis team.
Did You Know?
Of Summitt's 999 wins, 454 have come at home, by an average margin of victory of 24.1 points.
Summitt's Lady Vols have never lost four consecutive games; the longest losing streak she has ever endured is a three-game skid.
Tennessee consistently plays one of the nation's toughest schedules (if not the toughest), and Summitt's Lady Vols have beaten the country's No. 1-ranked team on 13 occasions; heading into this season, 47 percent of Tennessee's games since Summitt took over have been played against ranked opponents, with the Lady Vols winning 72 percent of those games; just 32 of the Lady Vols' losses have come against unranked opponents.
Heading into this season, Summitt has faced 158 opponents from 35 conferences.
Summitt's eight NCAA titles in 34 seasons trails only John Wooden's 10 titles in 29 seasons; she also has the most NCAA tournament victories, winning 104 of 123 games.
Summitt has won 22 games by just one point, including Thursday's win over Ole Miss; 250 of her victories have been by fewer than 10 points, but 210 of her victories have been by 30 or more points.
The longest Summitt has ever gone between wins is 37 days (Dec. 10, 1975-Jan. 16, 1976) -- and that included a semester break and the fact the Lady Vols didn't play in a holiday tournament that season.
Through her first 34 seasons, Summitt averaged 28.9 victories and just 5.4 losses per season.
Summitt has won in 40 states -- following are the states where she hasn't scored a win: Delaware, Idaho, Kansas, North Dakota, Nebraska, New Hampshire, New Mexico, South Dakota, Utah and Wyoming.
March 5, 2000: Tennessee rallies for a 70-67 win over Mississippi State in the SEC championship game to claim an unprecedented third consecutive conference tournament title and 10th overall.
March 31, 2000: The Lady Vols beat Rutgers 64-54 at the Final Four to advance to what was then an NCAA-record ninth national championship game.
April 2000: Summitt is named Naismith Coach of the Century, then is doubly honored as former Lady Vol Chamique Holdsclaw is named the Naismith Player of the Century.
Oct. 13, 2000: In a class that includes Isiah Thomas and Bob McAdoo, Summitt is inducted into the Basketball Hall of Fame in Springfield, Mass., the first time she was eligible for the Hall's ballot. Summitt was just the fourth women's basketball coach to earn Hall of Fame honors.
Feb. 1, 2001: In one of the top games in the storied rivalry with Connecticut, Summitt earns win No. 750 with a 92-88 victory over the Huskies in Thompson-Boling Arena.
Nov. 18, 2001: In their 2001-02 home opener, the Lady Vols rout USC 106-66 as Summitt wins her 200th game at Thompson-Boling Arena.
Nov. 23, 2001: Summitt notches her 300th all-time win against a ranked opponent as Tennessee beats Louisiana Tech.
Feb. 7, 2002: Tennessee's 93-65 win over Arkansas marks Summitt's 1,000th game as a head coach (including college and international contests).
March 25, 2002: With a 69-63 win over Vanderbilt in the Midwest Regional final, Summitt earns her 13th Final Four appearance to surpass John Wooden. The 788th win also ties Summitt with Texas coach Jody Conradt for most wins among women's basketball coaches.
Jan. 14, 2003: Tennessee beats DePaul 76-57 in Knoxville, Tenn., as Summitt becomes the first women's college basketball coach -- and first female -- to reach the 800-win plateau. She also is the quickest male or female to do so, needing 961 games. Adolph Rupp achieved 800 in 972 games; Dean Smith needed 1,029.
Jan. 22, 2004: Summitt coaches in her 1,000th collegiate game, a 79-54 victory over Vanderbilt at home.
Feb. 29, 2004: With an 85-62 victory over LSU, Tennessee wraps up an unprecedented seventh consecutive SEC regular-season championship -- with a perfect 14-0 record.
Reaching the Summitt

Pat Summitt became the first coach in women's and men's Division I history to win 1,000 games.
Most Career Coaching Wins

| | | | |
| --- | --- | --- | --- |
| Coach | Last Team | Years | W-L |
| Pat Summitt | Tennessee | 35 | 1,000-187 |
| Bob Knight | Texas Tech | 42 | 902-371 |
| Jody Conradt | Texas | 38 | 900-309 |
| Dean Smith | North Carolina | 36 | 879-254 |
| Adolph Rupp | Kentucky | 41 | 876-190 |
March 6, 2005: After failing to win at least a share of the SEC regular-season title for the first time since 1997, the fifth-ranked Lady Vols upset No. 1 LSU 67-65 in the SEC tournament final for Summitt's first conference tourney crown in five seasons.
March 22, 2005: In the second round of the NCAA tournament, Summitt surpasses former North Carolina men's coach Dean Smith as the all-time winningest coach in college basketball history with victory No. 880. In a surprise postgame ceremony that included Summitt's mother, Hazel Head, the court at Thompson-Boling Arena is christened "The Summitt."
Jan. 19, 2006: Summitt scores win No. 900 with an 80-68 victory at Vanderbilt. She goes on to pass Bob Knight (902); former Texas women's coach Jody Conradt is the only other coach with 900 wins.
April 3, 2007: Twenty years after winning her first title (and nine years since her last), Summitt picks up championship No. 7. After overcoming a 12-point deficit over the final 8:18 to beat North Carolina in the Final Four, Tennessee tops Rutgers 59-46 in the NCAA title game.
April 8, 2008: Win No. 983 is also Summitt's eighth NCAA crown, as the Lady Vols avenge their only two losses of the season at the Final Four. After beating LSU on a buzzer-beater in the semis, Tennessee beat heavily favored Stanford, 64-48, in Summitt's 13th appearance in the NCAA title game.
Feb. 5, 2008: Three days after Oklahoma denied Summitt win No. 1,000 on her first try, the coach secures the milestone with a 73-43 victory over Georgia at Thompson-Boling Arena. Summitt is the first Division I coach -- man or woman -- to win 1,000 games.