Talent, intriguing matchups highlight Tip-Off
Updated:
November 11, 2005, 3:30 PM ET
By
Mechelle Voepel
| Special to ESPN.com
The State Farm Tip-off Classic has two teams from last year's Final Four, with 2005 champion Baylor and LSU. It has who I think are the two leading national player-of-the-year candidates in LSU wing Seimone Augustus -- ESPN.com's preseason player of the year -- and Baylor forward Sophia Young.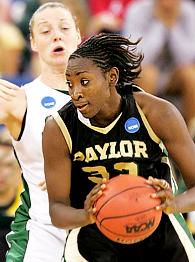 Andy Lyons/Getty ImagesFinal Four Most Outstanding Player Sophia Young is back to anchor Baylor.
Georgia post player Tasha Humphrey could be talked about in that category, too. And although LSU center Sylvia Fowles will be second in the publicity line behind teammate Augustus this season, she's high on the list of potential All-Americans. Fans also should keep an eye on two post players who haven't gotten much national recognition but will be crucial factors for their teams this season: Texas Tech's LaToya Davis and Baylor's Abiola Wabara.
What else is there to see at the Tip-off doubleheader, in which Baylor takes on Georgia and LSU meets Texas Tech (action starts at 1 p.m. ET Sunday on ESPN2)? Plenty, including a lot of standout guards. Texas Tech's Erin Grant is one of the best true point guards in the college game. Georgia has one of the nation's top backcourts with the quartet of Sherill Baker, Alexis Kendrick, Cori Chambers and Janese Hardrick.
LSU and Baylor have to replace starting point guards Temeka Johnson and Chelsea Whitaker, respectively, who were lost to graduation. The projected starters in their place are both sophomores: 5-foot-11 Khalilah Mitchell for LSU and 5-5 Angela Tisdale for Baylor.
All four Tip-Off Classic teams have past experience in this event. Georgia was in the 2000 Tip-off Classic, and Texas Tech has taken part in the event in 1993, 2001 and 2002. Last year was the first time for LSU and Baylor; LSU won that matchup 71-70. Baylor, of course, got the payback at the Final Four and then won it all against Michigan State.
So Baylor gets to be in the enviable position of playing in the last nationally televised women's college game of the 2004-2005 season and the first national TV game of 2005-2006.
"It seems like just yesterday we put the ball down in Indianapolis," Baylor coach Kim Mulkey-Robertson said.
Also at this event, the "official" announcement will come for the 2006 Women's Basketball Hall of Fame inductees -- although that info already has leaked out in various places. I feel sure I won't have to face a special prosecutor and be forced to reveal my source if I go ahead and say the 2006 class will be UConn coach Geno Auriemma, Bentley coach Barbara Stevens (the winningest coach in Division II women's history), former All-American players Clarissa Davis-Wrightsil (Texas), Janice Lawrence Braxton (Louisiana Tech) and Katrina McClain Johnson (Georgia), and longtime Brazilian star Paula Goncales da Silva, a k a "Magic Paula."
MORE ON SUNDAY'S CLASSIC
As Marsha Sharp looked ahead to Sunday's Tip-Off Classic, the Texas Tech coach also flashed back to the way the event got started a dozen years ago. Story
So it's a lot of good stuff, except … our old nemesis, the wretched and despicable ACL, already has dished out some of its yearly dose of pain and disappointment. And that will have an impact on this event.
Texas Tech was strongly in the favorite "pool" to win the Big 12 title this season, along with Baylor and Texas. It's still there, but suffered a big blow when senior starter Chesley Dabbs was lost for the season to an ACL injury.
A 6-foot guard, Dabbs is not just Tech's best defender, she's one of the Big 12's best. Offensively, her pull-up jumper was a key weapon. She and fellow seniors Grant and Davis were poised to make this season a very special one for Tech. Dabbs will redshirt the season and return as an important part of the 2006-2007 Tech squad. But, obviously, that's not at all what she had planned for.
"Chesley's always defended the best perimeter player on the other team," Texas Tech coach Marsha Sharp said. "And she gave us that continuity on offense. Plus she was the most vocal leader; we've already missed that a lot in the exhibitions and in practice.
"Our other seniors haven't fully recovered yet. They are feeling it right now, because they're such a close-knit group. But we'll have to regroup and re-do some game plans and ask other people to step forward."
But another team in Lubbock this weekend knows exactly how Tech feels -- in fact, Georgia has felt the sting of injuries probably worse than any other program in the country during the preseason.
Rebecca Rowsey, a 6-3 junior forward, suffered a season-ending knee injury in September. Then 6-2 senior forward Ebony Felder -- who has fought through painful knee and shoulder injuries since she began her college career -- decided it was time to step away from the game. She had been awarded a sixth year of eligibility due to medical hardship, but it was too much physically for her to try to make it through another season.
Then top recruit Angel Robinson, a 6-5 center, played less than two minutes in an exhibition game on Nov. 1 before suffering a torn left ACL that ended her season.
And though this wasn't an injury, it still depleted Georgia: At roughly the same time Felder made her decision, Reicina Russell, a 6-6 center and transfer from Penn State, left the team for personal reasons.
"We feel like we've had a cannon ball-sized hole shot through our gut," coach Andy Landers said. "Compounding it is the fact that all four of the players we've lost played the same position."
Georgia originally intended to use Humphrey more at the power-forward spot this season. Instead, she'll be mostly at the center position -- and she's going to be logging a lot of minutes, along with the rest of her teammates.
"Georgia is similar to us -- they don't have great numbers and we don't either," Mulkey-Robertson said. "But I don't think their injury situation really factors in as far as what our game plan was going to be. We've just got to do the things that we've got to do. Our big question is, after Sophia, who's going to do the scoring for us?"
One thing that Landers has been encouraged by in this trying preseason is how well his team has responded to early-morning (6-8 a.m.) practices. Those weren't by his choice, but out of necessity to accommodate some players' class schedules.
"Anybody can show up and play hard when they smell the popcorn in the building at game time," Landers said. "But the fact that our kids have gotten up before the crack of dawn and had a good energy level every day shows me that we're ready to play the kind of basketball we're capable of playing."
Mechelle Voepel of The Kansas City Star is a regular contributor to ESPN.com. She can be reached at mvoepel@kcstar.com.
espnW.com
Mechelle Voepel joined ESPN.com in 1996 and covers women's college hoops, the WNBA, the LPGA, and additional collegiate sports for espnW.
MORE WOMEN'S BASKETBALL HEADLINES
MOST SENT STORIES ON ESPN.COM
STORIES FROM HUFFINGTON POST