Preseason player of the year? Who else?
Updated:
November 11, 2005, 9:50 AM ET
ESPN.com
She's silky smooth, calm under pressure and a proven star.
ESPN.com's PRESEASON
PLAYER OF THE YEAR
2004-05 SEASON STATISTICS

G
MIN
FG
FT
REB
PTS
36
32.7
53.9
86.9
4.6
20.1
As the nation's best shooter, she can slice inside for the layup, pull up for a mid-range jumper that always seems to find nothing but net, and find her way to the foul line.
Oh, and about that "weakness," that paltry 28 percent shooting from 3-point range last season? Well, LSU senior Seimone Augustus has an answer for that, too.
"She's one of the best in the game, but she's always looking for ways to improve," Lady Tigers coach Pokey Chatman has said.
ESPN.com's preseason Player of the Year doesn't leave much room for criticism. That's right, for the second straight season, Augustus earns our highest preseason honor, which comes as no surprise after she won every major award a year ago as the consensus 2004-05 national player of the year.
For ESPN analyst Nancy Lieberman, the selection was a no-brainer. Like Chamique Holdsclaw and Diana Taurasi before her, Augustus ranks as one of the game's all-time greats.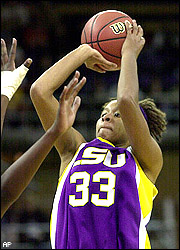 For the second year in a row, LSU's Seimone Augustus is ESPN.com's preseason player of the year.
Lieberman praises Augustus for her ballhandling and ability to create her own shot, which Augustus can get off over or around the defender. Still, Lieberman most loves Augustus' style.
"She keeps defenders off balance with some old-school pump or ball fakes," Lieberman says, "and she's got a feathery mid-range jumper that's almost a lost art in basketball."
ESPN.com columnist Mechelle Voepel, who calls Augustus "smooth, fluid and confident," agrees.
"One of the best things in women's hoops is to watch Augustus' jumper," Voepel writes.
ESPN's Beth Mowins likes Augustus' shot, too, but says Augustus complements all her other attributes by "being one of the hardest-working players without the ball in the college game."
Texas Tech coach Marsha Sharp, whose Lady Raiders host LSU in Sunday's State Farm Tip-Off Classic, recognizes that Augustus is a matchup nightmare.
"She really is so explosive, and does it in so many different ways," Sharp says. "It takes some special physical qualities for a player to try to guard her. And it's just so hard to locate her all the time and make sure you keep her from putting it on the floor. Because once she does, you really can't keep her from shooting over you with the elevation she gets, and how she does it so quickly.
"We're going to go against a lot of great players this season, especially in the Big 12, but I hope we don't have play anyone who's more difficult than Seimone."
VOEPEL VOTES FOR …
I'm not crazy. I wouldn't argue for a second with anyone who picked LSU's Seimone Augustus as preseason player of the year. However, my vote goes to Sophia Young of Baylor.

Young is coming into her senior year with a national championship and Final Four most outstanding player honors. She nearly averaged a double-double last season (18.4 ppg, 9.3 rpg) and also led her team in steals (70) and was second in assists (103). In other words, she's a very well-rounded post player.

This year, without graduated frontcourt mate Steffanie Blackmon, Young likely will face blanket-like coverage by defenses. If she once again puts up numbers similar to last season, she'll have made a very good case for player of the year.
-- Mechelle Voepel
Augustus' statistics back up a r&eacu;tesumé that includes Kodak All-America, Wade Trophy, Naismith and Wooden award honors. For the third straight season, she increased her scoring average, up to 20.1 points, which ranked 10th in the nation.
Augustus also was 26th in field-goal percentage (.539), and in a Nov. 30 win last year, she set LSU's single-game record by making all 11 of her field-goal attempts. Augustus has scored in double figures in a school-record 62 consecutive games and has scored in double digits in 97 of 105 career games.
Last season, Augustus also ranked 13th in free-throw percentage (.869).
"She's as good as anybody in the country at getting to the foul line," Lieberman says. "She knows how to get her body to into the defender's body and space."
The only thing missing? A national title. But after leading LSU to each of the past two Final Fours, Augustus is no doubt hoping the third time -- and the 3-pointer -- are the charm. Augustus, who is probably making opponents nervous at the mere mention of adding yet one more strength to her arsenal, attempted just 18 3-pointers last season, sinking five. But in LSU's two exhibition games this month, Augustus is 3-for-3 from downtown.
"I want to go out and have a very successful senior season, not only for myself, but for this team," Augustus has said. "I want to take it a step farther and win a national championship."
MORE WOMEN'S BASKETBALL HEADLINES
MOST SENT STORIES ON ESPN.COM
STORIES FROM HUFFINGTON POST