Commentary
Post-Paris twin era under way at OU
Sooners will shift to guard-oriented, fast-paced attack
Originally Published:
November 11, 2009
By
Mechelle Voepel
| Special to ESPN.com
In the "life goes on" department, we look to Oklahoma, which made the program's second trip to the Final Four last season. In Courtney Paris, the Sooners lose the Big 12's all-time leader in scoring, rebounding, blocked shots and double-doubles. Gone also is her twin, Ashley, who averaged nearly a double-double herself last season.
Just as Courtney leaves, the next projected superstar center -- Baylor's Brittney Griner -- is coming into the Big 12. Kim Mulkey's crew was picked by the league's coaches to win the Big 12, a decision she disdained as she lost four of her starters.
[+] Enlarge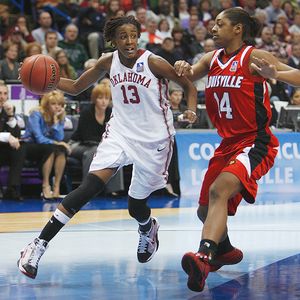 Brian Pohorylo/Icon SMIDanielle Robinson, who averaged 12.9 ppg and 5.9 apg last season, played for the gold-medal winning U.S. team at the 2009 World University Games.
Texas and Kansas were picked to finish second. If that or anything close to it happens for the Jayhawks, it will be the first time since 2000 they'll end up in the top half of the conference and the NCAA tournament.
The Longhorns, in their third season under Gail Goestenkors, have a 10-player squad. Goestenkors, who took a Duke team reduced to eight players to the Final Four in 2002, said she's just fine with 10.
Texas A&M, Oklahoma and Nebraska round out the top six picks in the league. But the reality is that thanks to graduation and an influx of newcomers, uncertainty reigns more than ever about what's going to happen in the Big 12 this season.
There is no clear league favorite the way there is in most of the other major conferences. So let's take a look at something that might sound counterintuitive, considering what Oklahoma lost. Is it possible that a very different kind of Sooners team can challenge for a Big 12 title again? Yeah, it is.
Oklahoma won or tied for the Big 12 regular-season championship three times in the past four years and has done that six times overall. After having the target on their backs since the Paris twins stepped on campus, the Sooners this season will watch as a few other teams carry that "favorite" weight.
Oklahoma, like Texas, has a 10-player roster.
"And every single one of them is going to play a role, I can promise you that," said coach Sherri Coale, who has three starters back in Danielle Robinson, Whitney Hand and Amanda Thompson.
"Every year, when a team loses their seniors, there is a void. It doesn't matter if they combined to score 40 points a game or six. The most important thing that we have returning this year are guys in the backcourt who have experience going to the Final Four."
Indeed, let's just get this utterly obvious fact out of the way: The Sooners will look quite different without the Paris sisters and must rely more on a fast-paced, guard-oriented attack.
But you don't have to look too far back in Sooners history to find a backcourt-dominated team that did very well: The 2002 Oklahoma squad made it all the way to the national championship game.
Nobody at OU is talking now about replicating that kind of success in 2010, of course, but the Sooners are very confident that they are not going to fall into oblivion.
"They were great players and they made history," Robinson said of the Paris twins. "But I think we can be very good playing a more up-tempo style."
Robinson, a junior, is one of the nation's best point guards. Her backcourt mate, sophomore Hand, was the team's top 3-point shooter last season (62) and is likely to show even more multidimensional talents this season.
[+] Enlarge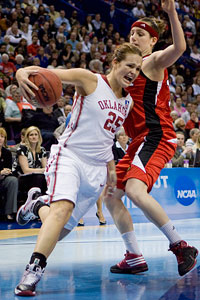 Dilip Vishwanat/Getty ImagesLast season's Big 12 freshman of the year, Whitney Hand chipped in 9.2 ppg, 2.9 rpg and 1.6 apg as a rookie.
"All of us have to take on a part of what Courtney and Ashley did," Hand said. "Whether it's the amount of shots or rebounds or whatever."
Thompson and Nyeshia Stevenson, both seniors who can do a lot of different things for the Sooners, will have big roles as well. As for the low-post game, Coale will rely on two 6-foot-3 freshmen, Lyndsey Cloman and Joanna McFarland, and a 6-4 senior, Abi Olajuwon, who hopes to show she has transformed herself for her final season.
If the name McFarland sounds familiar, it should: Joanna's two older sisters, Jessica (Kansas State) and Jackie (Colorado), preceded her in the Big 12.
"What an advantage that must be," Coale said, "to not only have grown up competing in a household of athletes like that, but to have the intellectual head-start of having two sisters who played not just at the Division I level but in this same conference. I think she comes in a more knowledgeable and mature player.
"Joanna reminds me of Caton Hill, Stacey Dales and Whitney Hand -- just a perfectionist to the end of the day."
Coale also has raved about the summertime improvements of Olajuwon. Playing behind Courtney Paris was a little like being Cal Ripken Jr.'s backup, but in her last season Olajuwon has a chance to make her own mark.
"I love Abi's energy, the way she communicates on the floor," Coale said. "She is in the best physical condition of her life and looks fantastic. The three of them together give us a nice cadre of production. If we look at them as just three individual pieces of the pie, there would be some things missing. But putting them together gives us exactly what we need."
Whether it will be enough in a league that has the super-frosh at Baylor, senior-loaded teams at Kansas and Nebraska, Bill Fennelly's 3-point shooters (plus a 6-6 freshman in Anna Prins) at Iowa State, a group of talented if not-well-known-to-you-yet Aggies at A&M, and a Texas squad that should be the best Goestenkors has had so far in Austin … well, we will see.
Hand, who for the fun of it went skydiving in the offseason, also did something not very fun. She watched video of the second half of the Sooners' 61-59 loss to Louisville at the Final Four. Oklahoma lost despite a 12-point lead at halftime.
"We just went so stagnant," Hand said. "We played not to lose -- and that's when you do lose. In the first half, we were just so aggressive offensively. It was hard to watch.
"We understand we're not regarded as highly nationally as we were last year. That's OK; we know who we are and what our identity needs to be now."
Mechelle Voepel, a regular contributor to ESPN.com, can be reached at mvoepel123@yahoo.com. Read her blog at http://voepel.wordpress.com.
espnW.com
Mechelle Voepel joined ESPN.com in 1996 and covers women's college hoops, the WNBA, the LPGA, and additional collegiate sports for espnW.
2009-10 Season Preview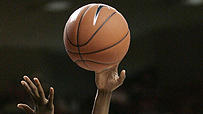 Get ready for 2009-10 with ESPN.com's women's college basketball preview.
Friday, Nov. 13
•
ESPN.com's Preseason All-America teams
•
Moore is preseason player of year (again)
•
Voepel: Baylor's Griner set for debut
•
Voepel: Spartans ready to move on in Big Ten
Thursday, Nov. 12
•
Voepel: UConn's Charles all-business
•
Hays: Greene fits holes, roles for Huskies
Wednesday, Nov. 11
•
Top five players at each position
•
Voepel: A difficult decision
•
Hays: Players to watch
•
Voepel: OU shifts to guard-oriented attack
Tuesday, Nov. 10
•
Hays: Appel leads Stanford
•
Voepel: Academics first for Ogwumike
•
Hays: Mid-major top 10
Monday, Nov. 9
•
ESPN.com preseason top 10
•
Voepel: Five questions
•
Hays: Teams to watch
MORE WOMEN'S BASKETBALL HEADLINES
MOST SENT STORIES ON ESPN.COM